CONTENTS:
COVER STORY: Social Audit of Schemes under Department of Social Justice and Empowerment, GoI: A NRCSA (CSA-NIRDPR) Initiative
NIRDPR Celebrates 76th Independence Day
Shri T. R. Raghunandan Delivers Talk on Panchayati Raj and Rural Development in India: Achievements, Challenges and Panchayati Raj
NIRDPR-Delhi Branch Organises Webinar on 'What should be India's Comprehensive Rural Health Policy?'
Library Talks: Dr P.P. Sahu Delivers Lecture on Saga of Rural Employment: Continuity and Change
ToT Programme on Value Chain & Business Development Plan-level-I under Non-Farm Livelihoods
Training on District-Specific ODF+ and JJM SBCC Planning and Implementation for Andhra Pradesh
ToT Programme on Mainstreaming Food Nutrition Health and WASH and Operational Strategy under DAY-NRLM
SIRD/ETC CORNER
ETC Meghalaya Conducts Training Programme on Cake Baking for SHGs
---
COVER STORY:
Social Audit of Schemes under Department of Social Justice and Empowerment, GoI: A NRCSA (CSA-NIRDPR) Initiative
Social Audit: Context
Social audit is a social accountability tool where beneficiaries or stakeholders are involved in the planning and monitoring of welfare programmes. Social audit was institutionalised in India through the passing of the MGNREG Act, 2005. The Act mandates that the Gram Sabha shall conduct regular social audits of all projects taken up under the scheme within the Gram Panchayat. The social audit process was envisioned under MGNREGA to strengthen transparency, accountability, and participation of stakeholders in the implementation and monitoring of the scheme. It has been adapted to other rural development schemes such as PMAY-G, and NSAP and followed by other departments too.
Background: Initiatives for Institutionalising Social Audit of Schemes under DoSJE
Between December 2019 and March 2020, the Department of Social Justice and Empowerment (DoSJE) tasked NIRDPR in partnership with the National Institute of Social Defence (NISD) and a set of experts to host a series of workshops to develop a framework for transparency and accountability for the department. The framework was to lay out a set of principles and tools which would ensure that all schemes/initiatives of the department were meeting basic standards of transparency and accountability.
These principles and tools were applied to select schemes/initiatives. Especially, three types of GIA institutions were chosen for social audits to be piloted – old age homes, de-addiction centres and residential hostels for SC children. Social audit pilots were planned in five States but finally conducted in three. To coordinate the effort of framing guidelines and conducting pilot social audits, a Social Audit Advisory Board (SAAB) was formed, which was chaired by the Director of the Social Audit Unit, Telangana, with representatives of other organisations such as the Centre for Social Audit, NIRDPR, SAFAR-NLS, SAU, Jharkhand and TISS Mumbai.
The circular to conduct pilot social audits was issued in September 2020. In October, the SOP was approved, and the Social Audit Units were selected for the pilots to form social justice cells within the units. In November, GIA institutes were selected, and training was given for resource persons taking part in the pilot. The pilots were rolled out in Meghalaya, UP and Maharashtra between December 2020 and January 2021. In total, eight de-addiction centres, six residential/non-residential schools and four senior citizen homes were covered in the pilot social audits.
DoSJE, GoI decided to institutionalise the social audits through a scheme called I-MESA (Information, monitoring, evaluation and social audit) and described Social Audit as a process where the audit is carried out by stakeholders and facilitated by Social Audit Units. The Social Audit team will verify official records with ground realities focusing on financial, physical and social aspects in terms of outcomes over a period. These observations are shared with stakeholders to be verified against their own experiences. Issues identified and backed up with evidence are consolidated into a social audit report, which is then read out in a public forum where stakeholders and implementing agency officials are present so that necessary action to rectify the issues raised can be decided.
SAUs that have already been set up in every State will facilitate the social audit of identified schemes. A nodal agency proposed for coordinating these efforts was the National Resource Cell for Social audit (NRCSA), which is housed under the Centre of Social audit, NIRDPR.
NRCSA: Establishment & Activities
National Resource Centre for Social Audits has been established and housed in the Centre of Social Audit, NIRDPR and an MoU was signed between the DoSJE and NIRDPR on 31st May 2022.
The offer letters were given to all newly recruited team by, Dr. G Narendra Kumar, IAS, Director General of NIRDPR and the team was oriented by Shri R. Subramaniam, Secretary, MoSJE.
The members of the team, who joined in the second week of June 2022, are as follows:
| | | |
| --- | --- | --- |
| S. No. | Name | Designation |
| 1 | Gurjeet Singh | Mission Manager |
| 2 | Ujjwal Pahurkar | Project Officer |
| 3 | Karamjeet Singh | Project Officer |
| 4 | Vivika Shohe | Project Officer |
| 5 | V. Padmavathi | Project Assistant cum Accountant |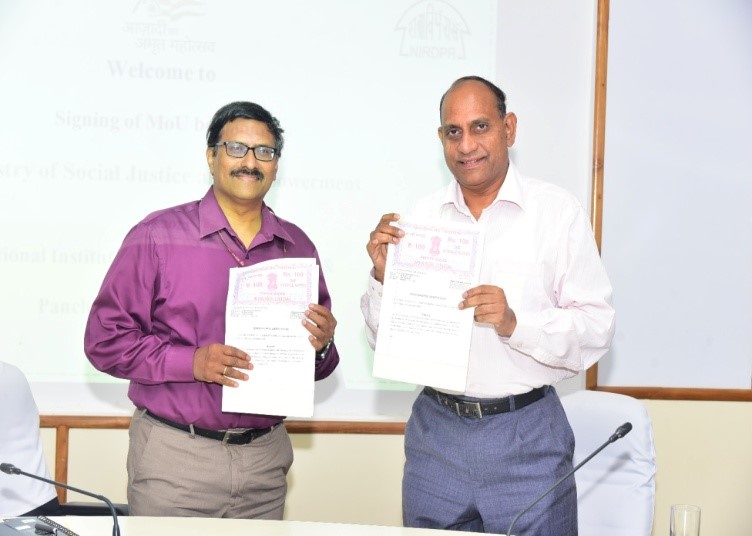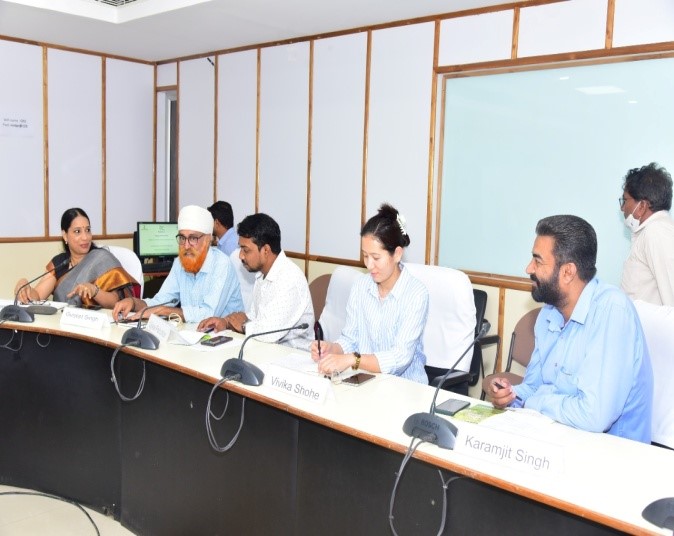 The National Resource Cell carried out a set of activities such as writeshops, workshops, meetings and learning tours and came out with the guidelines, handbook for the trainers, training manual and formats for conducting social audits of schemes under DoSJE.
The activities carried out are as under:
| | | | |
| --- | --- | --- | --- |
| S. No. | Activity | Date | Venue |
| 1 | Sensitisation of Department Heads on the objective and process of social audits | 22nd June | Online |
| 2 | Meeting with all SAU Directors (virtual mode) | 4th July | NIRDPR |
| 3 | Learning visits to institutions and departments | 7th – 9th July | Hyderabad & Bhopal |
| 4 | Write shop on Preparation of Social Audit Guidelines (Tools and Protocols) | 14th – 16th July | NIRDPR |
| 5 | Workshop to develop MIS | 18th -19th July | NIRDPR |
| 6 | Workshop on Preparation of Training Modules | 25th – 26th July | NIRDPR |
| 7 | ToT for Social Audit of Schemes of MoSJE | 8th – 12th Aug | NIRDPR |
| 8 | Meeting with Social welfare Secretaries of states to be covered in the first phase | 23rd Sept | Online |
| 9 | Meeting with all Programme heads to finalise the guidelines | 26th Sept | New Delhi |
Training of the Resource Persons of SAU who are designated for the Social Justice Cell, has been planned in eight batches. Across the country, 300 members will be trained to conduct 1000 social audits this year and gradually increase it to 6000 in FY 2025-26. The first training was held in SIRD, Maraimalainagar in Tamil Nadu from 18th -27th September for the States of Kerala, Karnataka and Tamil Nadu, in which social audits were conducted as field practicum by participants and reports were presented in the district-level forum named Social Justice assembly in Chengalpattu district.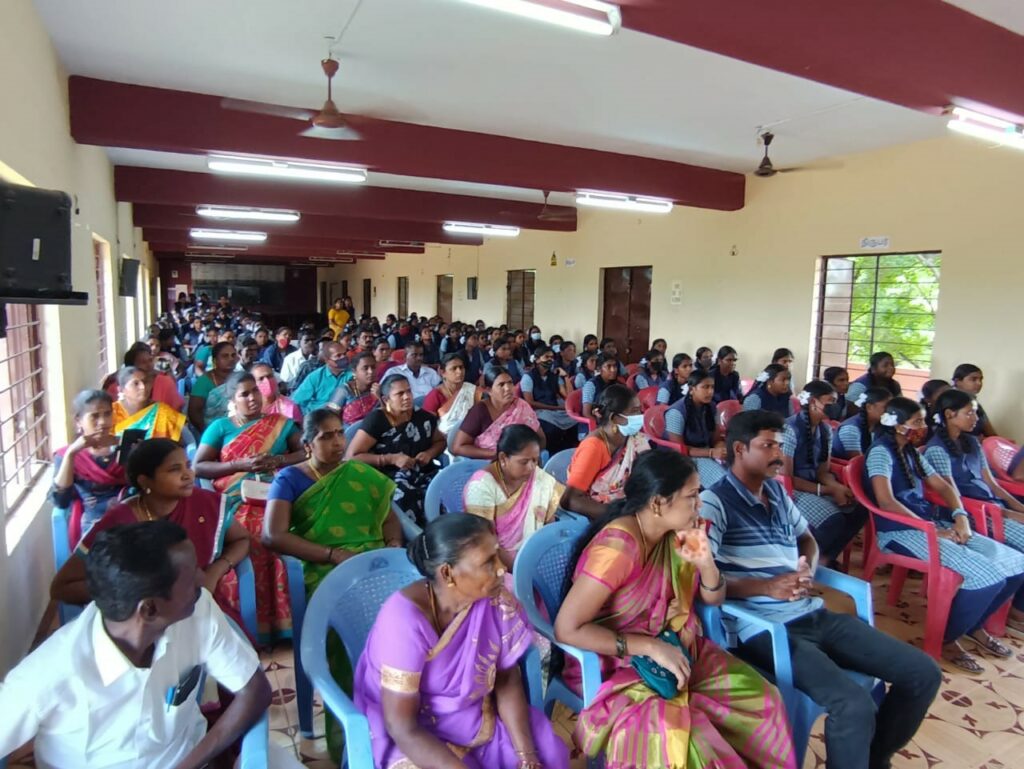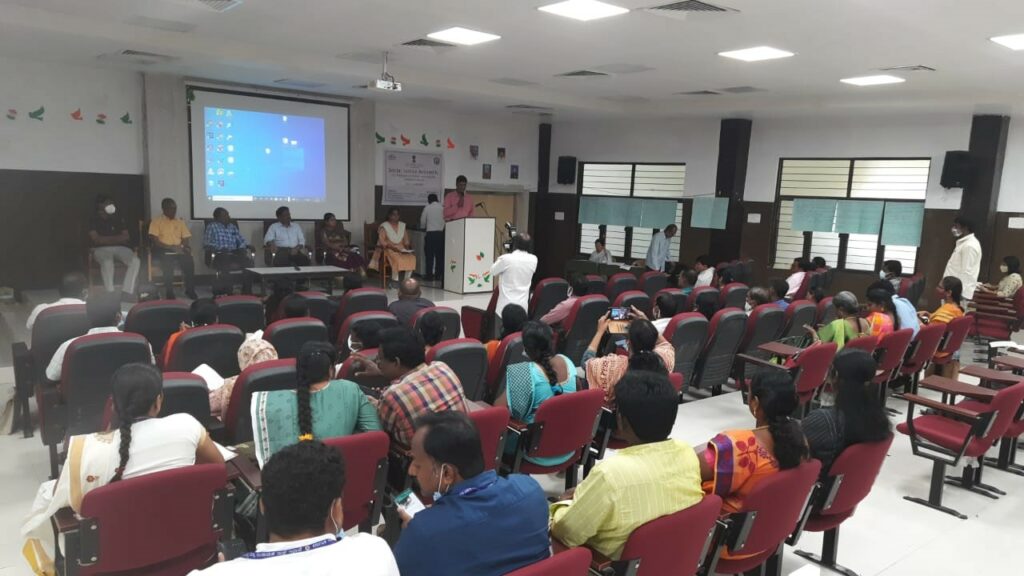 Steps for Social Audit
Based on the principles, the social audits process for Schemes under DoSJE has been designed in the following steps:
Orientation & Sensitisation: Orientation & sensitisation of implementing agencies/institutions regarding the objective, process, coverage and their role in the process of social audit at the State and district levels by SAU before the conduct of social audits.
Preparation: Formation of Social Justice Cell by Social Audit Unit, finalisation of the calendar to meet the targets and submitting the budgets for the conduct of social audits, procurement of documents/information related to the scheme from implementing agency 15 days before the verification process in the field.
Verification: Interview of the Beneficiaries & the Service Providers, Focal Group discussion with the stakeholders, Physical Verification and Documents Verification Social Justice cell.
Validation: Presentation of Primary Report Prepared by SJC to Beneficiaries at appropriate forum for validation and recommendations at Village /Institution level in the presence of beneficiaries and stakeholders.
Action: Presentation of validated report at Social justice assembly to be held at the district level in the presence of all stakeholders for discussion and timely appropriate action before a panel constituted for this process.
Reflection: Preparation of analytical annual State report by SAUs for discussions and course correction along with the policy-level recommendations to Social Welfare and departments concerned.
Thus, the Social Audit process for the schemes of DoSJ&E is institutionalised. After the training programmes, SAUs in all States will take up the Social Audit of schemes of DoSJ&E. The fund for doing the audits will be rooted through NIRDPR.
Dr. C. Dheeraja
Associate Professor & Head, Centre for Social Audit
NIRDPR
---
NIRDPR Celebrates
76th Independence Day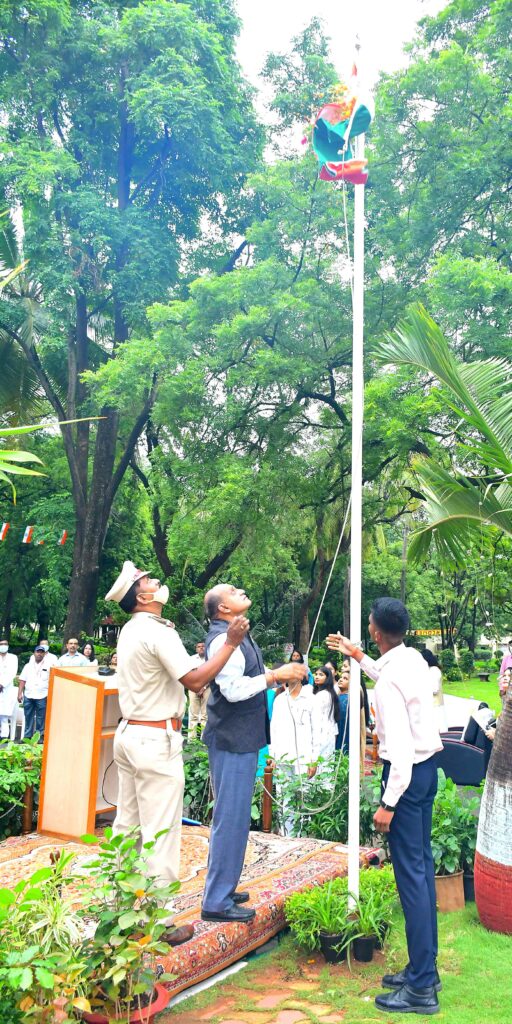 National Institute of Rural Development and Panchayati Raj, Hyderabad celebrated 76th Independence Day on 15th August, 2022. As part of the event, Dr. G. Narendra Kumar, IAS, Director General, NIRDPR, who was the Chief Guest, hoisted the national flag. Later, the security staff performed march-past. Shri Shashi Bhushan, ICAS, DDG (i/c), welcomed all the gathering and spoke about the steps taken by NIRDPR as part of the Azadi Ka Amrit Mahotsav launched by Shri Narendra Modi, Hon'ble Prime Minister of India on 12th March, 2021. The programme will continue for 75 weeks since its launch. The programme means elixir of energy of freedom, the nectar of new ideas, new initiatives and Atma Nirbhar Bharat.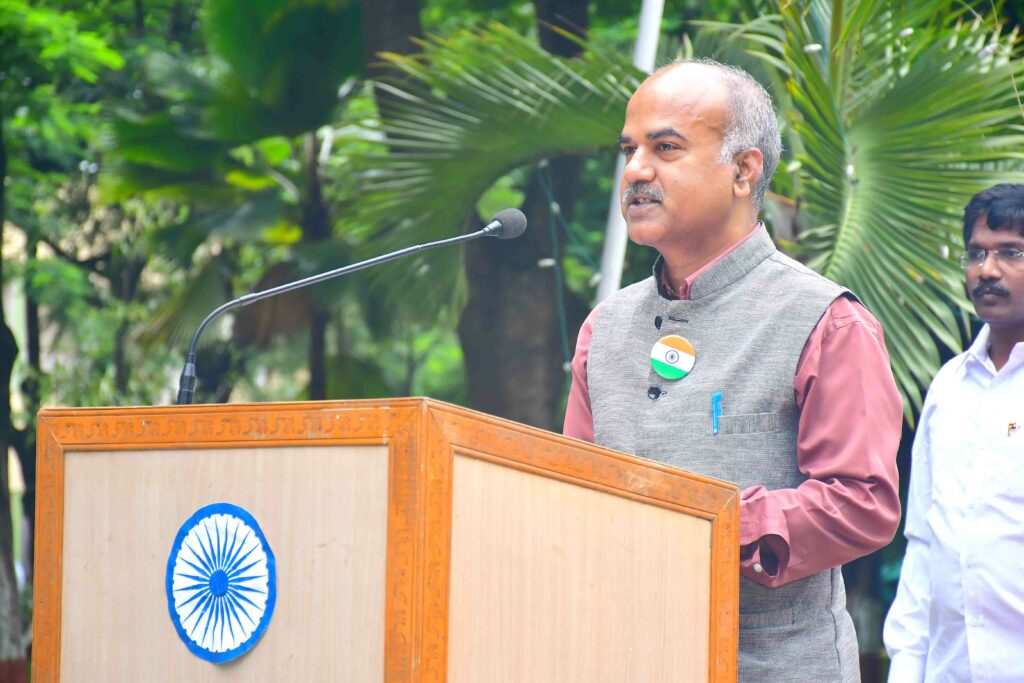 The first programme under Azadi Ka Amrit Mahotsav was held on 12th March 2021, which was a webinar and panel discussion titled 'Barriers to women empowerment breaking a glass ceiling in the post-COVID period. Since then, numerous webinars, lectures, round table discussions, and training programmes have been conducted as a part of the series. NIRDPR has completed over 97 programmes crossing the target of 75 programmes. The first compendium has come out, and soon, the second one will be released.
Addressing the gathering on the occasion, Dr G. Narendra Kumar, IAS, Director General, NIRDPR said millions of freedom fighters have given their lives in the struggle for independence and gave this gift of freedom to all the Indian citizens. "This is an occasion to recollect all our achievements as a nation; this has been an exciting journey so far. India at the stroke of Independence was fighting poverty, illiteracy, maternal mortality rate and life expectancy rate of 36 years. Currently, we are exporting foodgrains, and there has been a considerable growth in the literacy of the population. The maternal mortality rate has gone down from 2000 to 100 and the life expectancy rate to 70 years. The development has been overall in all the sectors, including infrastructure, telecommunication and other sectors," he observed.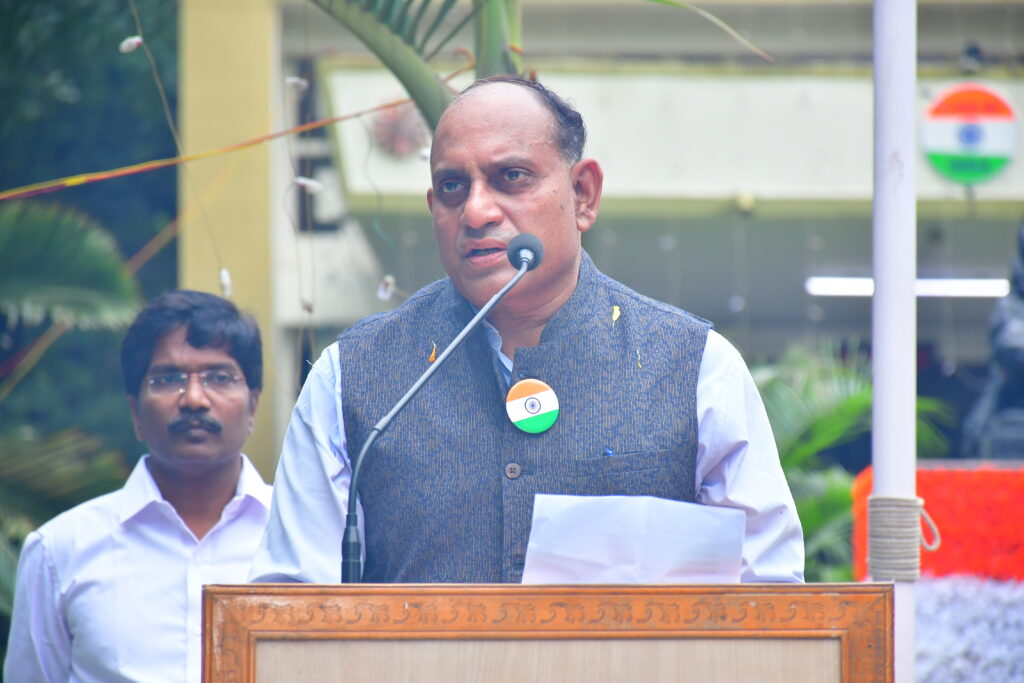 "NIRDPR has contributed a fair share to the development of the nation. The first district planning guidelines – the Integrated District Planning – were formulated in NIRDPR. The basic foundation for the 73rd and 74th amendments, i.e., Panchayati Raj Act, took place in NIRDPR. The Institute has been instrumental in the Gram Panchayat Development Plan (GPDP) and service-oriented citizen charters, which gave assurance to villagers in implementing the government schemes. The Institute also holds one of the largest repositories of social audits. NABARD also has sought the help of NIRDPR in training the CEOs of FPOs. NIRDPR is serving the social cause by helping the rural poor economically and empowering them in various livelihoods. We should acquire more knowledge by doing action research projects and use the knowledge in capacity-building programmes. NIRDPR's focus is on increasing the income of farmers. India can achieve the localisation of Sustainable Development Goals by 2030. NIRDPR is playing a key role in the prestigious programme of Jal Jeevan Mission for making the pipped drinking water a reality for all the villages," the DG noted.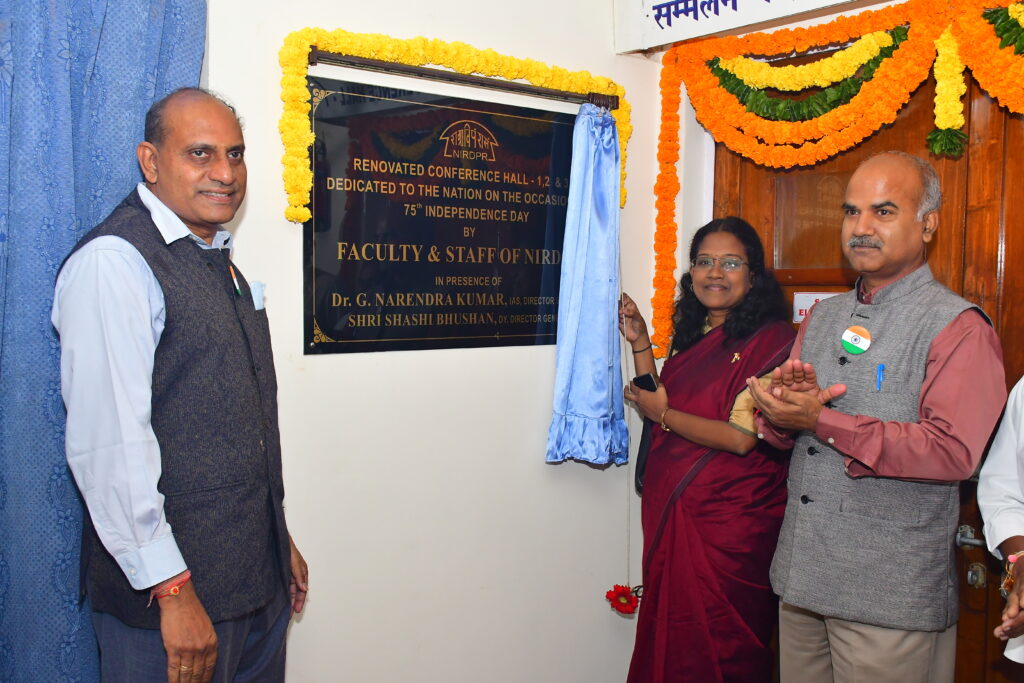 Dr. G. Narendra Kumar Institute further said that the Institute has been working towards a disaster-proof plan to save the villagers from adversities. "There is a need for skilling the rural youth and making them employable. NIRDPR is into various capacity-building activities. This ambitious plan is in the hands of the faculty of NIRDPR. All progress made is possible because of the gurus in NIRDPR, and we should always be thankful for the great work done by them in the past and should continue to do the same," he added.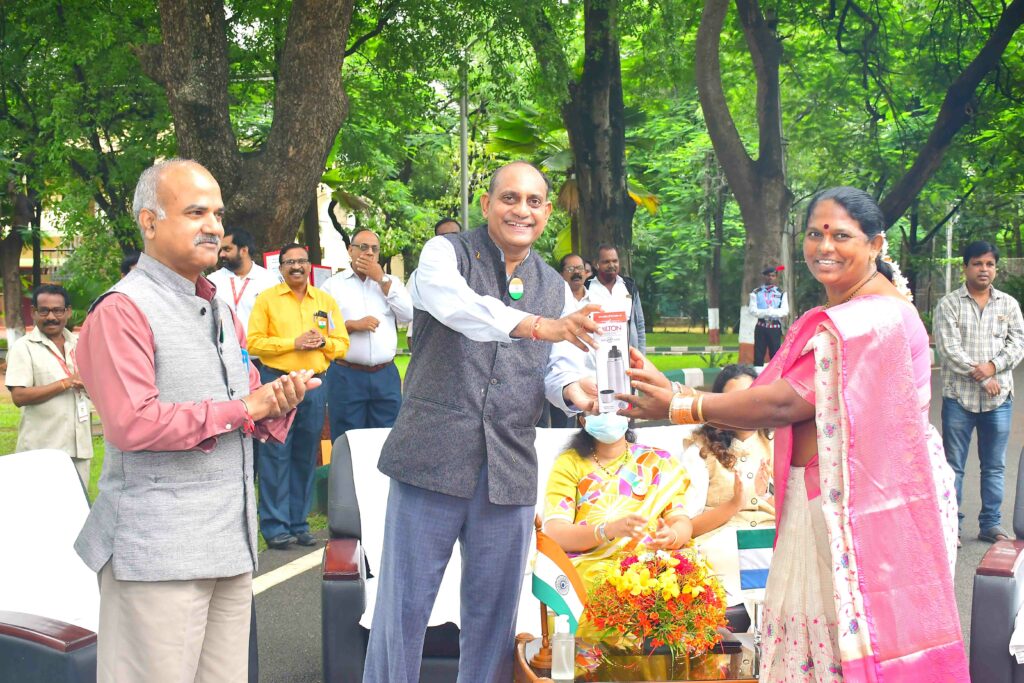 Prizes were distributed to the winners of various sports and games conducted as part of the Independence Day celebrations. Later, the Director General inaugurated the renovated conference halls in Dr. B. R. Ambedkar Block on the campus. This was followed by planting of saplings led by the Director General, Shri Shashi Bhushan, Dr. M. Srikanth, Registrar & Director (Admn.) i/c and faculty. This event was graced by faculty, staff and students.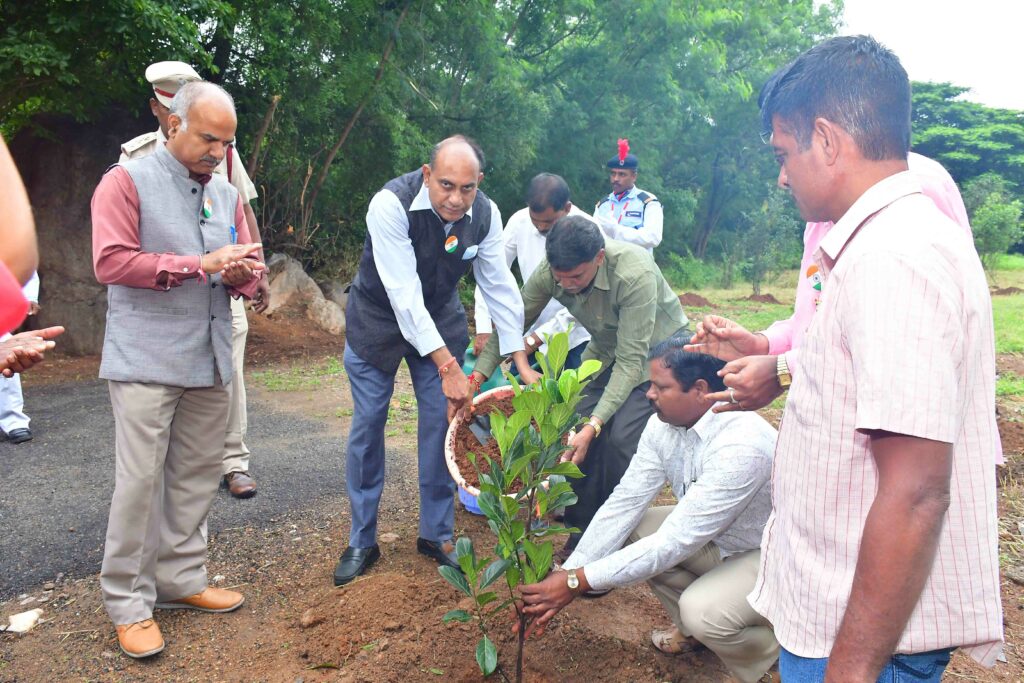 ---
Shri T. R. Raghunandan Delivers Talk on Panchayati Raj and Rural Development in India: Achievements, Challenges and Panchayati Raj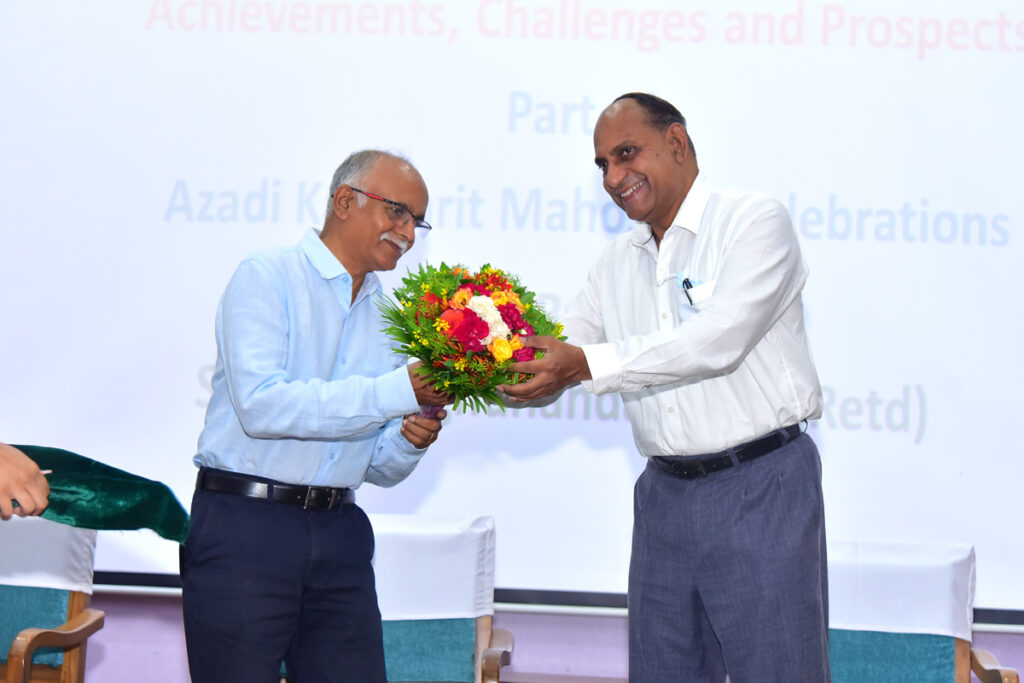 As part of the Azadi Ka Amrit Mahotsav and 76th Independence Day celebrations, the Centre for Panchayati Raj, Decentralised Planning and Social Service Delivery, National Institute of Rural Development and Panchayati Raj, organised a lecture on 19th August, 2022. Shri T. R. Raghunandan, IAS (Retd.), currently working as a freelance consultant on public policy, public finance, local government institutional design, capacity building and inter-governmental relationships, delivered the talk on Panchayati Raj and Rural Development in India: Achievements, Challenges and Prospectus Decentralisation.
Dr. G. Narendra Kumar, IAS, Director General, NIRDPR gave opening remarks. He said that it is a befitting occasion to recollect the challenges faced and milestones achieved in the past 75 years. "The government is spending large amounts of money for rural development, but the position of the downtrodden is not changing. Even for the day, there is a lack of proper policy towards panchayati raj and rural development. Being a think tank for the Ministry of Rural Development and an apex capacity building institute, we should help the ministry in developing an efficient policy. All the Centres of NIRDPR should take a stock of the events which have happened in particular areas like agriculture and SHG and deliberate on further actions in future. Once we have this, we can plan a policy for the panchayati raj and rural development," the DG said.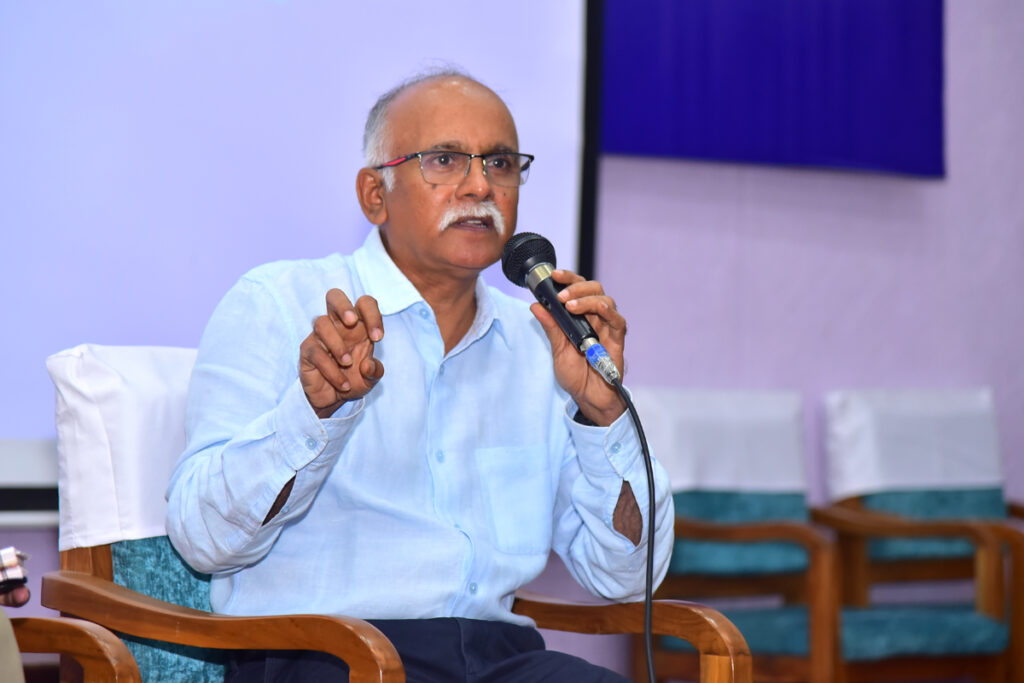 Shri T. R. Raghunandan, IAS (Retd.), spoke at length about fiscal federalism and quoted a few thinkers like Musgrave, Samuelson, and Tiebout, who worked on the basic principles of government and service delivery. Ronald Corse was the one who said that the local governments could be a way to better the delivery of the services, along with Tiebout.
Shri Raghunandan said that 3.2 million people were elected to local governments, of which 50 per cent were women is in itself a great achievement. "Local leaders overspend in terms of gaining political mileage, keeping aside the welfare aspects of the voters. There was a study on how much money is spent by the government and how much by the village, which showed that the government is spending a good amount of money for the welfare of the people in villages. There is social audit for the small amount spent by the panchayat, however, there is no audit system in place for the money spent by the government," he said.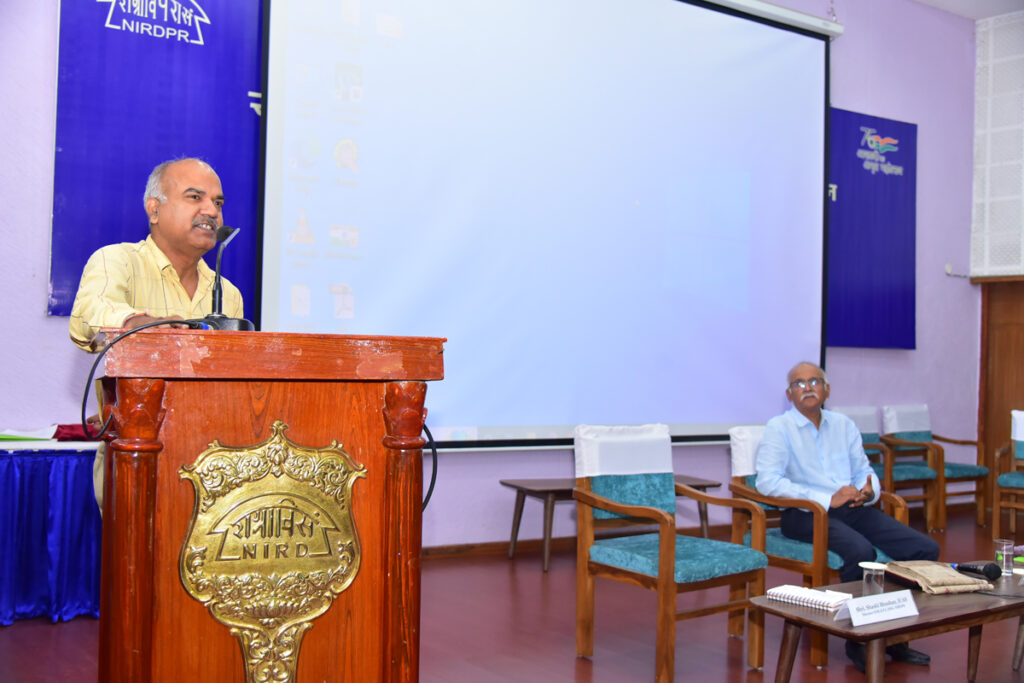 Shri Raghunandan also spoke about the direct cash transfer schemes and mentioned that MGNREGS has been considered a success globally in conditional money transfer schemes. He raised a lot of pertinent questions on the training of PRIs and how to approach the programmes.
This lecture was followed by a Q&A session. Shri Shashi Bhushan, ICAS, DDG (i/c), NIRDPR delivered vote of thanks, and Dr. G. Narendra Kumar, IAS, DG, NIRDPR honoured Shri T. R. Raghunandan with a memento and shawl. The programme was attended by Centre heads, faculty, staff and students.
---
NIRDPR-Delhi Branch Organises Webinar on What should be India's Comprehensive Rural Health Policy?
NIRDPR-Delhi Branch organised a webinar on 'What should be India's Comprehensive Rural Health Policy?' focusing on the 3rd SDG of good health and well-being, on 12th August, 2022. Despite the advances India has made in the field of rural healthcare, especially curative care, the rural-urban gap in health services and epidemiological preparedness underwent a shock after the COVID-19 pandemic. The Indian rural health care system comprising Sub-Centres, Primary Health Centres (PHC), and Community Health Centres (CHC) suffered from multiple shortfalls in health facilities. Data shows that the workforce availability is below the recommended levels as suggested by the World Health Organisation. The expansive range of public health challenges in India calls for answers to multiple questions of health and wellbeing. What are the effective ways to identify the health challenges of vulnerable age cohorts? How has India's existing health policy worked towards public health goals? Are there solutions in technology to improve health access for rural masses? To have a focused discussion on the public health evidence, policy and actions for distinct population groups, the webinar invited three distinguished experts in public health and medicine.
Dr. Arun Balachandran, Post-doctoral fellow, University of Maryland, USA presented the recent evidence on the aged population cohort in India by sharing the results of his latest analysis of comparative ageing measures across time and country. His measures took an exception from the homogeneous definition of 'aged population' and called for a region-sensitive measure of ageing for comprehensive policy inclusion.
The discussion on ageing was followed by a session on child and maternal health. Dr. Apurv Soni, Assistant Professor and Director, Program in Digital Medicine, UMass Chan Medical School, presented the empirical association between child undernutrition and the implementation of the National Rural Health Mission in India.
Regarding action on rural health access, Dr. Sonu Bhaskar, CEO & Director, Global Health Neurology Lab, Sydney, Australia and Founding Director, NSW Brain Clot Bank, NSW Health Pathology, Sydney presented the global examples of Telemedicine, advanced technological solutions, and their feasibility for improving India's rural health accessibility.
The webinar was chaired by Prof. Jyothis Sathyapalan, Head, Centre for Post Graduate Studies and Distance Education, NIRDPR.
---
Library Talks: Dr P. P. Sahu Delivers Lecture on
Saga of Rural Employment
: Continuity and Change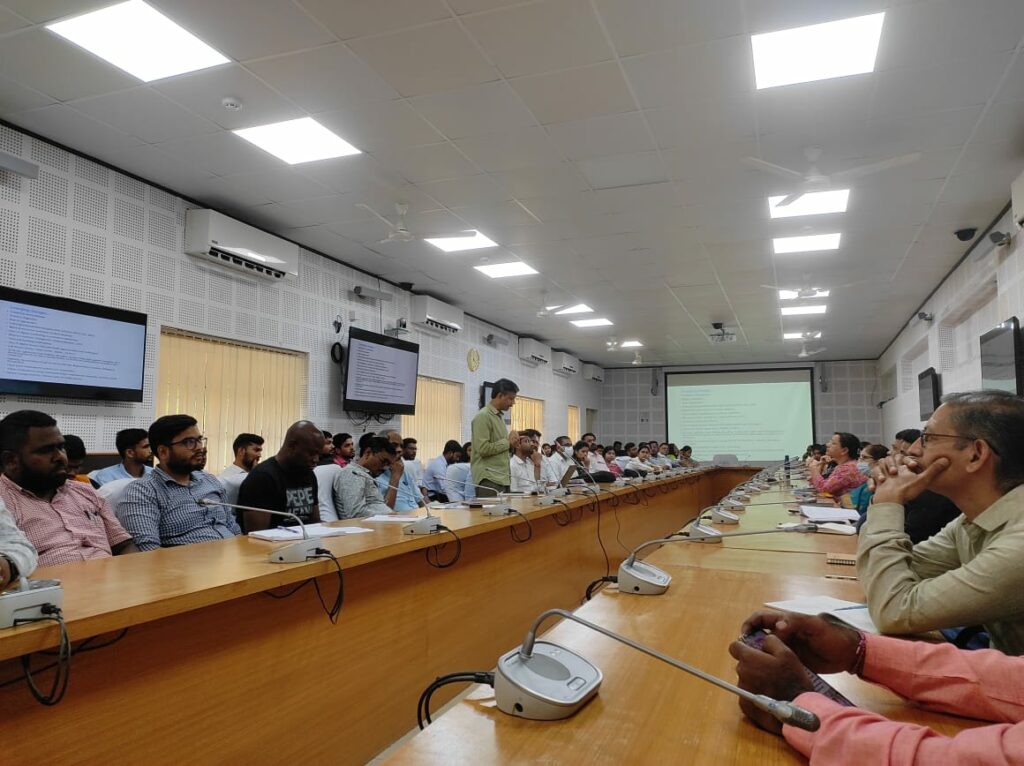 The Centre of Development Documentation and Communication, National Institute of Rural Development and Panchayati Raj, Hyderabad organised a library talk on 17th August, 2022 titled 'The Saga of Rural Employment: Continuity and Change,' by Dr. Partha Pratim Sahu, Associate Professor, Centre for Entrepreneurship Development and Financial Inclusion (CEDFI) and & Head i/c, Centre for Good Governance & Policy Analysis (CGGPA), NIRDPR.
The rural employment scenario, both in terms of quality and quantity, was challenging even before the pandemic. But the pandemic-led lockdown, not only aggravated the employment scenario but threw new challenges such as reverse migration and the emergence of rural poor. During this crisis time, rural households learnt to adopt various types of coping measures. Drawing data from various rounds of the Periodic Labour Force Survey (PLFS), Dr. Sahu narrated the current and emerging employment challenges in rural India.
"Employment setback was recorded across sectors, gender various other individual and household attributes. With wage-paid workers being laid off, a significant reshuffling was noticed, that is, regular salaried workers either became self-employed or casual. Rural youth suffered from the double burden of losing jobs as well as future employability challenges due to learning loss. We also came across many silver lines, such as employment in agriculture grew and female labour force participation rates increased, though marginally," Dr. Sahu said.
"A series of new schemes and programmes were implemented both by Central and State governments. PMGKY, MSME Package, PM Swanidhi, and skill mapping exercises by many State governments are a few of those responses from the State. However, we have to go a long way to realise a faster, inclusive and productive rural employment narrative. As a way forward, the issues of rural employment need to be mainstreamed in GPDP, localization of SDGs and national flagship schemes," he added.
The talk was followed by a Q&A session. Dr. Akanksha Shukla, Associate Professor, CPGS-DE presented the memento to the speaker and delivered the vote of thanks. Faculty, staff and students attended the talk.
---
ToT Programme on Value Chain & Business Development Plan-Level-I under Non-Farm Livelihoods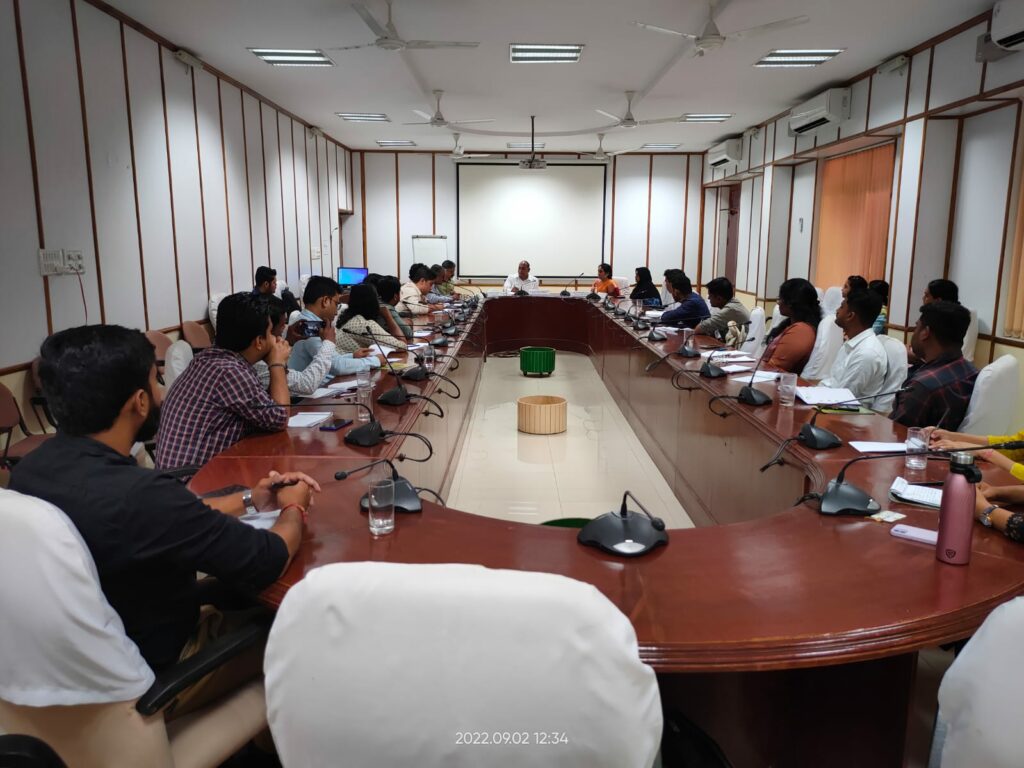 Towards achieving an inclusive and sustainable livelihood, a series of schemes and programmes have been implemented under NRLM, including the initiatives to convert SHGs into a productive micro business entity. It is envisaged that over the years, these SHGs will grow and create employment opportunities for the local population. Linking SHGs with formal institutions and markets will be crucial to put these SHGs on a graduation path. However, it has been witnessed that SHGs are not only lacking the required skills to develop an effective business plan but also not able to exploit their full potential to take part and gain from the value chain. To start a fresh conversation on these and other relevant issues, NRLM-RC, NIRDPR, in collaboration with the Centre for Entrepreneurship Development and Financial Inclusion (CEDFI), conducted a ToT programme on 'Value Chain & Business Development Plan-Level-I' under Non-Farm Livelihoods, during 30th August to 2nd September, 2022.
A total of 17 participants from seven different States, namely Assam, Haryana, Himachal Pradesh, Karnataka, Maharashtra, Odisha and West Bengal, attended this programme. These participants were officials from different SRLMs working at Block, District and State levels. The training programme started on 30th August, 2022 with the inaugural address by Dr. Ch. Radhika Rani, Director, NRLM-RC, NIRDPR. Dr. Partha Pratim Sahu, Associate Prof., Centre for Entrepreneurship Development and Financial Inclusion, briefly discussed the schedule and key objectives of this training programme.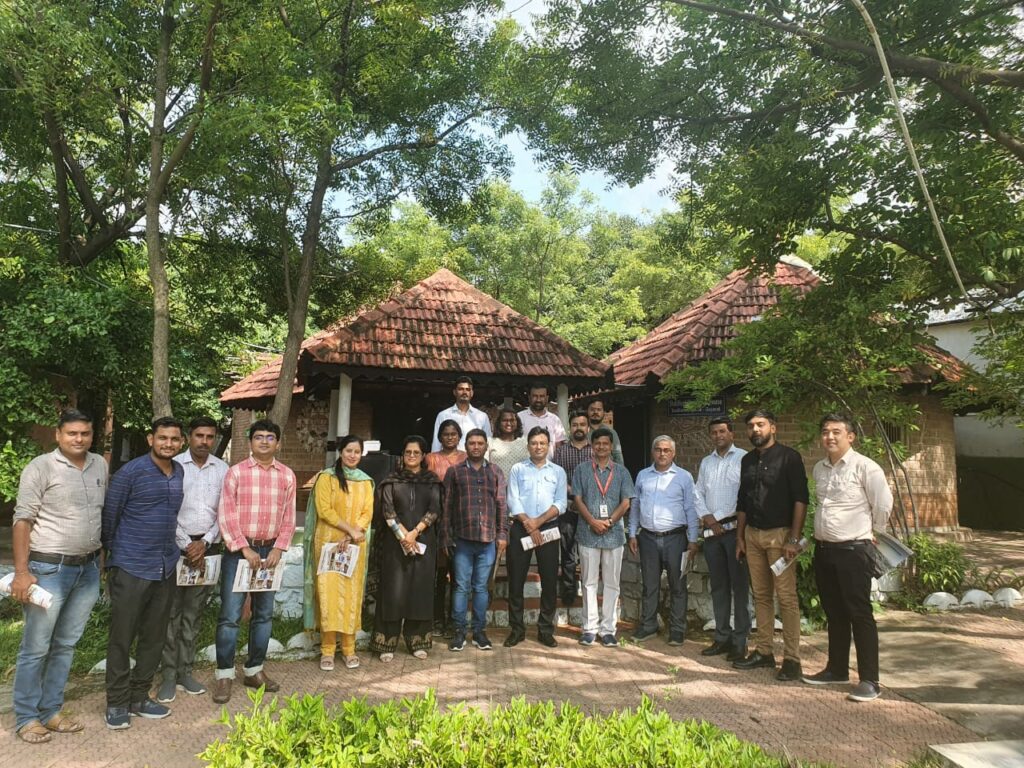 A detailed discussion was carried out to understand the needs and expectations of the participants. Pre and post-tests were also conducted to assess the impacts of this training programme on the learning performance of these participants. The detailed result of the pre & post-tests conducted is as under:
| | | |
| --- | --- | --- |
| Index | In Pre-test | In Post-test |
| Total Points | 25 | 25 |
| Total Respondents | 17 | 17 |
| Points range | 10-22 | 19-25 |
| Median | 18 | 22 |
During the four-day training programme, in-depth discussions were carried out on Issues & Challenges of Rural Non-farm Sector, Business Opportunities and Identification, Development of Value Chain Framework, Business Plan, DPR Preparation, Business Risk Assessment, Marketing and Preparation of Marketing Plan, Supply Chain Management, Inventory Management, Bookkeeping & Financial Statement, Social Inclusion & Social Development, etc., by the Resource Persons/Guest Speakers through the PPTs, interactive lecture, videos, brainstorming sessions, etc. A visit to the Rural Technology Park (RTP, NIRDPR) was arranged for participants to experience live demonstrations of a few livelihood models such as beekeeping, hand-made paper, biogas, vermicompost, leaf plates, aromatic essentials, etc.
In a special session, participants from Assam and Karnataka made a presentation on initiatives undertaken in their respective SRLMs in the area of non-farm livelihood, including collaborative works with IIM on incubation, helping SHGs to market their products on digital platforms and showcasing SHG products in airports.
Dr. G. Narendra Kumar, IAS, Director General, NIRDPR delivered a special address and interacted with the participants. He stated how DAY-NRLM has succeeded in building strong social capital, but their economic impacts and poverty reduction impacts have not yet been significant. During his deliberation, he discussed a number of important issues to put SHGs on a productivity-led enterprise journey. He also suggested exploring strategies and leveraging economic activities on non-crop based agriculture, economic value chain in fruits, animal husbandry, horticulture and so on. These sectors can play a crucial role in increasing the income of SHG members. Again, to increase the income of SHG members it is essential to ensure these five elements: 1. Competitiveness- At the Global level, 2. Inclusiveness- at Micro level, 3. Sustainability- Environmental-Friendly, 4. Scalability- Multiply the Success Stories, and 5. Financing- adequate Finance Flow. Elements such as good business plans, good people, opportunity, sourcing of raw materials, marketing plan, risk and return trade-off were also discussed in greater detail. The DG stressed that the SHGs need facilitation and support (for business plan, OSF, incubator, etc.) and linkages (Backward & Forward) and encouraged the participants to focus on these issues. He suggested participants to identify a product from their locality and develop its value chain. He also emphasised regular mentoring of CRPs, whose role is very crucial in sustainable non-farm livelihood.
In the last session, the participants shared their experiences of the four-day training programme and areas requiring more focus. The suggestions and observations of the participants have been noted for incorporation in future programmes. Dr. Ch. Radhika Rani, Director, NRLM-RC, and Dr. P. P. Sahu, CEDFI, NIRDPR attended the valedictory session.
---
Training on District-Specific ODF+ and JJM SBCC Planning and Implementation for Andhra Pradesh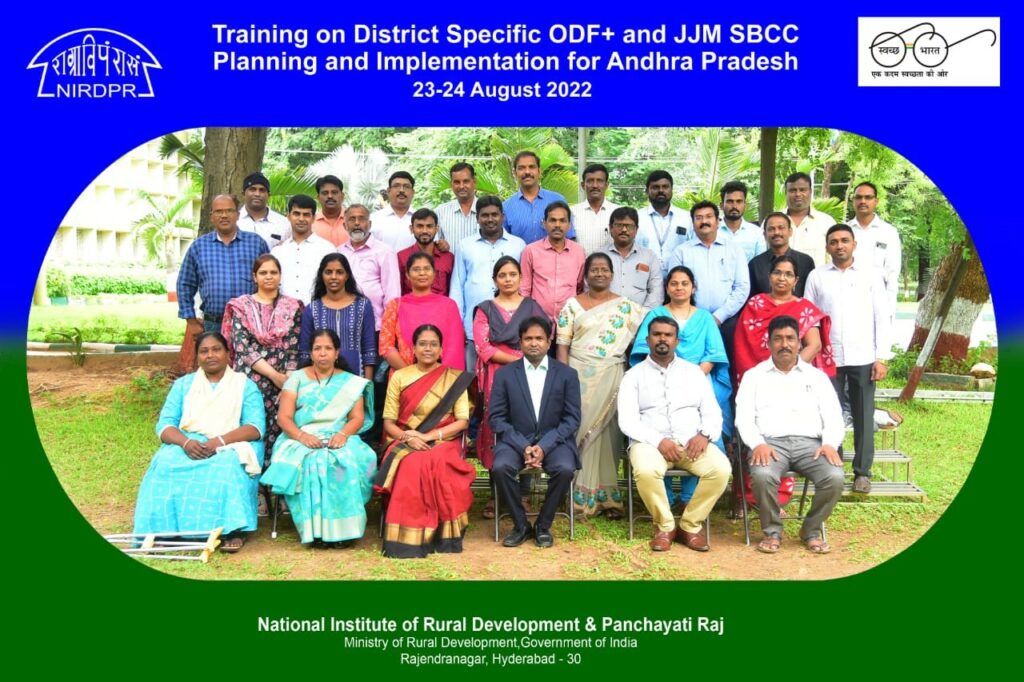 The Communication Resource Unit (CRU) of National Institute of Rural Development and Panchayati Raj (NIRDPR), in collaboration with UNICEF, organised a two-day training on District-Specific ODF+ and Jal Jeevan Mission (JJM) Social and Behavioural Change Communication (SBCC) Planning and Implementation for Andhra Pradesh on 23rd and 24th August, 2022, at NIRDPR, Hyderabad. The training programme was attended by 27 district-level IEC officers under SBM and DPMs under JJM of Andhra Pradesh.
The aim of the training programme was to empower the district officers with knowledge of the SBCC planning process and provide guidance on identifying barriers/bottlenecks, prioritising desired behaviours, identifying the target audience, messaging and the communication materials required for the SBCC activities. The two-day training programme was designed under adult learning principles to implement a human-centric design approach for the behaviour change of the community on ODF sustainability and to achieve JJM priorities.
At the outset, Dr. Vanishree Joseph, Assistant Professor, Centre for Gender Studies and Development welcomed the participants and briefly touched upon the background and objectives of the training programme. Shri Kiran Kumar, Chief Operating Officer (COO), Swachh Andhra Corporation (SAC), addressed the participants and expressed gratitude to the Communication Resource Unit of NIRDPR and UNICEF for providing support to the State of AP for the SBCC training programme. He mentioned that IEC and BCC interventions have been critical in raising awareness, changing attitudes, and inculcating sustained engagement for Swachhata, thereby motivating the community to adopt hygienic practices. Furthermore, he stated that intensive behaviour change communication has raised awareness and changed attitudes among rural citizens about the importance and benefits of safe sanitation and Swachhata, motivating them to adopt hygiene practices.
On the first day of the training programme, participants were given an overview of WASH issues, SBM-II & JJM communication priorities, barriers, expectations and messages for specific target groups, gender-inclusive messaging in WASH, and identification and prioritisation of barriers.
On the second day, the facilitator team oriented the participants about the digital and social media campaigns on SBM/JJM, development of district-specific costed SBCC implementation plans. Following this, the participants prepared a draft of the district-specific implementation plan based on listed activities with the support of the facilitator team for their respective districts.
Various sessions in the training programme were facilitated by Dr. J. Vanishree, Assistant Professor, CGSD, NIRDPR, Dr. N. V. Madhuri, Head, CRU, NIRDPR, Shri Kulandai Raj, SBC and DRR Consultant for AP, KA and TS, UNICEF, Shri Abdul Sattar, State WASH Consultant, UNICEF, Ms. A. Shruti, CRU-SBCC Coordinator (Planning & Coordination), and Ms. K. Sreeja, SBCC Coordinator (Training & Knowledge Management), CRU, NIRDPR.
At the end of the training programme, the participants also shared their feedback.
This training programme gave me an insight into the importance of ODF+ sustainability in achieving the Sustainable Development Goals, the role of SBCC in the removal of barriers, the process of planning giving importance to SBCC, Gender Sensitive Planning, communication priorities, and influencers. These types of training are required once or twice a year to make use of updated techniques and for reorientation. Even though the participants have a lot of field experience, these training sessions build their confidence and lead them on the expected path to achieve the results without any hiccups. This training programme helped us in preparing a perfect plan rather than a casual one.
– Ms. P Sowjanya Kumari, District Resource Person, Ananthapur
This training is beneficial to us because it allows us to create a precise plan rather than a haphazard one. We anticipate ongoing support from NIRDPR in the form of training.
– V. V. S. Chandrasekhara Sharma, District Coordinator, JJM Nellore
---
ToT Programme on Mainstreaming Food Nutrition Health and WASH and Operational Strategy under DAY-NRLM
A four-day Training of Trainers programme on mainstreaming Food Nutrition Health and WASH and Operational Strategy under Deen Dayal Antyodaya Yojana-National Rural Livelihoods Mission (DAY- NRLM) was conducted from 22nd -25th August, 2022 by NRLM Resource Cell at National Institute of Rural Development and Panchayati Raj, Hyderabad. The objectives of the training programme were to enable the participants to understand the need for integration of FNHW interventions in DAY-NRLM, the national and State approach, policy directions, intervention planned and available resources, and understand the preparation of State Operational Strategy – roles and responsibilities of State.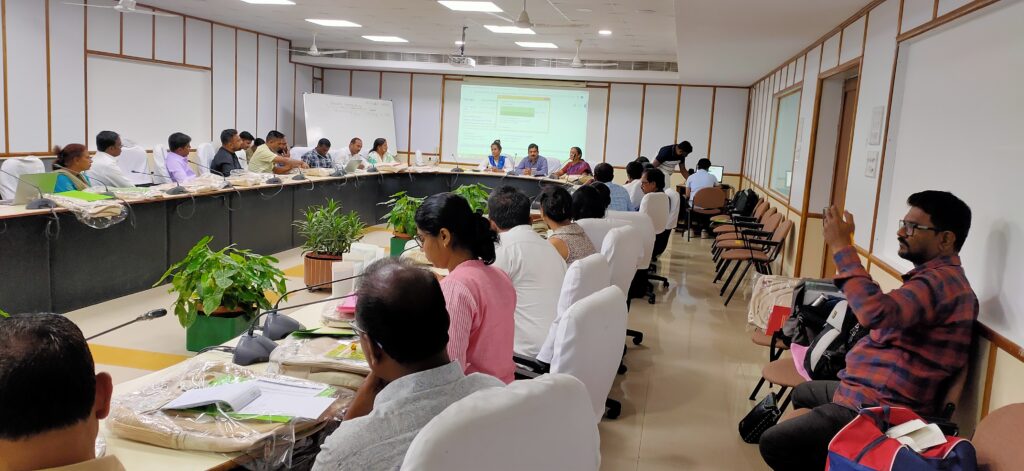 The training programme was facilitated by Ms. Sarada Annavajhala, National Resource Person (NRP), Ms. Vasudha, National Mission Manager, NMMU; Ms. Archana Ghosh, PCI, Ms. Neha Abraham, ROSHNI, and Ms. Jhansi Rani, NRP, and Dr. Vanishree Joseph, Asst. Professor, Centre for Gender Studies and Development, NIRDPR.
A wide area of topics regarding the integration of FNHW under DAY-NRLM was covered during the training programme, such as the rationale for integrating FNHW in DAY-NRLM, introduction of National/State approach to FNHW intervention under Day-NRLM, Social Behaviour Change Communication, introduction of the resource material tool kit developed by NMMU for all 17 FNHW themes, roles and responsibilities of the district, State and block level officials of SRLM, roles and responsibilities of CLF SAC, VO SAC, and SHGs, Gender FNHW Integration based on the case of Parival Chaaupal, which is one of the strategies adopted in Chhattisgarh SRLM, and NFHS Data indicators. It also covered the topic of convergence – with verticals within DAY NRLM and line departments and orientation on available schemes, benefits, and facilities from the line departments of the State as well as Central government under FNHW. The training also covered topics including the Vulnerability Poverty Reduction Plan (VPRP) and VRF/Food Security Fund/Health Risk Fund/Health insurance/PMJAY. There was also a discussion and clarification on NRLM MIS related to FNHW.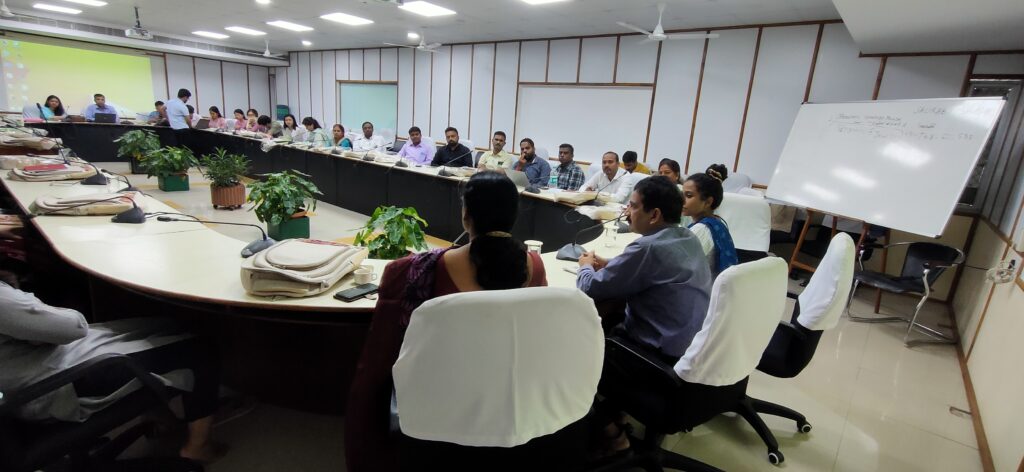 Altogether, 40 participants from 14 SRLMs, namely Arunachal Pradesh, Assam, Andhra Pradesh, Meghalaya, Madhya Pradesh, Maharashtra, Haryana, Himachal Pradesh, Odisha, Puducherry, West Bengal, Tamil Nadu, Telangana and Uttar Pradesh participated in the training. Shri Venkateshwar Rao, Mission Manager-SISD, NRLM RC and Ms. Y. Atan Konyak, Mission Executive, NRLM RC, NIRDPR coordinated the training programme. Shri Kalyan, Project Assistant, and Shri Shoheb, Project Assistant of NRLM RC facilitated the online feedback (TMP) of the training.
---
SIRD/ETC CORNER
ETC Meghalaya Organises Training Programme on Cake Baking for SHGs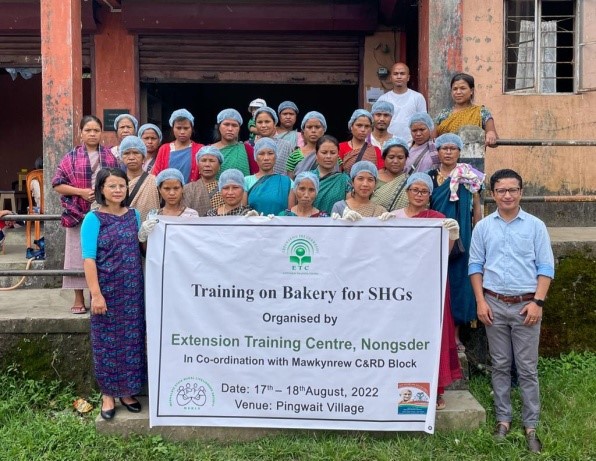 The office of the Extension Training Centre, Nongsder, Meghalaya, in coordination with Mawkynrew C&RD Block, East Khasi Hills District and MSRLS (Meghalaya State Rural Livelihood Society) team from NRLM, organised a two-day off-campus training programme on Bakery for the Self-Help Groups under Mawkynrew C&RD Block on 17th – 18th August, 2022. The training programme covered the theoretical and practical (hands-on practice) aspects of baking.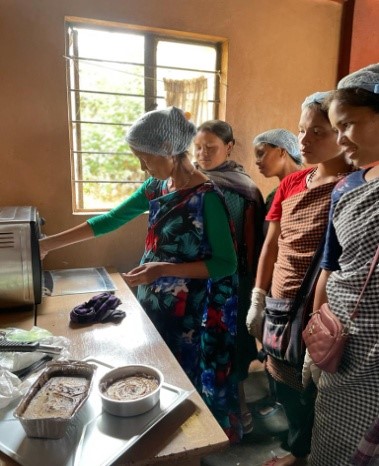 The main objectives of the training programme were to encourage the SHGs to take up income-generating activities for better income and self-sustenance, thereby enhancing their socio-economic status, and assist them to become entrepreneurs for micro-enterprise development.
The theoretical aspects covered include significance of cleanliness while baking, importance of precise measurements of ingredients by using a proper weighing machine, checking the freshness of flour and raising agent, making the SHG members aware of different tools and equipment used in baking, such as oven and locally available equipment, baking rice cake and millet cake using locally available ingredients, and importance of FSSAI registration.
Practical sessions on baking marble cake, rice cake and millet cake were also conducted.
Outcomes of the Training:
The SHG members received in-depth training on ingredients, mixing, forming and baking. By understanding the fundamentals of baking, they learned how to bake different types of cakes properly. Also, they gained technical information to launch a start-up/small-scale, commercial baking micro-enterprise to enhance their income.
---