CONTENTS:
COVER STORY
:
Mission Antyodaya Survey and Evidence-based Rural Development Planning
NIRDPR Signs MoUs with NECTAR, Shillong & CSIR-CBRI, Roorkee
NIRDPR Hosts Workshop with Young Fellows and State Programme Coordinators on Thematic GPDP & Panchayats Development
ARTICLE
:
A Bird's Eye View of Open Government Data Platform India
National Training Programme on Good Governance in Rural Development Flagship Programmes
Training Programme on Development of Managerial Skill, Leadership Development, Extension and Accounting
National Training Programme on Leveraging CSR Funding for Rural Development Programmes and Writing Impactful Project Proposals
Training Programme on Source Sustainability and Management in Jal Jeevan Mission
Training Programme on GIS-based Planning and Monitoring of MGNREGA at GP level using Yuktdhara
NIRDPR Accords Warm Farewell to Director (FM & FA) & DDG (i/c) Shri Shashi Bhushan
NIRDPR & KILA Conduct ToT on Wetlands Conservation and Sustainable Livelihoods
TOLIC-2 Organises Hindi Workshop at ICAR-NRCM
National Training Programme on Beneficiary Survey
Training Programme on IT Security for Endpoint Devices
JOB OPPORTUNITIES/ADMISSION NOTIFICATION
---
COVER STORY:



Mission Antyodaya Survey and Evidence-based Rural Development Planning
Dr C. Kathiresan, Associate Professor & Head
Dr Venkatamallu Thadaboina, Research Officer
Centre for Research & Training Coordination & Networking (CRTCN), NIRDPR, Hyderabad
kathiresan.nird@gov.in; venkatamallu.nird@gov.in
Introduction
Mission Antyodaya is a convergence and accountability framework, adopted by the Ministry of Rural Development in the year 2017, aiming to bring optimum use and management of resources allocated by 27 Ministries/Departments of the Government of India under various programmes for the development of rural areas. Annual survey in Gram Panchayats across the country is an important aspect of the Mission Antyodaya framework. It is carried out coterminous with the People's Plan Campaign (PPC) of the Ministry of Panchayat Raj and its' purpose is to lend support to the process of participatory planning for the Gram Panchayat Development Plan (GPDP).

The primary objective of Mission Antyodaya Survey is to collect village infrastructure and services data for nearly 6,50,000 villages in the country. The data collected from the villages are aggregated to rank GPs and to generate Gap Reports for the individual Gram Panchayats. This process is being undertaken annually since 2017.
In 2017, when the Mission was launched, the baseline survey was conducted in selected 5,000 clusters that encompassed 44,125 Gram Panchayats (GPs), including 780 SAGY Gram Panchayats. The survey was extended to all the remaining GPs (around 2,47,000 GPs) in the entire country in 2018, by repeating the GP ranking and identifying the gaps. In 2018, the questionnaire contained a total of 64 parameters in six thematic areas.
Major Outcomes of MA Surveys in 2017 & 2018:
General Reports (SECC profile / Village-wise reports)
Ranking of Gram Panchayats
Sector-Specific Reports
Gap Reports
Other Ministries/Programme-Specific Reports (SAGY/PMAGY/MSME)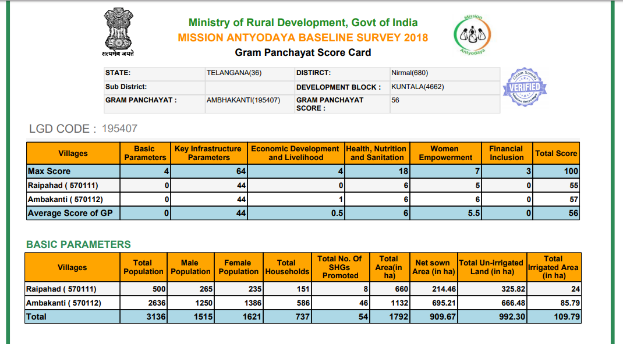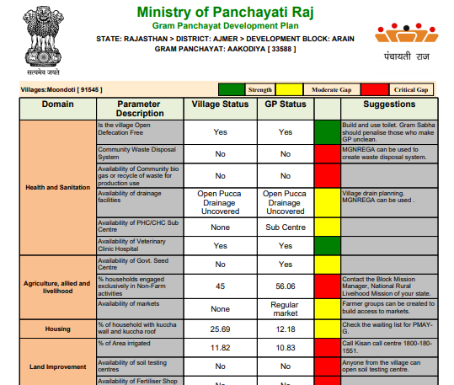 In 2019, the survey questionnaire was revised through a consultative process, organised by NIRDPR, covering 29 subjects, to ensure better policy coherence to achieve the objective of sustainable development in Gram Panchayats. In total, 143 parameters were finalised and pilot tested at a Gram Panchayat (Ghansimiyaguda GP, Ranga Reddy Dist, Telangana). The survey was successfully conducted in all the GPs across the country using a revised questionnaire. It was carried out in more than 7000 blocks spread across 715 districts of all States and UTs, except Delhi and Chandigarh.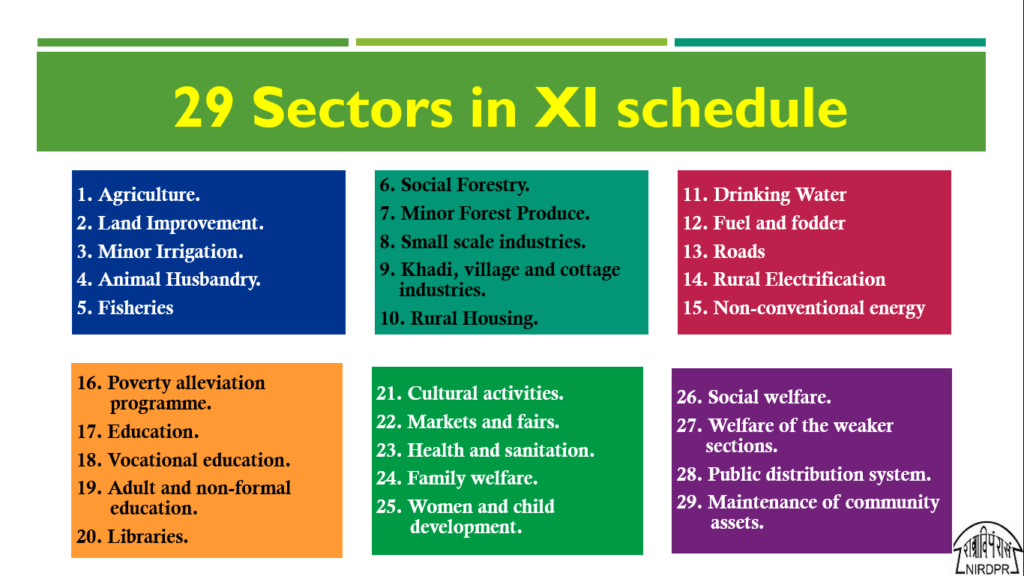 In 2020, all the GPs were enumerated on the same questionnaire used in the year 2019. The previous data available for the village, i.e. Census 2011 or MA 2017, 2018, or 2019 was used as baseline data which was updated and digitised by Gram Sevaks as Mission Antyodaya 2020 data. The Gram Panchayats where data was already collected in the previous phases of the survey were considered for data updation during this phase.
In 2021 and 2022, no survey was done due to the COVID pandemic. After a two-year break, MA Survey 2023 is being undertaken from 9th February 2023 by MoRD. For the 2023 version of the survey, the questionnaire has been expanded to cover 182 Indicators covering 21 sectors. The survey is being conducted by 92,000 Community Resource Persons (CRPs) across the country, associated with National Rural Livelihoods Mission (NRLM).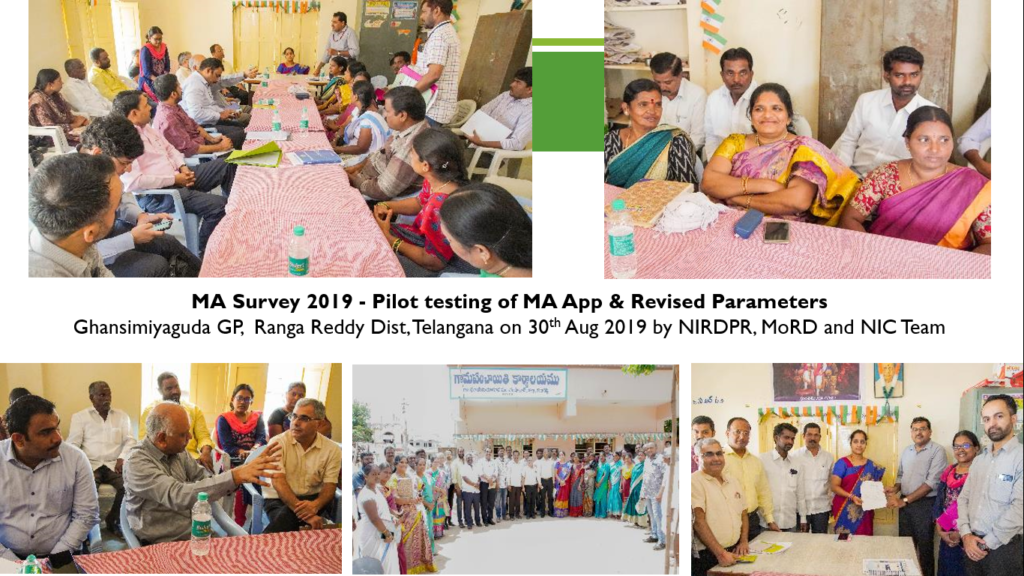 21 Sectors/Areas covered in Mission Antyodaya Survey 2023:
Basic Parameters (these are location details of the GP and its constituent villages)
Good Governance – GP Infrastructure & services (only for the Panchayat Village)
Agriculture and Land Development, fuel and fodder
Animal Husbandry
Fisheries
Rural housing
Water and environmental sanitation
Roads and communication
Conventional and non-conventional energy
Financial and communication infrastructure
Market and fairs
Public distribution system
Libraries
Recreation and sports
Education/vocational education
Health, Nutrition, Mother & Child Development & Family Welfare
Welfare of Weaker sections
Poverty alleviation Programmes
Khadi, village, and cottage industries
Social Forestry
Small-scale industries
NIRDPR is closely associated with MoRD since the first survey launched in 2017, orienting the stakeholders on the survey process, value addition to the survey questionnaire and making the questionnaire and Android App available in regional languages.

NIRDPR organised four online training programmes in January 2023, orienting about 480 participants (State Nodal Officers, State Level Master Trainers and District Level Master Trainers) from all States and UTs. Participants were trained on revamped Mission Antyodaya Questionnaire and MA Survey App. Resource persons from the Development Intelligence Unit (DIU) and NIC-MoRD supported NIRDPR in completing these orientation training programmes. A live demo of the MA App was organised and the participants were oriented on the process of registration and the full cycle of survey process.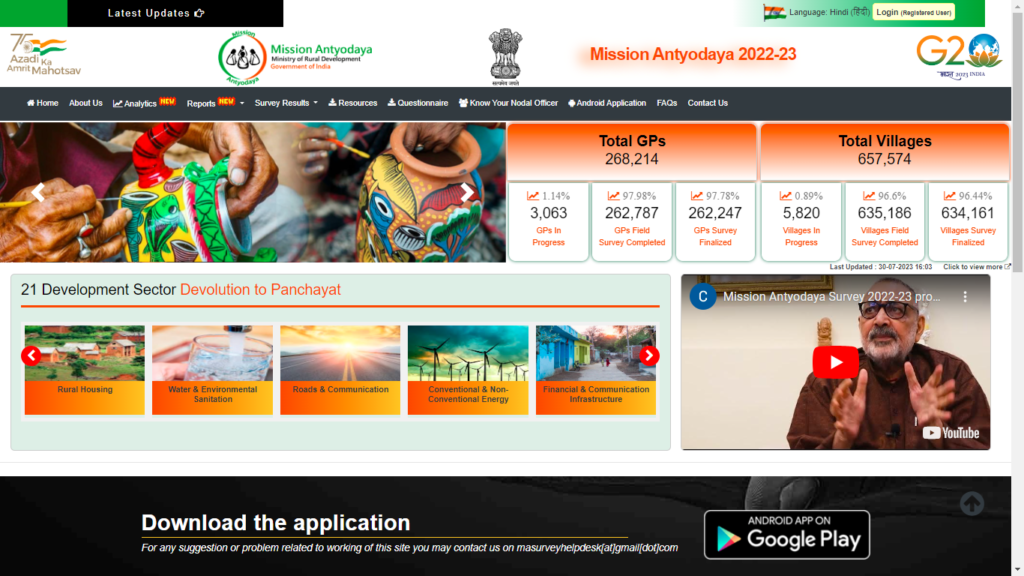 Evidence-based Planning for Rural Development
The concept of grassroots-level planning for rural development is an important addition to the strategies of micro planning for development. In India, grassroots planning has received much attention after the effective enforcement of 73rd Constitutional Amendment Act empowering local bodies. The Eleventh Schedule of the Constitution places 29 functions within the purview of the Panchayati Raj Institutions (PRIs) and the Article 243G mandates local bodies to prepare and implement plans for economic development and social justice. Government of India made several complementary institutions and measures, such as Gram Sabha, to facilitate people's participation in the planning and implementation of development programmes. Some of the plans prepared at grassroots level as an outcome of participatory planning include Gram Panchayat Development Plan (GPDP) at Gram Panchayat level, Block Panchayat Development Plan (BPDP) at Block Panchayat level, District Panchayat Development Plan (DPDP) at Zilla Parishad level, Village Poverty Reduction Plan (VPRP) by SRLM, Village Development Plan (VDP) for Saansad Adarsh Gram Yojana, MoRD, strategic plans prepared for Aspirational Districts Programme (ADP), and Aspirational Blocks Programme (ABP). One of the key elements in the planning process is the collection of primary and secondary data, in the identified sector.
Planning in rural areas has moved from conventional planning methods to evidence-based planning, thanks to real-time access to the data available from various sources. Getting access to reliable data in the public domain is always a challenge for the people involved in the planning process. Identifying the development gaps using the data collected from reliable sources and preparing the plan accordingly will lead to visible development in that area. Mission Antyodaya Survey data is playing a key role in providing reliable data and making evidence-based planning a reality in rural areas.
The sector-specific gap analysis available in the MA portal will help the governments to make plans and make optimal utilisation of financial resources under different schemes through a convergence approach. The survey results of 2019-20, for the first time, shed light on the infrastructural gaps from 2.67 lakh Gram Panchayats, comprising 6.48 lakh villages. The national-level and state-wise data show progress in some areas and reveal the need for providing basic facilities in the rural areas for the socio-economic development of the people. The gap report and the composite index show that building 'economic development and social justice' remains a distant goal even after 30 years of decentralisation reforms.
How to Access Data from Mission Antyodaya Portal?
The survey reports from 2017 to 2023 are made available in the portal – https://missionantyodaya.nic.in/ for public access and in various formats for download. The results of the survey are presented in various formats, including ranking of villages, composite index, sector-specific reports, gap reports, village development in the last three years, availability of basic infrastructure at gram panchayats, programme/scheme-specific reports, etc. The gap analysis allows citizens and policymakers to track development in each village/Gram Panchayat, apart from the nationwide trends.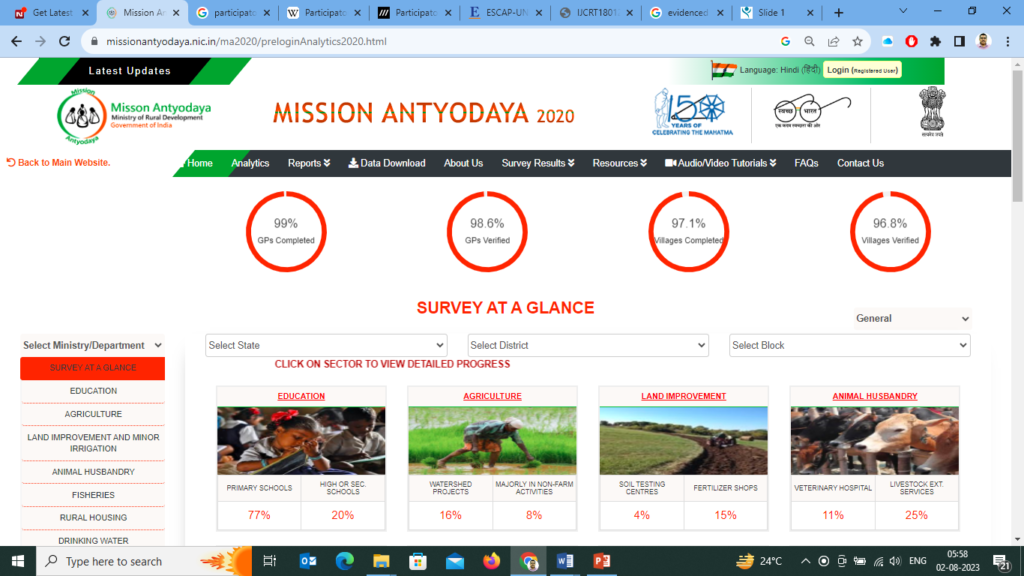 Conclusion
Ministry of Rural Development, Government of India has been conducting Mission Antyodaya Survey across all Gram Panchayats in the country since 2017 with the purpose of transforming the lives and livelihoods of people on measurable outcomes through the convergence of various schemes. It is one of the largest data, covering many development-oriented sectors, available in the public domain. MA data is being used in the GPDP planning process across all Gram Panchayats since 2018, but its utility by other stakeholders involved in the grassroots-level planning process seems to be very low. There is an urgent need to integrate various developmental plans being prepared by various stakeholders at the Gram Panchayat level, with Gram Panchayat Development Plan (GPDP), in order to achieve sustainable development. The MA survey data can be a single source of truth for various planning processes, leading to optimal use of resources at the village level and also the convergence of various programmes.
---
NIRDPR Signs MoUs with NECTAR, Shillong & CSIR-CBRI, Roorkee
The National Institute of Rural Development and Panchayati Raj (NIRDPR), Hyderabad signed Memoranda of Understandings (MoUs) with North East Centre for Technology Applications and Reach (NECTAR), Shillong, Meghalaya and CSIR-Central Building Research Institute (CBRI), Roorkee, Uttarakhand, on 01st July 2023, in the presence of the Hon'ble Union Minister of Rural Development and Panchayati Raj Shri Giriraj Singh.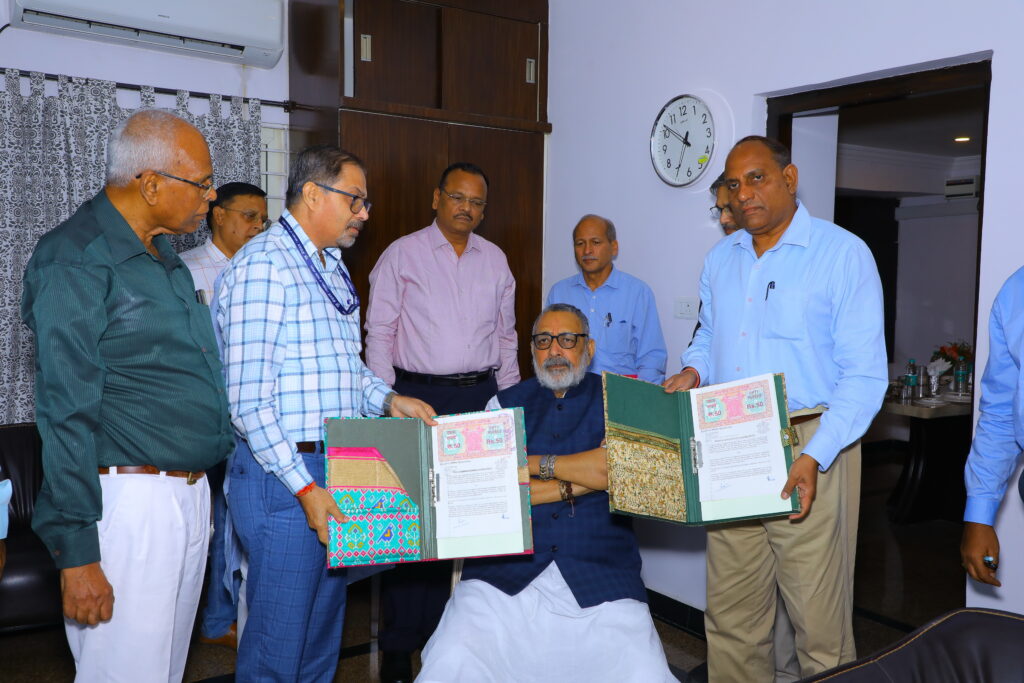 The MoU with NECTAR was signed with the objective of working jointly for the dissemination of knowledge & technology for the benefit of artisans/entrepreneurs and clusters in the fields of agriculture, food processing, renewable energy, bamboo, geospatial, disaster management, etc., and further work in the promotion of usage of drone technology for rural development, developing Biodiversity Atlas and skill and capacity development in various technologies with specific focus on bamboo and banana.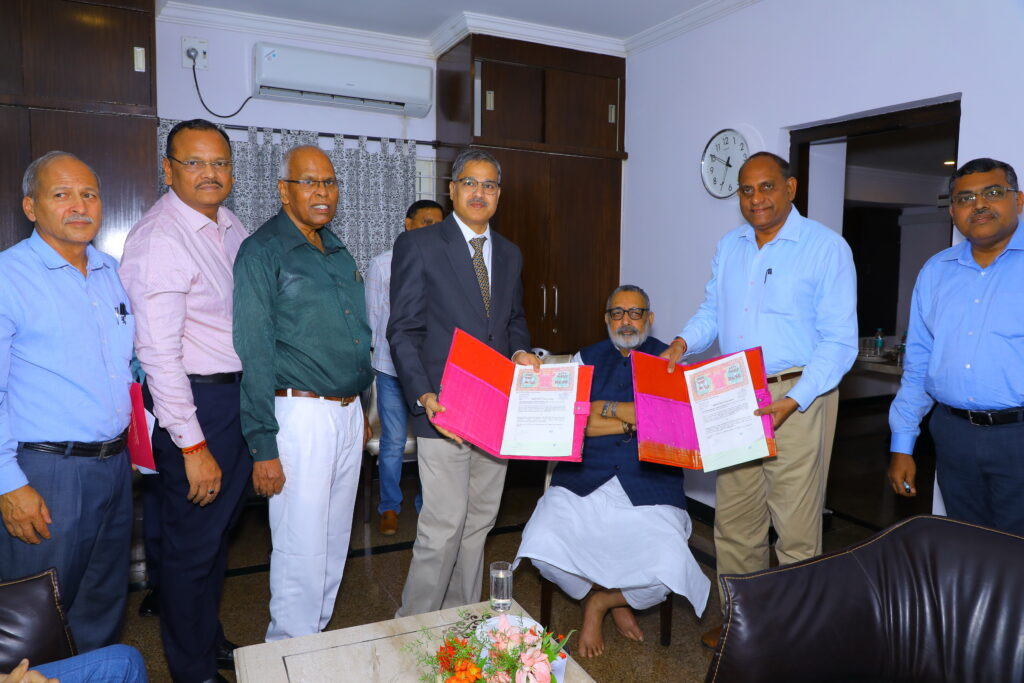 The MoU with CSIR-CBRI was signed with the goal of promoting sustainable eco-friendly housing technologies, cost-effective house-building materials, developing various state/region-specific housing models, skill/capacity building among the rural engineers, masons, construction workers and other stakeholders with a special focus on PMAY-G scheme to ensure the effective implementation and achievement of the objective of the Government of India, i.e. Housing for all. Further, the MoU aims at developing a model for constructing the buildings in Panchayats under Public Private Partnership (PPP) mode.
Dr G. Narendra Kumar, IAS, Director General, NIRDPR, Dr Arun Kumar Sarma, Director General, NECTAR, Prof. Pradeep Kumar, Director, CSIR-CBRI, Dr Valli Manickam, Director, CIPS, Dr C. Kathiresan, Associate Professor, NIRDPR, Mr. Mohammad Khan, Sr. Consultant, NIRDPR, Dr Radhika Rani, Associate Professor, NIRDPR and faculty of NIRDPR and officials from NECTAR and CBRI attended this programme.
NIRDPR Hosts Workshop with Young Fellows and State Programme Coordinators on Thematic GPDP & Panchayats Development
The National Institute of Rural Development and Panchayati Raj conducted a two-day 'Workshop with Young Fellows (YFs) and State Programme Coordinators (SPCs) on thematic approach to Gram Panchayat Development Plan (GPDP) & Panchayats Development Index (PDI) on its Hyderabad campus from 11th-12th July 2023.
Shri Sunil Kumar, IAS, Secretary, Dr Chandra Shekhar Kumar, IAS, Additional Secretary, and Shri Vikas Anand, IAS, Joint Secretary from the Ministry of Panchayati Raj (MoPR), Government of India, participated in the workshop. Apart from the MoPR officials, more than 100 YFs, SPCs of 250 Model Cluster Development Projects and the faculty of NIRDPR attended this national-level workshop.
Dr A. K. Bhanja, Associate Professor & Head, Centre of Panchayati Raj, NIRDPR, welcomed the participants and explained the background and objectives of the workshop. He said the MoPR, in March 2022, had constituted an expert committee under the leadership of Smt. Jayashree Raghunandan, IAS (Rtd), to monitor the implementation of Localisation of SDGs (LSDGs) through the Panchayat Development Index (PDI). "Accordingly, the committee has recommended 144 targets & 577 indicators to assess the development status of Gram Panchayats. These indicators are aligned with the SDGs and drive sustainable development at the local level," Dr Bhanja said. He further noted that the Gram Panchayats, while formulating the GPDP, would take into account the local contexts in the achievement of SDGs — right from setting targets to determining the means of implementation and using PDI to monitor the progress.
Dr Chandra Shekhar Kumar, IAS, Additional Secretary, during his address to the participants, said the LSDG and the PDI guidelines of MoPR provide the directions to the Gram Panchayats for identification and prioritisation of issues perceived by the local community, ideation of context-specific solutions and better utilisation of available funds through convergent action. He hoped that this workshop would develop a common understanding of the operationalisation of PDI and enable the Panchayats to deliver on the SDGs through GPDP.
Shri Sunil Kumar, IAS, Secretary, MoPR delivered the keynote address. He said that the implementation of PDI marks the beginning of the journey towards achieving the SDGs in rural India. He pointed out that the Panchayats being the nearest institutions to villagers will design and implement locally relevant policies aligned with SDGs for achieving sustainable development. "The PDI serves as a tool for bridging developmental gaps by monitoring progress at the Gram Panchayat level. The PDI score, and the thematic and indicator scores will provide clear growth trajectories across the nine themes of LSDGs and enable targeted interventions in areas of need, allowing the Panchayats to focus our efforts and resources where they are most required," Shri Sunil Kumar said.
Later, Shri Tauqeer Khan, Consultant, MoPR, made a detailed presentation on the thematic approach to GPDP.
Shri Vikas Anand, IAS, Joint Secretary, MoPR, made a presentation on the operationalisation of PDI. "The PDI helps in incorporating the local indicators into the GPDP process. It has the inbuilt mechanism for inter-agency data sharing and institutionalised information exchange," he said.
This workshop provided all the participants with valuable insights, strategies, and tools to effectively implement the thematic approach to planning and utilise the PDI for tracking progress.
---
ARTICLE:
A Bird's Eye View of Open Government Data Platform India
Dr. Umesha M. L.
Assistant Librarian, Centre for Development Documentation & Communication, NIRDPR
umeshaml.nird@gov.in
Data.gov.in (https://data.gov.in/) is the official open data platform of the Government of India. It is an initiative taken by the Ministry of Electronics and Information Technology (MeitY) in collaboration with the National Informatics Centre (NIC) to provide access to a wide range of government datasets to the public. The platform aims to promote transparency, innovation, and participation by making government data available for citizens, researchers, businesses, and other stakeholders.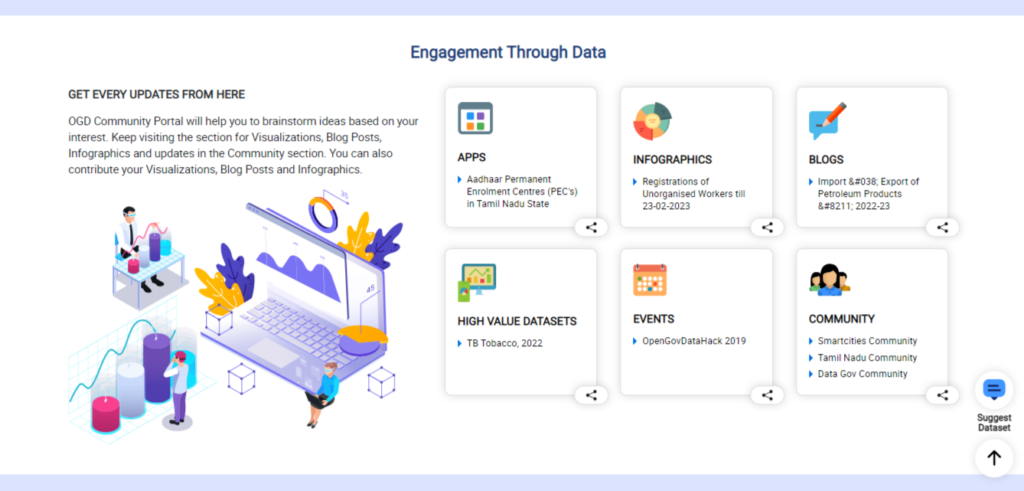 Objectives of Data.gov.in
Data.gov.in serves as a centralised repository for various types of data, including demographic information, economic indicators, health statistics, education data, agricultural data, infrastructure details, government schemes, and much more. The datasets are sourced from different government departments, ministries, and agencies at the central, State, and local levels.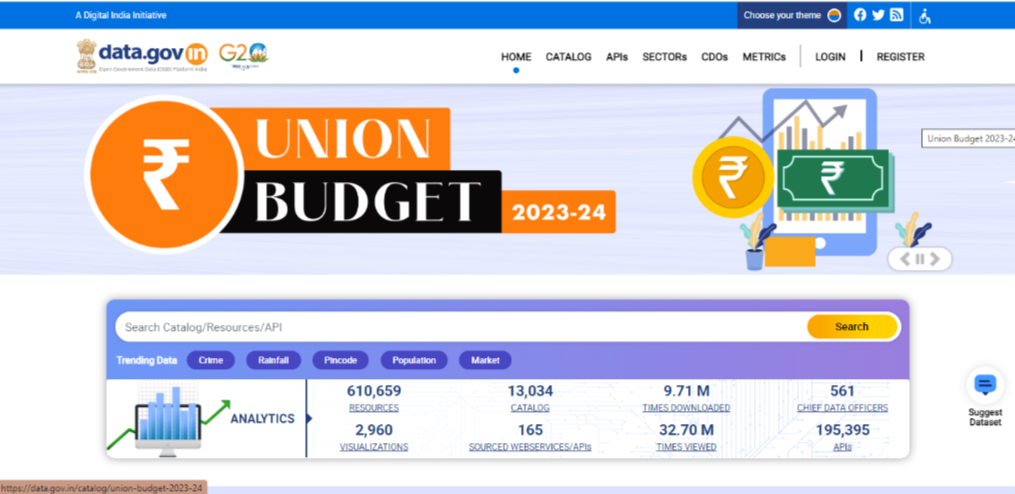 How to Login?
To avail the facilities, first, click the Login button on the top right corner of the page. Enter the Govt. email id and password. Click on the login button to login into the portal.
Downloads
The platform provides an easy-to-use interface for users to discover, access, and download datasets in multiple formats such as CSV, Excel, JSON, and PDF. It also offers various tools and resources to analyse and visualise the data, enabling users to gain insights and make informed decisions based on the available information.
Datasets
Data.gov.in not only facilitates data access but also encourages data reuse and collaboration. It promotes the development of applications, tools, and services by providing APIs (Application Programming Interfaces) for developers to build innovative solutions using government data. The platform also features a community section where users can engage in discussions, share their work, and collaborate with others interested in open data.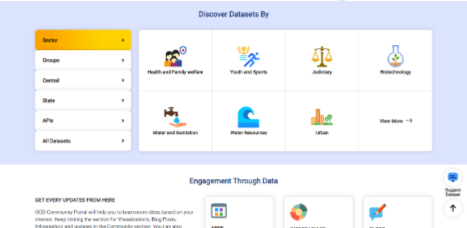 Overall, data.gov.in plays a crucial role in fostering transparency, accountability, and data-driven decision-making in India. It empowers citizens and organisations to leverage government data for research, analysis, policy formulation, and the development of impactful applications and solutions that contribute to the country's progress.
---
National Training Programme on Good Governance in Rural Development Flagship Programmes

National Institute of Rural Development and Panchayat Raj (NIRDPR) organised a four-day residential training programme on 'Good Governance in Rural Development Flagship Programmes' from 4th to 7th July 2023 on its Hyderabad campus. A total of 24 officials from RD&PR dealing with flagship programmes, DRDA Project Directors, charge officers of the different flagship programmes and nodal officers at the State and district level, faculty members of research & training institutions in RD&PR, SIRDs, ETCs, district and block level officers, researchers, development practitioners, and public policy enthusiasts participated in the training.
Helmed by the Centre for Good Governance and Policy Analysis (CGG&PA) at NIRDPR, the training programme was premised on the idea that good governance is essential for effective policymaking, accountable leadership, and professional administration. It plays a vital role in ensuring the success of rural development flagship programmes. However, the existing institutional arrangements and procedures often pose challenges to achieving the desired goals.
The training programme on Good Governance in Rural Development Flagship Programmes, therefore, aimed to enhance the understanding and skills of participants in implementing and addressing governance issues in rural development schemes. The training not only touched on crucial aspects of governance and its tools but also was designed in a way to facilitate participants' learning about flagship schemes and identify bottlenecks.
The objectives of the programme were i) Building an understanding of concepts like governance, good governance, e-governance, etc., ii) Analysing governance issues and challenges in implementing flagship schemes, iii) Sharing best practices, and proof of concepts amongst participants about governance reforms, iv) Introduction and capacity building of participants on governance tools, and v) Promoting a culture of peer learning.
The first day started with a pre-course evaluation which highlighted a lack of conceptual clarity in participants on Good Governance and related concepts. The session was led by Dr G. Narendra Kumar, IAS, Director General, NIRDPR, who focused on the need for strong institutions to deliver welfare services. He also cited case studies of Singapore and Kerala.
After the introductory session, the course director introduced the core concept of good governance and helped the participants prepare the base for the rest of the training. The session pointed out four governance deficits which citizens face, i.e. deficit of alternatives, information, accountability, and voice. This challenged the participants to think deeply about governance issues in flagship programmes in India. The key takeaway from the sessions was forced investments which one bears in the absence of good governance.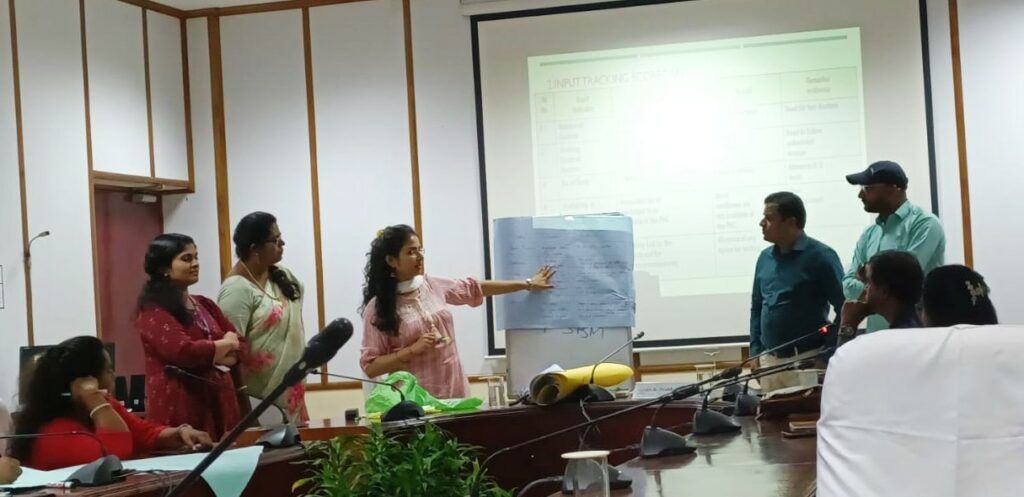 The session on good governance played as an anchor for the rest of the training as multiple sessions on specific schemes were held to discuss the role of good governance in their implementation and success. Discussion on Jal Jeevan Mission established a clear difference between a tap water connection and a functional tap water connection. The key takeaway of this session was how inevitable are convergence models if the government plans to roll out programmes like JJM sustainably.
The second day started with a discussion on the flagship scheme Mahatma Gandhi National Rural Employment Guarantee Scheme (MGNREGS). Participants and facilitators were engaged in conversations around the diversification of livelihood programmes, role of government in the improvement of governance in MGNREGA's delivery, and the inevitability of convergence in MGNREGA. The key learnings from the session were about annual master circular usage which participants can refer to engage with authorities and think of innovations around it.
The second session on Sansad Adarsh Gram Yojana (SAGY) had the most interesting dialogues between the facilitator and participants as it is a scheme with no funds/finances. SAGY is an interesting case study on the role of good governance in effective service delivery without the involvement of any grants. The foundation of SAGY rests on convergence and data. The key learnings from the session were on the replication of the SAGY baseline, and the village development plan's methodology for other Gram Panchayats.
The third session on Pradhan Mantri Awas Yojana – Gramin (PMAY-G) and the exposure visit to Rural Technology Park (RTP) were interconnected. The session highlighted the success of PMAY and underscored the limitation of the exclusion list and new initiatives taken by the government to bridge gaps. The session underlined the need to adopt local and eco-friendly designs for PMAY houses by discussing initiatives like Pahal modules. With the same reference, the Rural Technology Park visit was planned. Experience of looking at local and eco-friendly structures was the first step all participants took towards conscious living.
In the first session on Day 3, the course coordinator introduced micro tools like community score card and macro ones such as citizen report card. In this session, the participants were taught about improving the governance in the immediate ecosystem we work or live in and institutionalising governance reforms by themselves. The key takeaway was an improvement in governance in the immediate space is possible by taking simple steps. The tools helped participants visualise solutions to some problems or build research-based advocacy if required by comparison of different service deliveries. The session also highlighted some data quality checks and the sample size one is required to maintain for generalising the findings.
The final day started with a much-needed session on e-governance. In this session, the facilitator discussed various applications and modules the government is currently working on and the prospects it holds for the future. Following a discussion on e-governance tools, the course coordinator explained supply-side tools to participants based on case studies of police reforms in investigations undertaken by the Karnataka Police Department. Engagement with the help of a case study helped the participants understand that governance cannot be always limited to citizens demanding it. The supply side can also take voluntary actions to correct themselves/improve service delivery. The session ended with sharing of learnings and co-creating more examples and possible areas of intervention in an ecosystem regarding supply-side tools.
Participants shared their experiences and reflected on key takeaways during the valedictory session. Through various modules, interactive methodologies, and exposure visits, peer learnings, participants gained insights into addressing governance issues and challenges for better service delivery to the public. Key government officials said the training helped them in learning more about service delivery hiccups and the demand-side issues faced by citizens. The facilitator also gave participants space for feedback which was constructively discussed amongst the group for further improving the quality of training.
Dr K. Prabhakar, Assistant Professor, Centre for Good Governance and Policy Analysis (CGG&PA), NIRDPR, organised the national training programme.
(Note: The training summary report is prepared by a participant Ms Pallavi Laungani, Senior Program Lead, Piramal Foundation, Rajasthan.
---
Training Programme on Development of Managerial Skill, Leadership Development, Extension and Accounting
The Centre for Natural Resource Management, Climate Change and Disaster Mitigation organised a six-day training programme on 'Development of Managerial Skill, Leadership Development, Extension and Accounting' from 17th to 22nd July 2023 for Assistant Fishery officers of the Fishery Department, Odisha. A total of 37 participants attended.

The objectives of the programme were to i) Enhance managerial skills by training fishery department officers in decision-making, strategic planning, leadership, communication, team building, and conflict resolution to improve managerial capabilities, ii) Improve extension techniques by equipping officers with modern extension methodologies, community engagement, and technology usage to effectively disseminate knowledge and promote sustainable fishery practices among stakeholders, and iii) Strengthen Accounting and Financial Management Skills by enhancing officers' accounting proficiency for transparent financial practices, budgeting, and resource allocation to ensure efficient financial management within the fishery department.
The programme began with a welcome address to participants by Dr Ravindra S. Gavali, Professor & Head, CNRM, CC & DM, NIRDPR, Hyderabad. Dr Gavali further delivered the inaugural address, setting the tone for the training programme and highlighting the importance of the fishery sector's growth and development.
The 1st technical session of the programme was addressed by Dr A Madhuri, Senior Executive (Tech), NFDB. Dr Madhuri's lecture highlighted the concept of sustainable fisheries and the vital role of Fishery Officers. She stressed the need for responsible fishing practices to preserve marine ecosystems and support fishing communities. The lecture also covered the key features of PMMSY, a government initiative aimed at boosting fish production, modernising the fishing industry, and promoting aquaculture and fishery infrastructure. Overall, the session emphasised the importance of conservation efforts and recognised the significant contributions of Fishery Officers and PMMSY in achieving this goal.
The 2nd technical session was addressed by Dr Subrat Kumar Mishra, Associate Professor, CNRM, CC & DM, NIRDPR, Hyderabad. Dr Subrat's lecture focused on the 'Convergence of Flagship Programmes of Rural Development with Fishery Activities.' He discussed the potential benefits of integrating rural development programs like MGNREGA, NRLM and PMMSY with fishery initiatives. This approach could lead to sustainable development and improved livelihoods in rural areas. Dr Subrat highlighted the positive impact of this convergence on employment generation, poverty reduction, and overall rural growth. He emphasized the need for effective planning, coordination, and community involvement in implementing these integrated programs. The lecture underscored the significance of aligning efforts to achieve holistic rural development and maximise the positive outcomes of both rural development and fishery activities.
During the visit to NIRDPR's Rural Technology Park, led by Dr C. Kathiresan, Associate Professor, NIRDPR, practical aspects of training, extension, and technology transfer in rural areas were explored. The focus was on hands-on training for rural communities, showcasing tailored innovations in agriculture, water management, and renewable energy solutions. Emphasis was placed on the crucial role of extension services in disseminating knowledge to farmers and villagers, bridging the gap between research institutions and rural communities. The visit provided valuable insights into empowering rural areas through sustainable practices, fostering self-sufficiency, and overall development. It highlighted the significance of training, extension, and technology transfer in enhancing livelihoods and building resilient rural communities.
Dr A. K. Saxena took a session on 'Leadership and Motivation Skills' and it went beyond theory, incorporating practical approaches to enhance leadership abilities and motivation. Interactive exercises and role-playing scenarios allowed participants to practice decision-making and communication skills. Dr Saxena emphasised understanding team members' needs, fostering a positive work culture, and recognising accomplishments. The session provided actionable insights for immediate application, enabling attendees to become effective leaders and motivators in their respective fields.
Dr Akanksha Shukla conducted a session on 'Information Dissemination and Communication Skills,' focusing on the use of local and social media for disseminating suitable packages and practices. During the session, Dr Shukla highlighted the importance of effective communication in reaching rural communities with valuable information. Overall, Dr Akanksha Shukla's session equipped the attendees with practical communication skills to bridge the information gap and empower rural communities with relevant knowledge for their progress and well-being.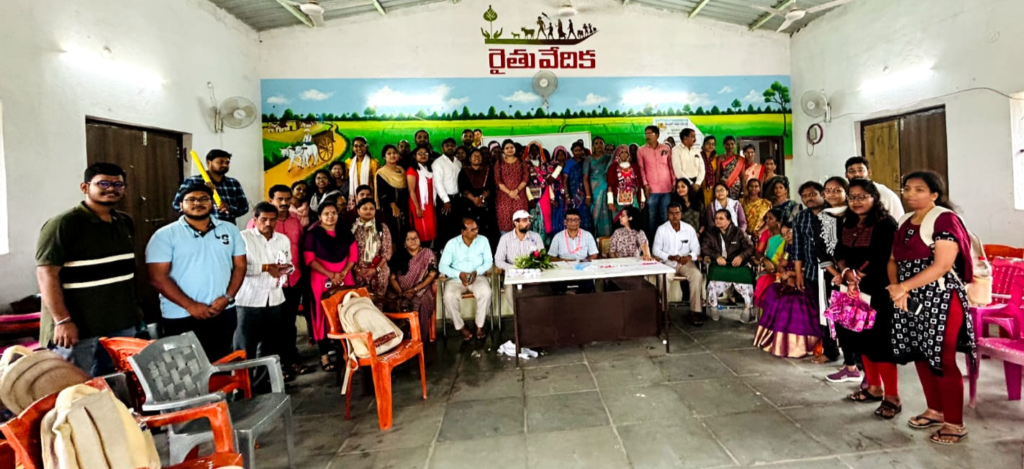 Dr Partha Pratim Sahu, Associate Professor, NIRDPR, conducted an enlightening session on 'Promoting Entrepreneurship in the Fishery Sector.' The session aimed to empower individuals to explore entrepreneurial opportunities in the fishery industry for sustainable development. Dr Sahu emphasised the importance of understanding market trends and customer needs, and fostering innovation. He shared inspiring success stories of fishery entrepreneurs to encourage creative thinking and seize business prospects. The session also covered financial planning, government schemes, and networking as vital support systems for aspiring fishery entrepreneurs. Dr Sahu's guidance provided valuable insights for building a thriving and responsible fishery business.
Dr Debapriya, Associate Professor, CPGS&DE, led a session on 'Farmer and Market Linkage in the Fishery Sector.' The focus was on bridging the gap between fish farmers and markets to enhance profitability and sustainability. Participants learned about marketing strategies, value-addition techniques, and the role of technology in creating transparent and efficient linkages. The session aimed to empower fish farmers with insights to boost the sector's growth and ensure fair returns in the market.
Dr Sonal Mobar Roy, Assistant Professor at NIRDPR, took a session on 'Participatory Rural Appraisal' for Assistant Fishery Officers. The session aimed to equip officers with skills to actively engage rural fishing communities. Emphasising understanding local needs, the session covered participatory tools like focus group discussions and mapping exercises. The session focused on empowering officers to foster community participation, sustainable fishing practices, and aligning development initiatives with local requirements. The session aimed to strengthen communication and collaboration between Assistant Fishery Officers and fishing communities for effective and locally relevant fisheries development interventions.

During the visit to Kravis Aqua, the Chairman, Mr Vishwanath Raj, took a class to showcase his exemplary practices in fishery on his farm. Participants had the unique opportunity to learn directly from his expertise and experience in the industry. Mr Vishwanath Raj shared valuable insights on innovative fishery techniques, sustainable practices, and modern technologies used on his farm. His expertise provided valuable knowledge and inspiration to the attendees. The visit offered a practical learning experience and fostered the exchange of ideas to enhance the growth and development of the fishery industry in India.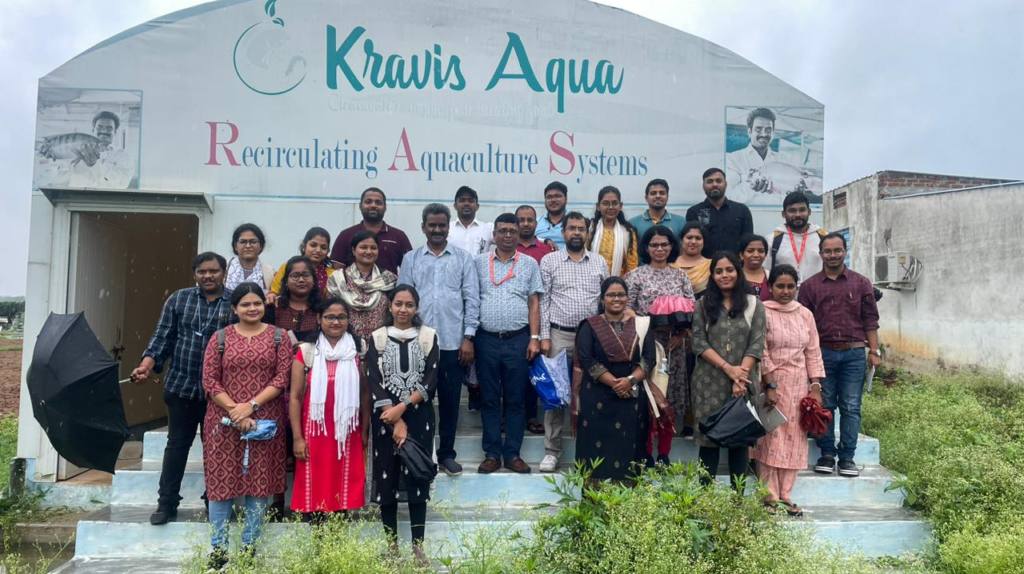 After the Kravis Aqua session, a Participatory Rural Appraisal (PRA) exercise was conducted in the nearby village, Gunded. Led by Dr Sonal Mobar Roy, the PRA involved activities like focus group discussions and participatory mapping. Local community members, including PRIs, SHGs, and FPOs, actively participated, offering valuable insights. The exercise aimed to understand the community's needs and aspirations, fostering collaboration between departments, PRIs, and the community for expanding fishery activities.
Mrs. Nagalaxmi, Chartered Accountant, NIRDPR delivered an informative guest lecture on 'Basics of Financial Accounting,' covering Balance Sheet, Profit & Loss Account, Fund Flow, and Cash Flow. Participants learned fundamental principles and preparation techniques for these financial statements. The session provided valuable insights into monitoring financial activities and analysing revenue, expenses, and net profit. Attendees gained essential knowledge applicable in diverse professional and organizational contexts.
Dr A. K. Saxena's session on 'Problem Solving and Conflict Resolution' focused on equipping participants with effective techniques. Emphasizing systematic approaches, attendees learned problem-solving methodologies for personal and professional challenges. The session also covered conflict resolution strategies, including effective communication, active listening, and negotiation skills. By the end, participants gained practical tools to navigate through problems and manage conflicts constructively, fostering harmonious and productive environments.
Dr V. K. Reddy's session on 'Principles and Practices of Teamwork' highlighted the significance of cohesive teamwork. Participants learned about effective communication, collaboration, and leveraging individual strengths. The session emphasised conflict resolution and fostering a positive team culture, enabling attendees to build strong and productive teams for collective success.
Dr Subrat Kumar Mishra's session covered "Odisha Government Financial Rules," explaining financial management, budgeting, accounting practices, and procurement procedures. Attendees gained insights into compliance requirements and transparency measures enforced by the Odisha government, equipping them for effective financial management and adherence to guidelines.
Dr Ravindra Gavali, Professor and Head of CNRMCCDM, took a session on 'Climate Change Adaptation in the Fishery Sector.' The session explored the impact of climate change on fish habitats, species distribution, and productivity. Dr Gavali emphasised the importance of resilience through sustainable practices and innovative approaches. Attendees gained insights into climate-resilient fishing techniques, resource conservation, and community-based initiatives for adaptation. The session aimed to equip participants with the knowledge and tools needed to address the challenges posed by climate change, ensuring the long-term sustainability and prosperity of the fishery sector.
Participants collaborated in group work to prepare a Perspective presentation in view of the Fishery Sector. They brainstormed and strategized ideas on sustainable farming techniques, water management, and market linkages. Discussions also covered financial planning, technology integration, and community engagement. Each group presented their Perspective Plan, showcasing innovative solutions to enhance fish farming practices. The exercise encouraged active participation and collective thinking, fostering collaborative efforts to advance the fish farming sector. By the end of the session, participants gained valuable insights and practical ideas for improving fish farming and promoting sustainable growth in the industry.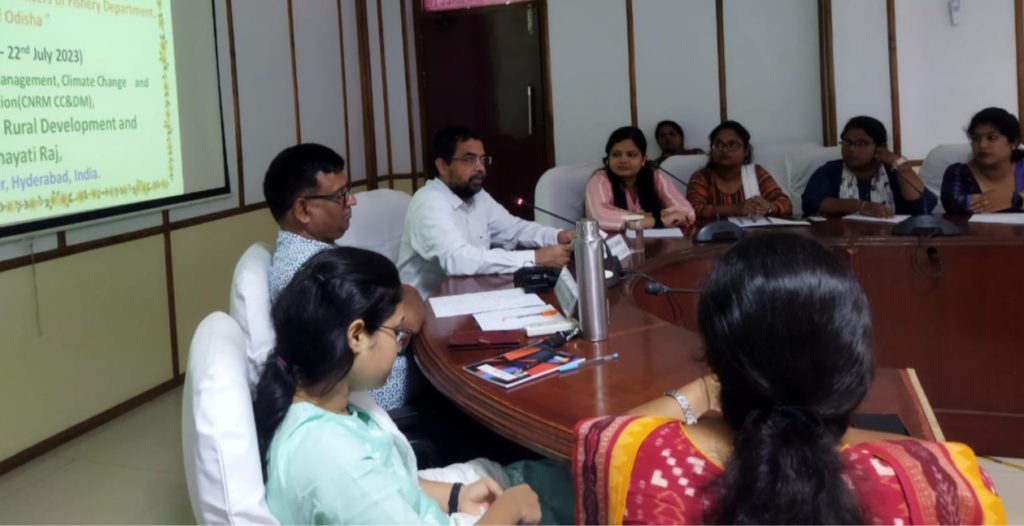 The training program ended with a valedictory address, evaluations, and feedback. Dr Ravindra S. Gavali, Professor and Head, and Dr Subrat Kumar Mishra, Associate Professor, CNRM, CC & DM led the session. Dr Gavali expressed appreciation for their active and enthusiastic participation, lauding their dedication and contributions to the program's success. The event concluded positively, leaving attendees with newfound knowledge, skills, and a sense of camaraderie, ready to create a positive impact in the fishery sector and inspire others in similar initiatives. During the valedictory address, Dr Subrat also shared his views, expressing appreciation for the participants' active involvement and commitment throughout the training program. He commended their eagerness to learn and engage in discussions, which significantly contributed to the program's effectiveness.
Feedback from participants was taken in the valedictory session and evaluation of the course in the Training Management Portal of the Government of India, and the training programme received an overall effectiveness of 88 per cent.
---
National Training Programme on Leveraging CSR Funding for Rural Development Programmes and Writing Impactful Project Proposals
The NIRDPR-Delhi Branch conducted a national training programme on 'Leveraging CSR Funding for Rural Development Programmes and Writing Impactful Project Proposals'from 5th July 2023 to 7th July 2023 at the India Habitat Centre, Lodhi Road, New Delhi. The programme was attended by 25 functionaries of NGOs, CSOs and governments across 14 States.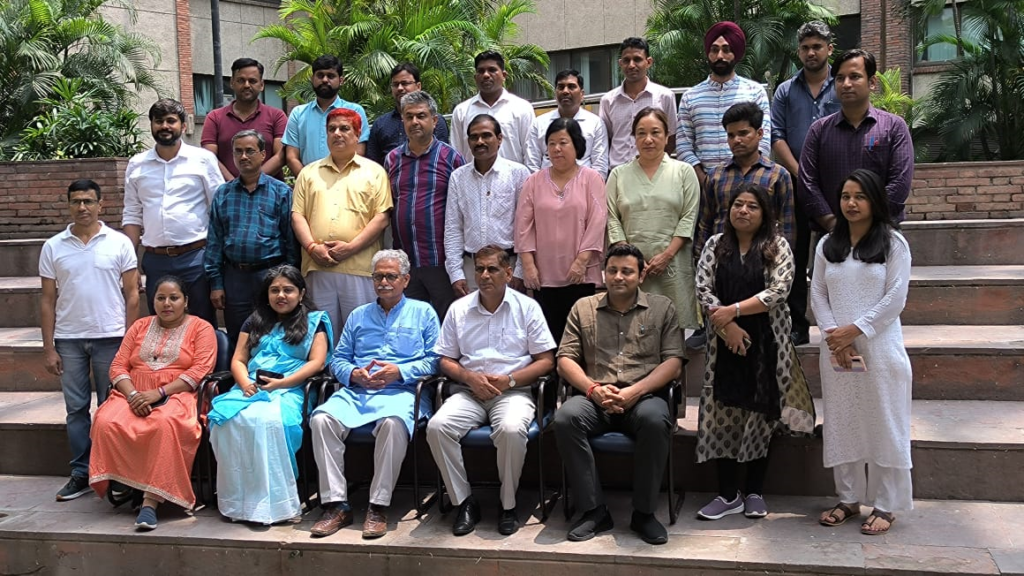 Shri Yash Pal, Director, SAGY and Mission Antyodaya, inaugurated the programme and underlined the need for CSR training and NGO capacity building for successful SAGY implementation in the States.
The training started with a brief introduction to the rural development programmes and the status of CSR in the aspect of rural development. Shri K. G. Shyam Parande, Secretary General of Antar Rashtriya Sahyog Parishad (ARSP), delivered the inaugural address and made a presentation on 'Unleashing the Potential: Leveraging CSR for Rural Development Initiatives' on 5th July 2023. He briefed about the company's commitment to contribute positively to society through sustainable initiatives and investments along with statistics on CSR spent in the development sector.
Shri K. G. Shyam Parande further focused on changing trends in CSR and rural development in India. He explained that CSR investment is required in skill development for the rural skilled workforce by investing in vocational training, capacity building, and entrepreneurship programmes for the rural workforce. "This may be fruitful in enhancing employability, bridging the skill gap, and fueling economic growth in rural areas. It is also required in the education and health sectors for which we may approach for customised CSR interventions based on local research for greater relevance. Strengthening local governance is also helpful to build capacity for the successful implementation of partnership projects. Together with varied stakeholders such as government, NGOs and corporates through PPP (public, private and people) partnerships, innovative, replicable and scalable models of CSR in rural development can be executed," he said. He also presented the framework for writing effective proposals and stated how CSR funding for rural development can be optimised by adopting a few strategic approaches, resulting in impactful projects that address community needs, foster sustainability, and generate positive social impact.
The first technical session comprised the components and a step-by-step guide to writing good proposals and exercises. The session was taken by Dr Avishek Hazra, Senior Programme Officer at the Population Council. Dr Hazra explained in detail the components of impactful proposals for CSR organisations and conducted proposal-group exercises to concretise the learning.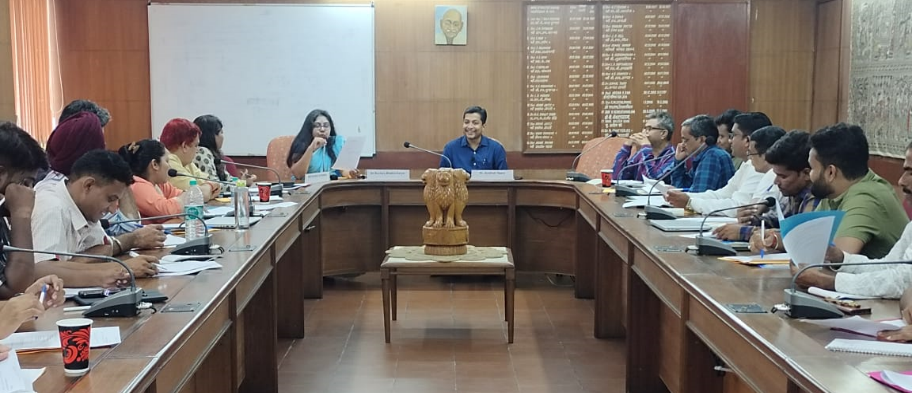 On the second day, Ms Henna Vaid, Senior B D Associate from 3ieimpact took the session on prioritising writing effective grant proposals. She described the effective ways to mobilise CSR funding and explained how her organisation succeeds through proper identification of opportunity, due diligence, updated key CVs, and preparing a core team to work on the proposal, responding to each question mentioned in the RFP.
The third technical session of the training was taken by Dr Rakesh Mishra from UNICEF who presented India's secondary data sources on rural development and analysis of need and identifying project objectives from datasets. Dr Mishra oriented participants on various sources and types of data and showed how it can be used as a foundation for effective knowledge function in the sector of research, monitoring, evaluation and planning, etc. Mentioning publically available dashboards from where we can get the estimate for State, districts, overtime, etc., he also briefed the participants about the hierarchy of data and its indicators. He explained the process of generating data for a demographic health survey and its various phases and timelines till its publication and further analysis.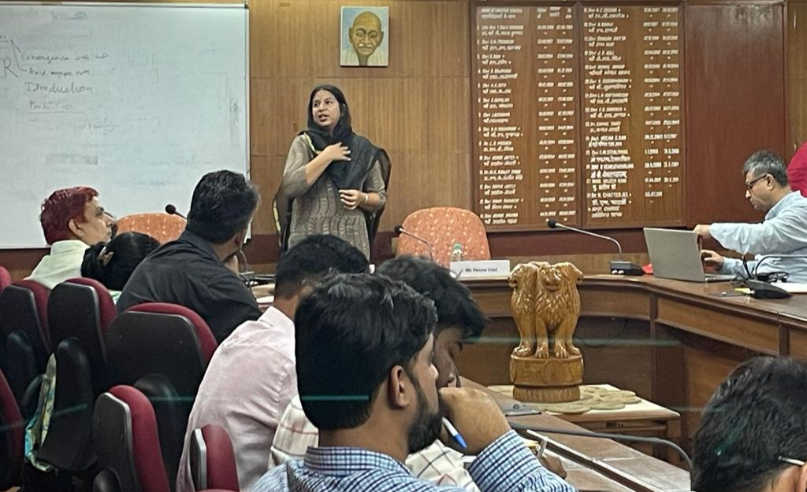 The fourth technical session was taken online by Dr Ramesh Sakthivel, Associate Professor, NIRDPR. Dr Sakthivel introduced the participants to the logical framework analysis for project planning, monitoring and evaluation. He briefed about the structure and advantages of logical framework analysis and how it helps in designing projects by stating the key components and facilitating common understanding between decision-makers, managers and other stakeholders involved. He also focused on stakeholder analysis, problem tree, and objective tree. He described the hierarchy of objectives and added that the objectives should address the core problem in terms of the benefits to be received by the project beneficiaries or target group as a direct result of the project.
The fifth technical session was taken by Dr Ruchira Bhattacharya. During group exercise, the participants were asked to develop a proposal step-by-step and each component of the good writing CSR proposal was refined and improved through hands-on exercises. Dr Ruchira explained that a proposal should contain a detailed description of a series of activities for achieving a specific goal. "To define the goal of the project, it is necessary to connect to the vision for development. Indicators should be clear to understand the achievement of the goal. Criteria for the selection of the activities should be practical, acceptable, effective, efficient and sustainable. For the proposal, budget allocation and resource planning should be appropriate, realistic and specific," she added.
On the third day, the participants presented their proposals to Dr Partha Pratim Sahu, Associate Professor & Head, CEDFI, NIRDPR. Dr Sahu clarified various components of revising the proposals.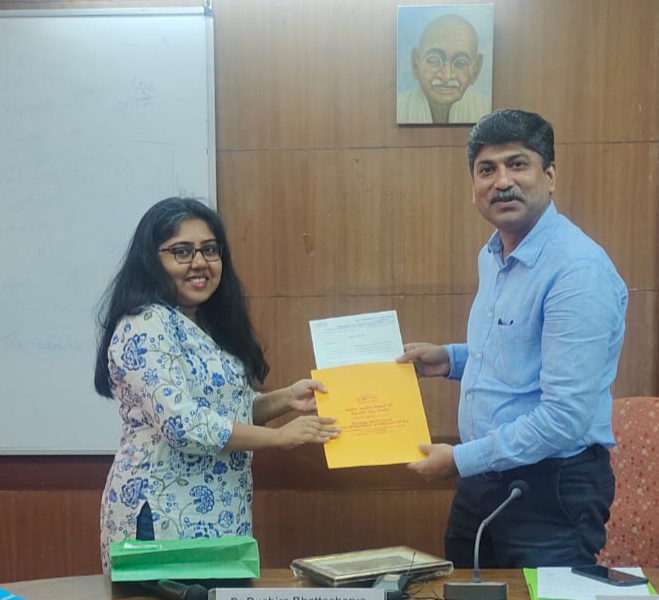 The final session of the last day of the training programme was taken by Shri Santosh Gupta, CEO of ISRN. Presenting CSR implementation models and Ethical practices for CSR implementation, he explained various phases such as Conception & Initiation, definition & planning, launch/execution and monitoring and documentation. To reach the successful closure of the project, one has to develop a project charter, in which the key points are identification of key project stakeholders, selection of the team best suited for the project, conducting a project feasibility study, defining project scope, activities and deliverables, development of the project management plan, development of risk management & communication plan, deployment of human resources with defined roles and responsibilities, a preliminary assessment of the budget/cost required for the project, execution of the project management plan, managing the teamwork, managing project communication with stakeholders, conducting team-building exercises, assess the risk management, completion of project deliverables, identification of areas of improvement and best practices, initiate billing and revenue workflows and preparation of final project documentation. Dr Gupta also focused on economic, social and environmental ethical practices of CSR implementation.
The programme ended with a vote of thanks by Dr Ruchira along with the distribution of the certificates. The programme was coordinated by Dr Ruchira Bhattacharya and Dr Ramesh Sakthivel.
---
Training Programme on Source Sustainability and Management in Jal Jeevan Mission
The Centre for Rural Infrastructure, NIRDPR organised a 3-day training programme on 'Source Sustainability and Management in Jal Jeevan Mission' for engineers, officials and KRCs working in Jal Jeevan Mission from 10-12 July 2023. In total 13 participants from the States of Andhra Pradesh, Madhya Pradesh, Maharashtra and Uttar Pradesh attended.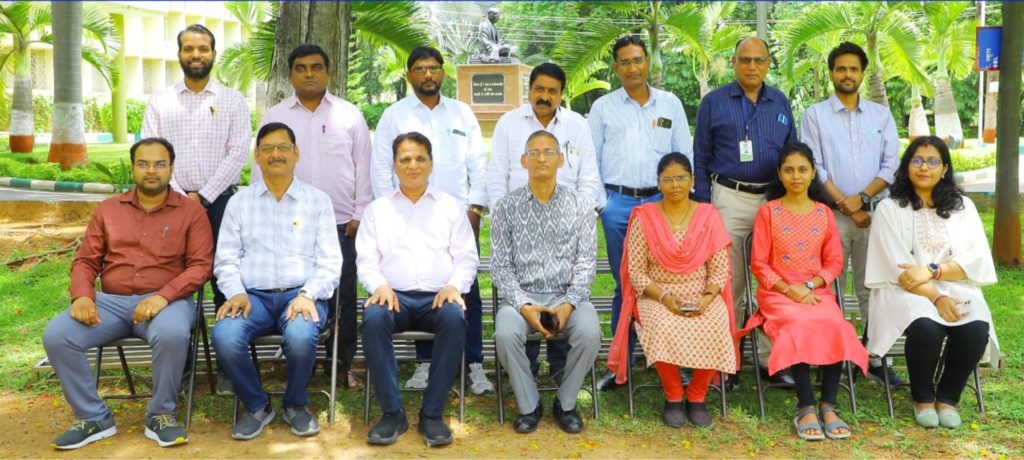 On the first day, Dr R. Ramesh, Head, CRI briefed the participants about Jal Jeevan Mission (JJM). Er H. K. Solanki, Sr. Assistant Professor delivered a talk on the need for source sustainability.
A session was taken by an industry expert from Kritsnam Technologies Dr Sonali Swetpadma on 'Basics of IoT, its applications in Rural Drinking water supply, management and demonstration of Water flow monitoring using IoT devices'. The session on 'The interactions of Watershed, Aquifers and Gram Panchayat: Evolution of MSWMUs' was taken by Er H K Solanki followed by a visit to various water harvesting and recharge structures in RTP and an introduction to RTP works by Sh. MD Khan, Senior Consultant, RTP.
On the second day the session on 'Best practices of Watershed, Indigenous Technologies for Water Harvesting, Ground Water Source Management: Practices and case studies' was taken online by Dr P K Singh, Dean, CTAE, MPUAT, Udaipur. The session on 'Groundwater Recharge and Sustainable Measures' was taken by Sh. P. Jyoti Kumar, Deputy Director, Telangana State Ground Water Department. The session on 'Application of GIS and Remote Sensing for Ground Water Source Sustainability and Management' was taken by Dr NSR Prasad, Faculty member, CGARD, NIRDPR followed by the session on 'Assured water supply to every rural household –Mission Bhagiratha: Challenges and Successes' by Shri Luke Kammara, Deputy Executive Engineer, Mission Bhagiratha, TDWSP, Telangana.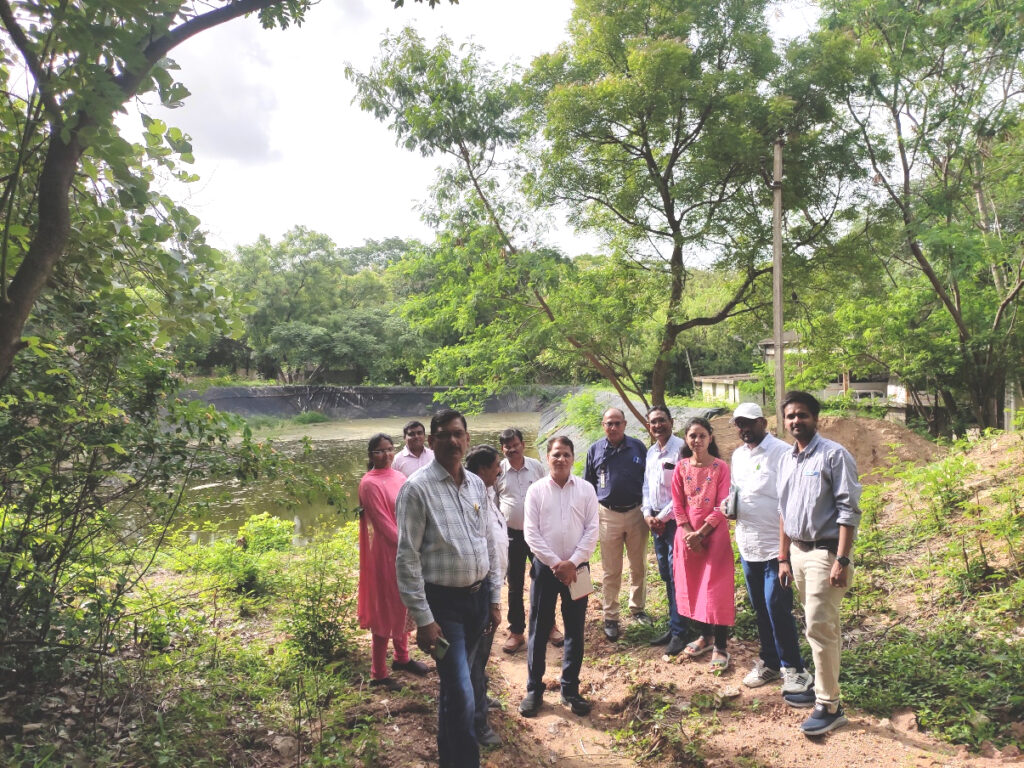 On the third day, Dr Ravindra S. Gavali, Professor and Head, CNRM, NIRDPR handled a session on 'Water Budgeting and Water Security Planning at Village level: Ways and Challenges.' This was followed by a session on 'Convergence of JJM with Watershed, MGNREGA and 15th FC tied fund: Challenges and opportunities' taken by Dr Subrat Mishra, Associate Professor, CNRM, NIRDPR.
As per the feedback taken on TMP, the training received an overall effectiveness of 87 per cent. Sh. H. K. Solanki, Sr. Assistant Professor, CRI coordinated the course with the support of Ms. R L Sudha, Training Associate, CRI.
Two ToTs Conducted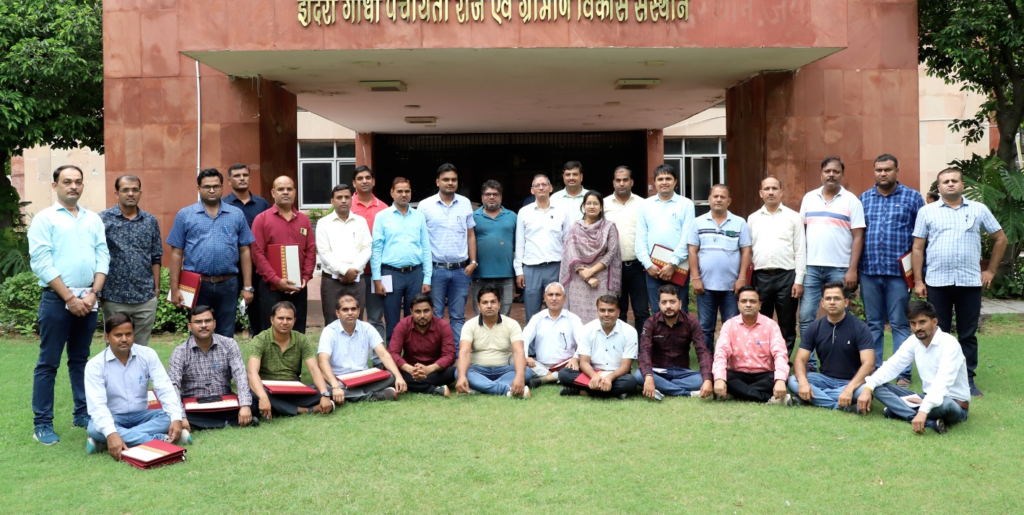 Two 3-day Training of Trainers Programmes on 'GIS-based Planning and Monitoring of Mahatma Gandhi NREGA at GP level using Yuktdhara' were organised during 17-19 July 2023 and 20-22 July 2023 at IGPR&GVS (SIRD, Rajasthan).
In total, 34 and 31 participants, respectively attended the programme from various blocks of Rajasthan. On average, two participants comprising MIS Managers, JTAs working under MGNREGA attended the programme from each Block of Rajasthan.
Sh. H. K. Solanki, Sr. Assistant Professor, CRI, NIRDPR, coordinated the course with the support of Shri Hitballabh Sharma, SIRD Joint Director, and Ms R. L. Sudha, Training Associate, CRI under the overall supervision and guidance of Dr P. Kesava Rao, Head, CGARD, NIRDPR.
---
Training Programme on GIS-based Planning and Monitoring of MGNREGA at GP level using Yuktdhara
Two 3-day off-campus training programmes on 'GIS-based Planning and Monitoring of Mahatma Gandhi NREGA at GP level using Yuktdhara' were organised from 04-06 July 2023, at IGPR&GVS (SIRD, Rajasthan). The programme was envisaged for engineers, and officials working as Block Technical Resource Teams in NREGA.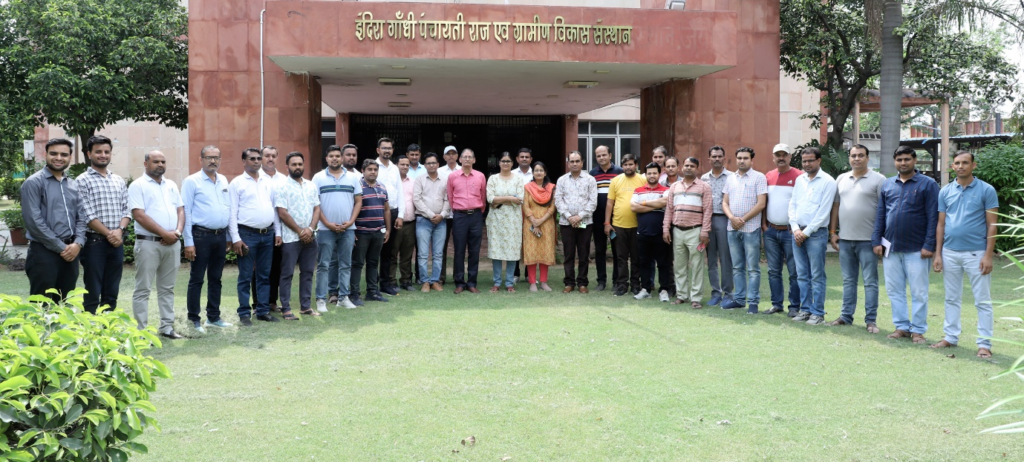 A total of 41 participants attended the programme from various districts of Rajasthan. On average, two participants – Junior Technical Assistants and MIS Managers under MGNREGA – attended the programme from each Block.
The topics on the first day were Introduction to Geoinformatics and its Applications in Planning & Monitoring of MGNREGA and Ridge to Valley concept, State Monitoring Strategy through e-map app; Introduction to Yuktdhara –A Geospatial Application for Planning and Monitoring of MGNREGA, and Demonstration of Yuktdhara.
On the second day, sessions on Hands-on Yuktdhara for Landscape Familiarization & Identify Drainage Line Treatment, Hands-on Yuktdhara for Identify Area Treatment & Map Composition, Preparation of GP Plans under MGNREGA using Yuktdhara, followed by Hands-on Preparation of GP Plans under MGNREGA using Yuktdhara were conducted.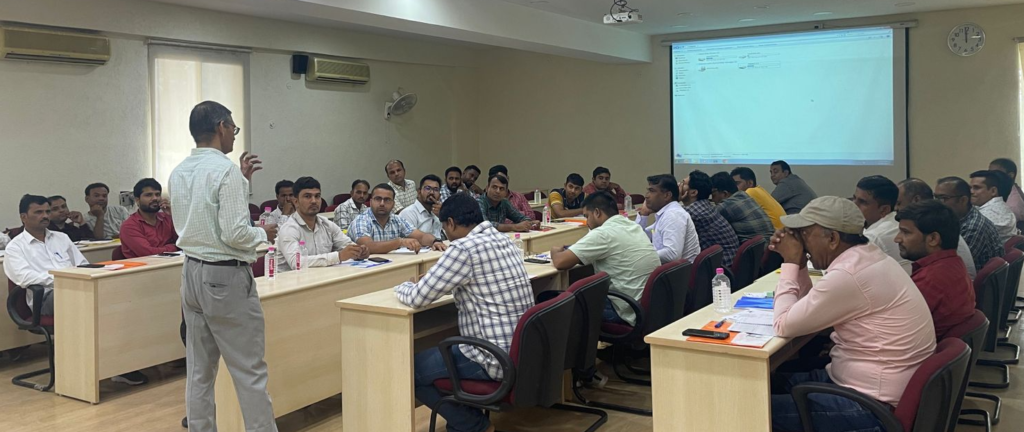 The session on the third day covered the State monitoring strategy through Secure app, review of the GP plans prepared and clarifications. In this session, Block level officials of each district with companion members presented the plans prepared for the selected districts and GPs as per dummy IDs and GP allotted in Yuktdhara. This was followed by TMP evaluation of training and it recorded an overall effectiveness of 77 per cent.
Sh. H. K. Solanki, Sr. Assistant Professor, CRI, NIRDPR, coordinated the course with the support of Shri Hitballabh Sharma, SIRD Joint Director, and Ms R. L. Sudha, Training Associate, CRI under the overall supervision and guidance of Dr P. Kesava Rao, Head, CGARD, NIRDPR.
---
NIRDPR Accords Warm Farewell to Director (FM & FA) & DDG (i/c) Shri Shashi Bhushan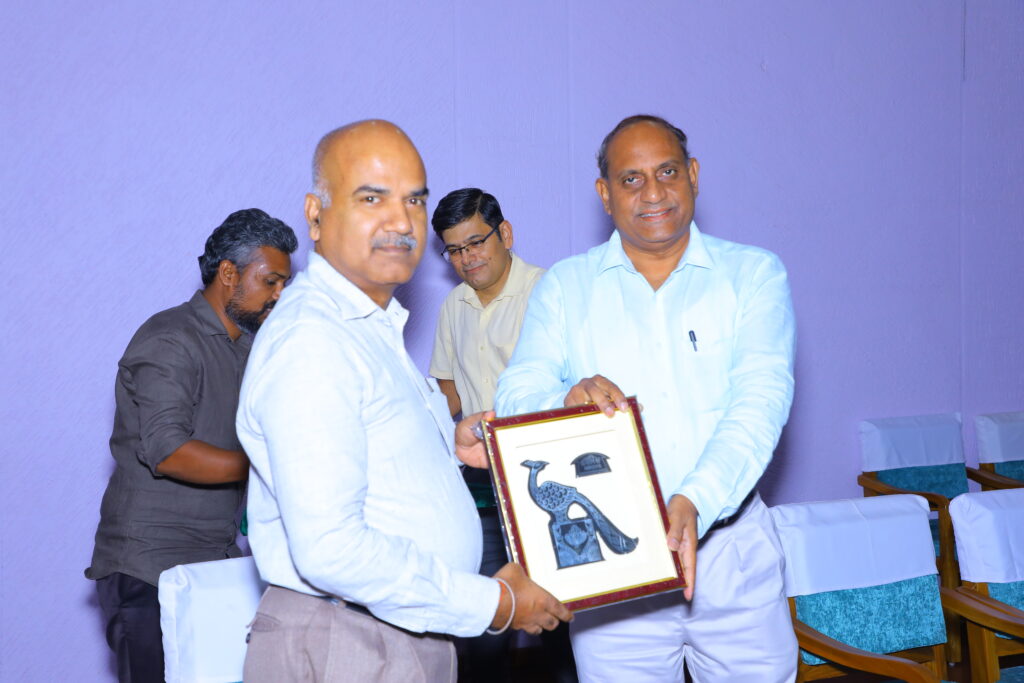 The National Institute of Rural Development and Panchayati raj, Hyderabad gave a warm send-off to Shri Shashi Bhushan, Director (FM & FA) & Deputy Director General (i/c), on 31st July 2023.
Shri Manoj Kumar, Registrar & Director (Admin) (i/c), delivered the welcome address and made a brief mention of the service history of Shri Shashi Bhushan, besides recalling his association with him.
Speaking on the occasion, Dr G. Narendra Kumar, IAS, Director General, NIRDPR, lauded the contributions made by Shri Shashi Bhushan for taking the Institute forward. The DG said Shri Shashi Bhushan happily accepted all additional assignments given to him, such as the Deputy Director General (i/c) and in-charge of CGC Vaishali, and he delivered to the best of his abilities. The DG also honoured him with a shawl and memento.
Faculty members and staff of the Official Language and Accounts section also recollected their association with Shri Shashi Bhushan.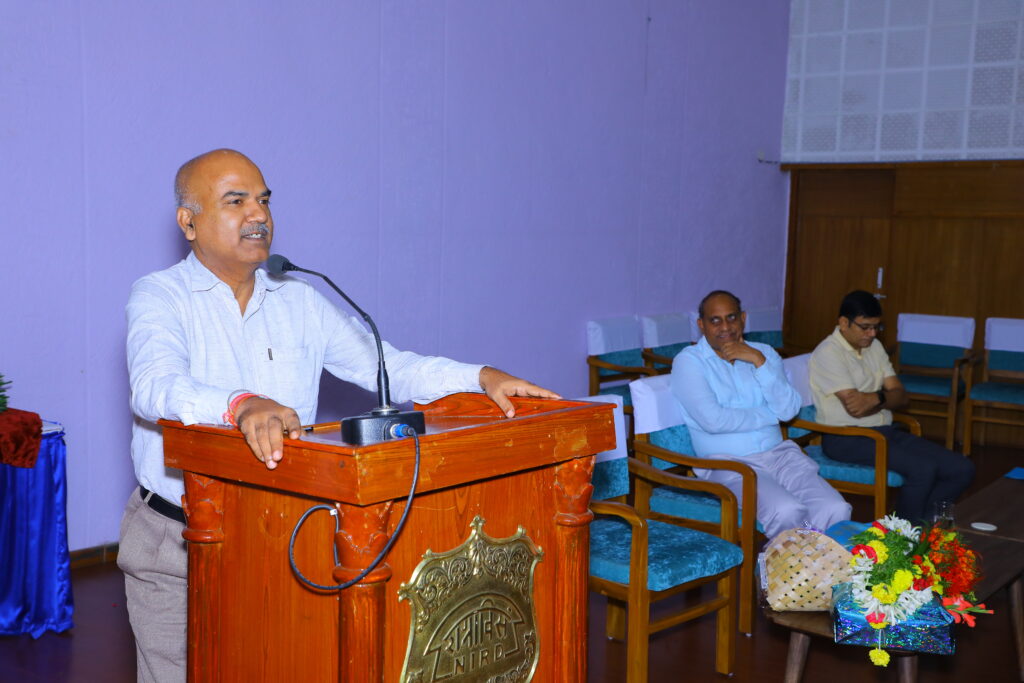 Addressing the gathering, Shri Shashi Bhushan recalled his service at NIRDPR for four years. He said it was for the first time in his service that he associated with any Institute for such a long period. He expressed satisfaction of being able to contribute to the causes of the Institute and added that he enjoyed the role of Deputy Director General (i/c), which was a great learning experience.
---
NIRDPR & KILA Conduct ToT on Wetlands Conservation and Sustainable Livelihoods
On the occasion of World Environment Day on 5th June 2023, Honourable Prime Minister of India, Shri Narendra Modi had launched two schemes, viz. Amrit Dharohar Yojana and MISHTI (Mangrove Initiative for Shoreline Habitats and Tangible Incomes) Yojana, under the Ministry of Environment, Forest and Climate Change, to revive wetlands and mangroves.
The Amrit Dharohar Yojana is a visionary initiative by the Government of India that aims to preserve the natural beauty of the country's wetlands. Over the next three years, the scheme will work towards promoting the optimal use of these valuable ecosystems.

To create awareness of this major initiative, the Kerala Institute of Local Administration (KILA) organised a training of trainers on 'Wetland Conservation and Sustainable Livelihoods: Opportunities under Amrit Dharohar Initiative' at the Institute in Thrissur, Kerala in collaboration with the National Institute of Rural Development and Panchayati Raj (NIRDR), Hyderabad, from 13th – 15th July 2023. Dr Jyothis Sathyapalan, Professor, NIRDPR, led the programme.
Along with Dr Jyothis Sathyapalan, the programme was guided by Dr P. S. Easa, former Director of Kerala Forest Research Institute (KFRI), Shri E. J. James, Dean of Karunya University and former Executive Director for Centre for Water Resources Management (CWRDM), Shri. K. G. Padmakumar, Special Officer & Director, International Research and Training Centre for Below Sea Level Farming (IRTCBSF) and Shri Druv Varma, Technical Manager, Wetlands International South Asia (WISA). The resource persons shared their in-depth knowledge of managing and conserving wetlands as per the NPCA framework, offering a great learning experience for the participants.
KFRI Senior Scientist Dr T.R. Sajeev gave insights into the ecological threats caused by invasive species like Lantana camara, Mimosa diplotrica, etc. Dr Joy Elamon elaborated on local governance and public health, while Dr Monish Jose, Assistant Professor from KILA, spoke about EIA and Public Administration, highlighting the power and influence of Gram Sabha.
Shri Benkin, a Research Scholar from Sree Chitra Institute of Science and Technology, Thiruvananthapuram, shared inputs from his ongoing research on non-communicable diseases and field experiences from Kainakari village of Kuttanadu in Alappuzha district, Kerala.
The members of various Panchayats and other NGOs also shared valuable real-time experiences. The ToT recorded a total attendance of 51 people, including resource persons and participants.KILA staff Ms Rima Akhil and Ms Malika K. S., led by Director Dr Joy Elamon, coordinated the ToT.
The organisers thanked Dr Narendra Kumar, IAS, Director General, NIRDPR for his vision and for launching the first programme of its kind in India in the State of Kerala where a large number of wetlands face the threat of anthropogenic activities.
---
TOLIC-2 Organises Hindi Workshop at ICAR-NRCM

The ICAR-National Research Centre on Meat (NRCM) at Chengicherla, Hyderabad organised a Hindi workshop on translation under the aegis of Town Official Language Implementation Committee-2, on 7th July 2023.
Dr S. B. Barbuddhe, Director of ICAR-NRCM, made a PowerPoint presentation on the activities of the Institute. Smt. Anita Pandey, Member Secretary, TOLIC-2 & Assistant Director (OL), National Institute of Rural Development and Panchayati Raj, welcomed the participants and explained the features of the workshop.
Chief Guest Dr R. K. Mathur, Director, ICAR-IIOR praised the work of TOLIC-2 and the organiser's office, besides explaining the importance of working in Hindi. Shri Jai Shankar Prasad Tiwari, Assistant Director (OL) (Retd.) explained how translation works can be taken up using software. Shri Pradeep Behera, Joint Secretary, Software Technology Parks of India, spoke about information security.
The participants opined that they immensely benefited from the workshop. Shri E. Ramesh, Senior Hindi Translator, National Institute of Rural Development and Panchayati Raj, compered the event. The staff attached to the Official Language section of NIRDPR and NRIM coordinated the programme.
---
National Training Programme on Beneficiary Survey
The Centre for Planning Monitoring & Evaluation (CPME), NIRDPR, conducted a national training programme on the 'Beneficiary Survey' from 24th – 28th July 2023. The programme was sponsored by the Indian Audit Accounts Department, Regional Training Institute, Hyderabad. A total of 26 officers from the Department of Principal Accountant General (Audit – I & II), including Senior Audit Officer (SAO), Senior Audit Officer (Commercial) and Assistant Audit Officers (AAO) from Tamil Nadu, Karnataka, Kerala and New Delhi attended the five-day residential programme.

In Beneficiary Survey, the investigator listens to the experiences or voices of the beneficiaries to obtain a real-time experience about the programme/scheme/policy. This method is used as a tool for raising the standard of development operations. The beneficiary survey method evaluates an activity's worth according to the perception of its primary consumers. The method is qualitative as it prioritises the importance of the other person's point of view and seeks to comprehend through shared experience as well as observation. For governments planning to improve their performance, an important factor to consider is the value attributed by the final user or intended beneficiary to the work/project/policy and its impact on his/her life.
Similar to service providers, beneficiaries of programmes/schemes/policies also experience and observe how programme/scheme/policy is being delivered. Even when service providers and field staff neglect their monitoring function, feedback from the beneficiaries of programmes/schemes/policies can be used to assess the state of service delivery and identify important gaps in their quality and productivity. The level of satisfaction of beneficiaries about a service may well reflect the quality of responsiveness of the service provider. Beneficiaries' feedback on the services is also a more cost-effective and systematic way of articulating their voice. It is a collective 'voice' that can exert pressure on governments to improve services. When user feedback is converted into voice backed by a large number of beneficiaries, it can prompt governments to better utilise public funds, redesign services, rectify problems, fill the gaps in assessing the impact of public expenditure and hold providers accountable.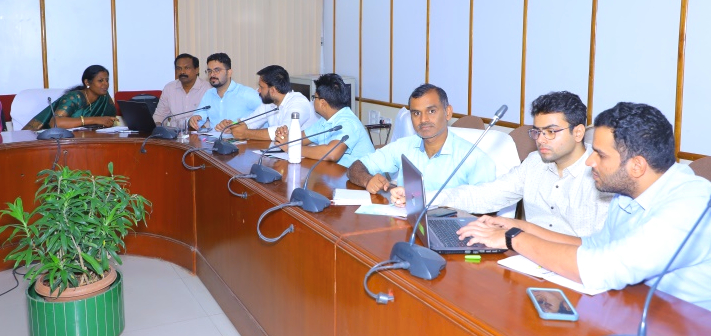 The training programme was designed to explain, discuss and perform group work for each topic discussed. A reporting system for each topic comprised quizzes, MCQ tests and assignments for the participants. It aimed to give hands-on experience to the participants for evaluating the performance of government programmes/schemes, and to address the following key objectives:
How to conduct a scientific beneficiary survey to evaluate the performance of Government Programmes/Schemes?
How can the Beneficiary Survey find whether the benefits have reached the targeted population in a timely and effective manner as per programme guidelines?
How to capture the impact of the performance of government programmes/schemes through a Beneficiary Survey?
Design a 'Beneficiary Survey' tool to assess the progress, performance and impact of schemes/programmes.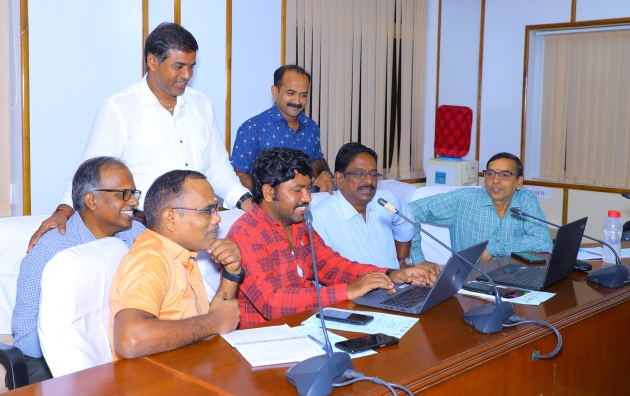 The training programme covered key topics such as Introduction to Beneficiary Survey, Context & Rationale, Features, Applications, Defining Research/Study Objectives, Critical Rules for Designing an Interview Schedule, Steps for Conducting Beneficiary Survey, Designing the Data Collection Tool, Sampling, Data Collection, How to Mobilise & Train Survey Teams, Fieldwork and Supervision, How to Ensure the Quality of Fieldwork/Data Collection, ODK – Collect Data Anywhere – Mobile app-based Data Collection, Quantitative & Qualitative Estimations of Beneficiary Experiences, Data Analysis & Interpretation, Disseminating Beneficiary Survey Findings, Advocacy Strategies and Follow-ups, etc.
As part of the training design, the participants developed Beneficiary Survey schedules to assess the performance of the following:
Functioning of Tamil Nadu Cooperation for Development of Women
Pre & Post Matric scholarship/Scheme for SC/ST and SCC students
Disaster Management
Yettnahole drinking water project by VJNL programme
Functioning of Prisons
Dr K. Prabhakar, Assistant Professor, & Head (i/c), Centre for Planning Monitoring & Evaluation (CPME) organised the training programme.
---
Training Programme on IT Security for Endpoint Devices
The Centre for Information Communication and Technology (CICT), NIRDPR, conducted a training programme on 'IT Security for End Point Devices' on 28th June 2023. The programme aimed to enhance workplace security and equip employees with the necessary knowledge and skills to defend themselves from cyber-attacks.
The training programme aimed to i) educate participants on the importance of security in the workplace and its impact on the organisation, ii) provide a comprehensive understanding of the elements and attributes of a security framework, iii) equip participants with the knowledge and best practices for ensuring data and account security, iv) educate participants on the importance of strong passwords and techniques for creating and managing them, v) provide an understanding of networking and mobile security, including vulnerabilities and countermeasures, and vi) raise awareness about different types of malware and strategies for prevention and mitigation.
The event began with a welcome address by Dr Ravindra S. Gavli, Professor & School Head, who set a positive tone for the day's proceedings. Dr M. V. Ravi Babu, Associate Professor & Head (i/c) CICT, introduced the program and emphasised its significance.
Further, Er Dharmendra Singh, Computer Programming Associate, provided a foundational view of IT Security. He discussed security attributes and elements, by stressing the relationship between assets, threats, and vulnerabilities through the risk triangle concept. Participants were briefed on various types of cyber attacks and their corresponding countermeasures.
Shri M. Jagadishbabu, Project Engineer, ISEA from CDAC, delivered an engaging lecture on 'Stay Safe & Security Measures.' He covered essential topics such as password protection, highlighting the dangers of human negligence errors. In addition, he shed light on the importance of safeguarding personal information and maintaining online privacy. The session also focused on raising awareness about phishing scams and demonstrated live web portals to provide practical insights into cyber security aspects.
Dr Siva Rama Krishna, Head of the Computer Science Engineering department at JNTUK-AP, shared his expertise on 'Safeguarding your digital life.' He emphasised the significance of personal information protection, online privacy, and the prevention of cyber threats. The session highlighted the importance of implementing two-factor authentication, regularly updating software to patch vulnerabilities, and staying vigilant against phishing scams. Dr Siva Rama Krishna's insights provided participants with practical knowledge on securing their digital presence.
Er. M. Sundara Chinna, Data Processing Assistant, enlightened participants about LAN & WAN structures in NIRDPR. He provided a detailed explanation of the security checkpoints at the department level, focusing on network firewall protection. Participants gained insights into intrusion prevention systems (IPS) and intrusion detection systems (IDS) for safeguarding endpoint devices. Additionally, the session introduced Max Secure anti-virus protection solution and underlined the importance of real-time updates to ensure a secure environment.
The contributions of these key speakers enriched the training programme by covering a wide range of topics crucial to IT security for endpoint devices. Their expertise and engaging presentations provided practical knowledge and insights for the participants to enhance workplace security.
The programme witnessed the active in-house participation of 30 employees, who engaged in interactive discussions and practical demonstrations. Participants gained a valuable understanding of various aspects of IT security, including risk management, password protection, social media privacy, and network security. The attendees expressed satisfaction with the content covered and found the sessions informative and practical.
---
JOB OPPORTUNITIES/ADMISSION NOTIFICATION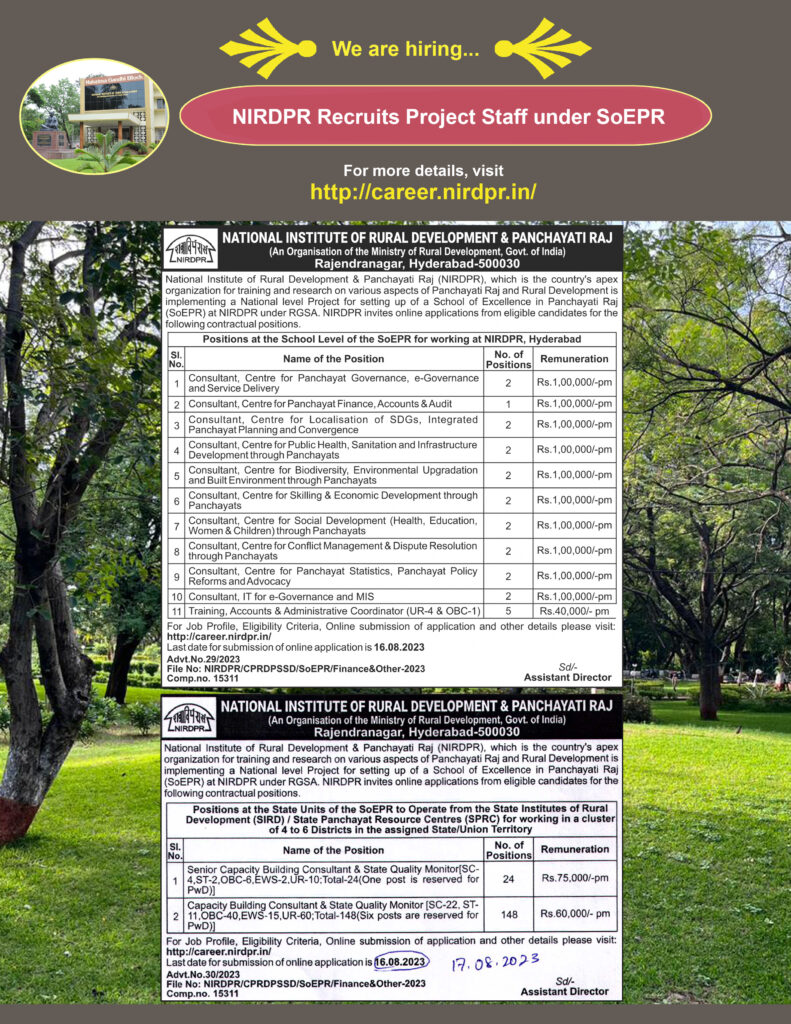 ---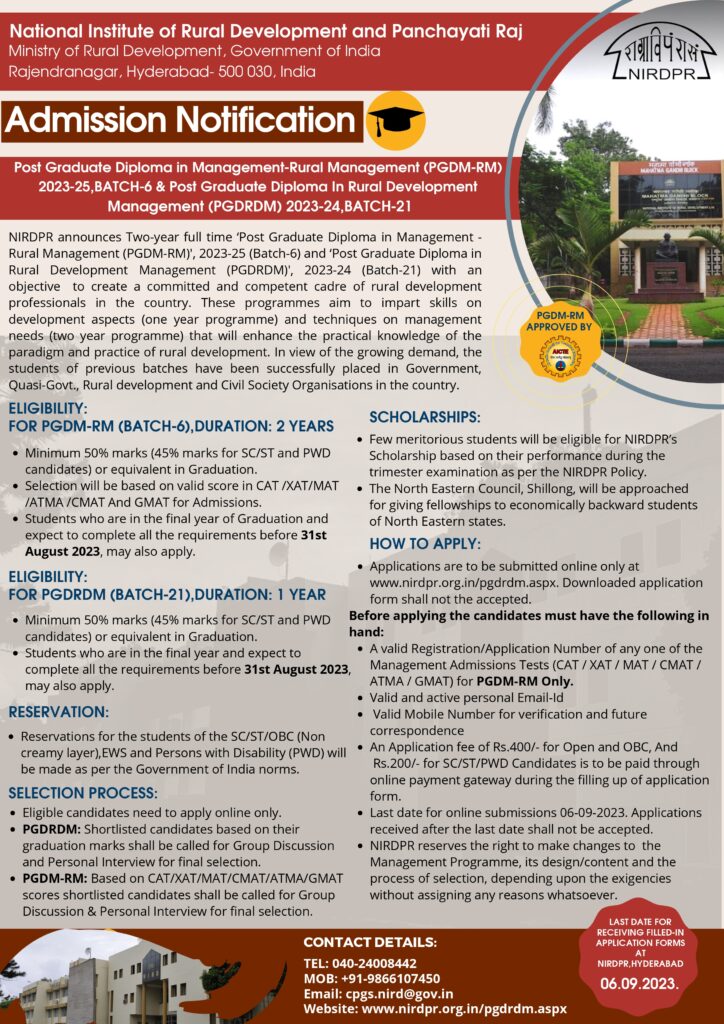 ---