CONTENTS:
COVER STORY:

Essential Online Tools and Sources for Social Science Research
Induction Training-cum-Exposure Visit for Presidents of Zilla Parishads of Jharkhand
CMPRPED, NIRDPR-Delhi Branch Organises ToT Programme on Marketing Skills
NIRDPR Celebrates World Environment Day 2023
ToT on Entrepreneurship & Sustainable Livelihood Models for Rural Communities
National Training Programme on Project Management of Rural Development Programmes
ToT on Capacity Building Programme on e-GramSwaraj Portal for PRI Functionaries at UIRD, Uttarakhand
Training Programme on Strategies for Up-scaling Production System Technologies under WDC-PMKSY 2.0
NIRDPR Observes International Day of Yoga
---
COVER STORY:
Essential Online Tools and Sources for Social Science Research
Dr. Umesha M. L.
Assistant Librarian, Centre for Development Documentation & Communication, NIRDPR
umeshaml.nird@gov.in
Social science research is one of the most tedious and exhaustive tasks in research. Research may be taxing and time-consuming, regardless of the researcher's field, employment, or career. Researchers are constantly racing the hands of the clock, from completing experiments to searching the internet and library shelves for literature to drafting and publishing articles.
There are numerous online applications to help researchers organise their research notes, credit their sources, find critical essays, interact with peers, and much more, regardless of their topic of study. However, with many possibilities at the researcher's fingertips, choosing a tool that produces the most significant results might be challenging.
Need of Research Tools
Managing several activities, producing valuable results, making the most of their time, and compiling publishable research are the top priorities for all researchers, regardless of their field of study.
All of these require a carefully thought-out and organised system, which is accomplished by keeping track of the development and collaboration of projects, locating pertinent literature, writing project proposals, reports, and articles, avoiding grammatical mistakes, citing sources, establishing networks, looking for journals for publication, etc.
How do you plan to handle this scenario on your own? — The first choice is to go online for a solution. These tools are made simpler with the help of several online resources for scholars. However, it can be a time-consuming nightmare to sort through the vast amount of online information.
Open Research Tools are software and other digital tools that are freely available and open source, allowing researchers to access, use, and share them without restriction. Some common open research tools include:
Research Management (Citations) Tools
Productivity Tools
Literature search tools
Open Data Visualisation Tools
I. Research Management Tools
Zotero
Zotero is a free and open-source reference management tool. It allows researchers to collect, organise, cite, and share research materials. With Zotero, you can save references from various sources, including journal articles, books, websites, and more. It also integrates with word processors to facilitate citation and bibliography creation.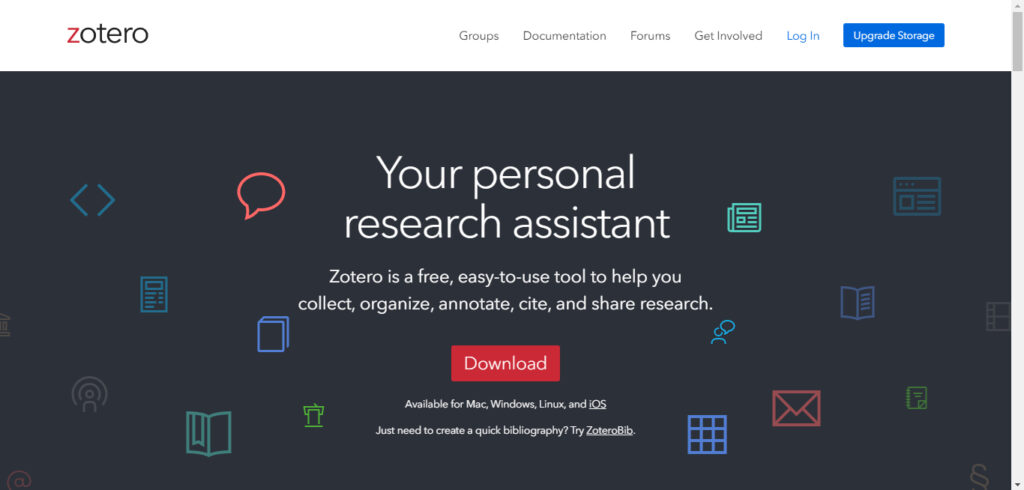 Mendeley
Mendeley is another popular reference management tool that enables researchers to store, organise, and annotate research papers. It offers features such as PDF management, citation generation, collaboration tools, and a social platform to connect with other researchers. Mendeley is available in both free and premium versions.
URL: https://www.mendeley.com/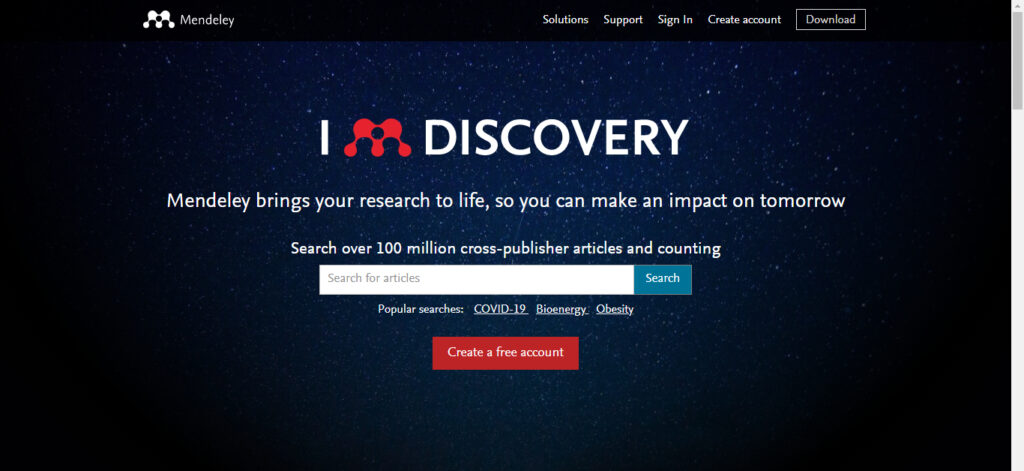 JabRef
JabRef is an open-source reference management software primarily used for managing and organising bibliographic references. It is designed to assist researchers, academics, and students in managing their bibliographic data, such as journal articles, books, conference proceedings, and more.
JabRef provides a user-friendly interface for creating and maintaining bibliographic databases. Users can import references from various sources, including online databases, library catalogues, and PDF files. The software supports different reference formats, including BibTeX, BibLaTeX, and the RIS format.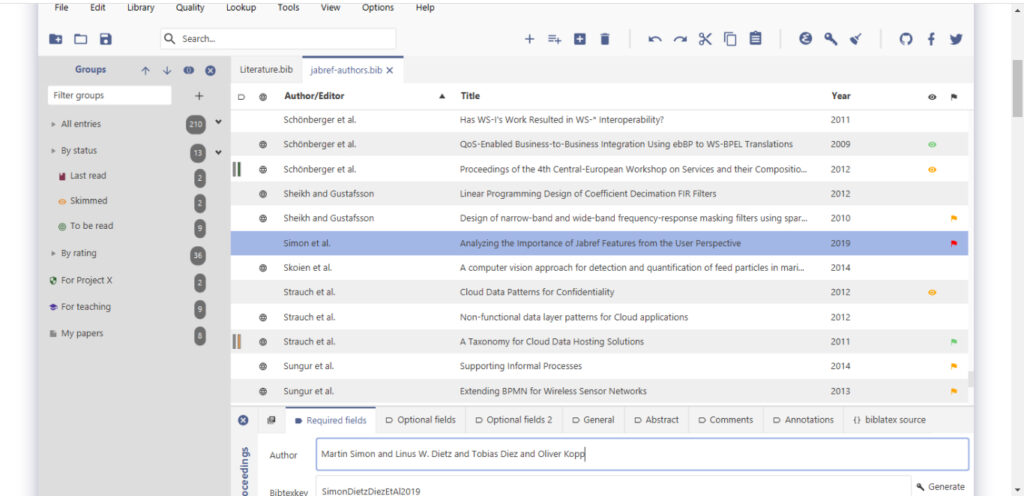 II. Project Management and Collaboration Tools
Trello
Trello is a project management tool that uses boards, lists, and cards to help researchers organise and track their projects. It allows for task management, collaboration, and setting deadlines. Trello provides a visual and intuitive interface for managing research tasks and workflows.
URL: https://trello.com/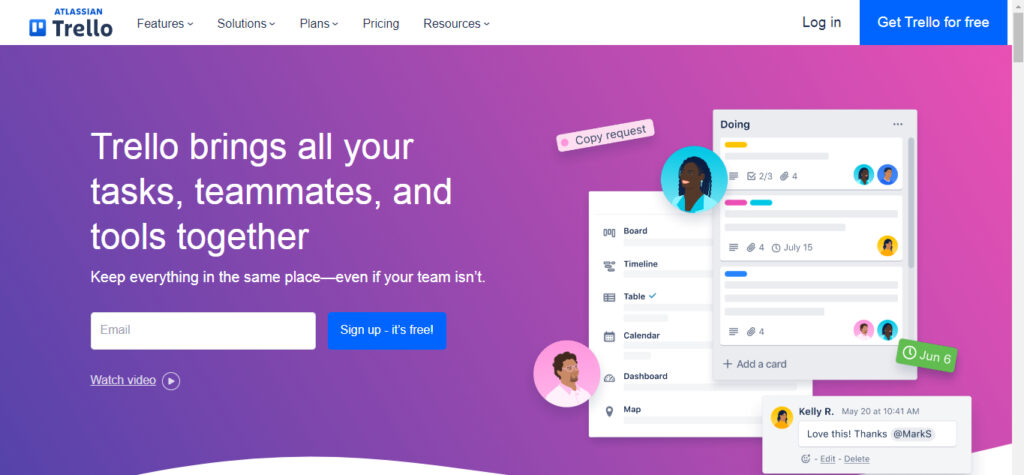 Notion
Notion is a powerful all-in-one productivity tool that combines note-taking, project management, task organisation, and collaboration features. It is designed to help individuals and teams stay organised, plan projects, and collaborate effectively.
At its core, Notion provides a digital workspace where users can create and organise various types of content, including notes, documents, databases, to-do lists, calendars, and more. It offers a flexible and customisable interface, allowing users to structure and arrange their information according to their specific needs.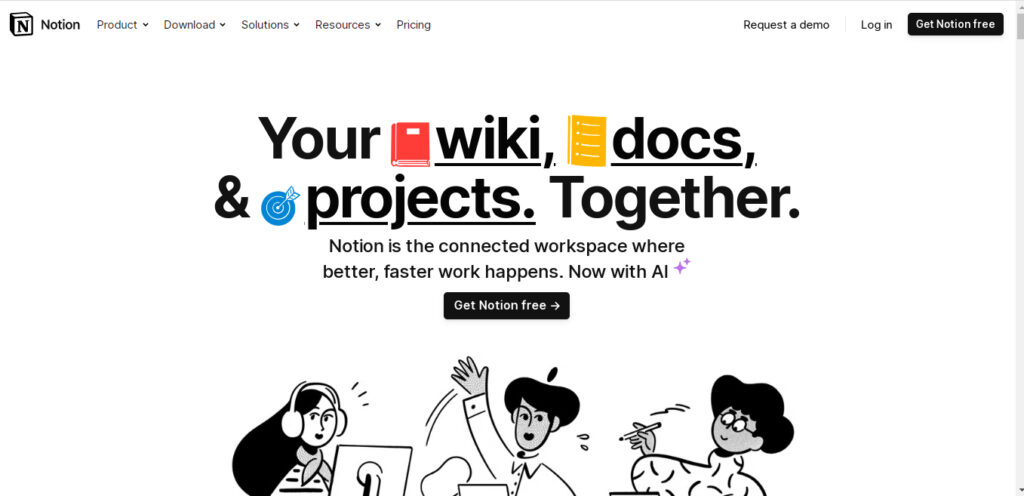 Pomofocus
The Pomodoro Technique is a time management method developed by Francesco Cirillo in the late 1980s. It involves breaking work into intervals called 'Pomodoros,' typically 25 minutes in length, followed by short breaks.
The core concept of the Pomodoro Technique is to work in focused bursts, dedicating a specific period to a task, followed by a brief rest. The typical structure consists of the following steps:
Choose a task to work on.
Set a timer for 25 minutes (a single Pomodoro).
Work on the task with full concentration until the timer goes off.
Take a short break of about 5 minutes.
Repeat the process, completing four Pomodoros, and then take a more extended break of around 15-30 minutes.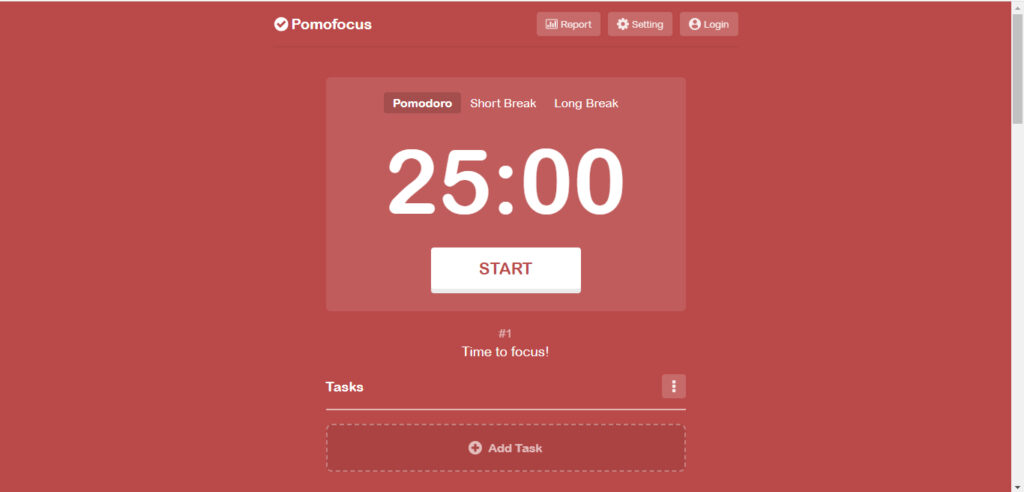 III. Literature Search Tools
Elicit
Elicit is a research assistant using language models like GPT-3 to automate parts of researchers' workflows. Currently, the main workflow in Elicit is Literature Review. If you ask a question, Elicit will show relevant papers and summaries of key information about those papers in an easy-to-use table.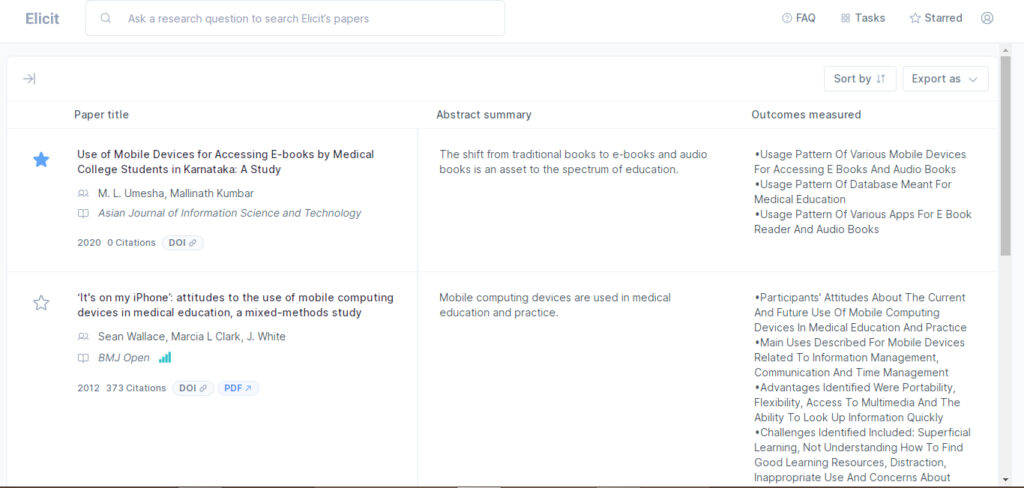 Connected Papers
Connected Papers is a web-based tool that provides a visual representation of research papers and their connections. It offers a visual map that displays relationships between scientific papers based on their citation network. The tool aims to assist researchers in exploring related papers, identifying influential works, and discovering new research in a given field.
URL: https://www.connectedpapers.com/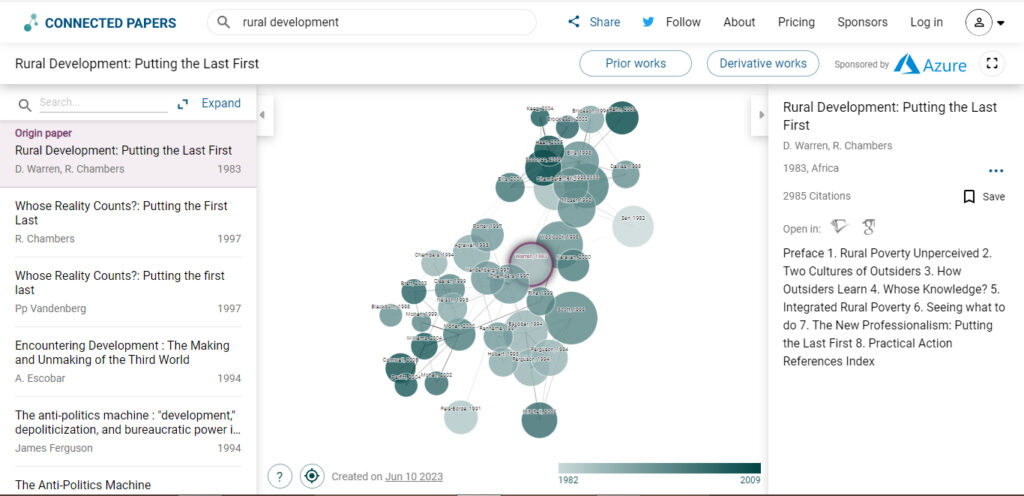 ResearchRabbit
An innovative citation-based literature mapping tool called ResearchRabbit is accessible online. As you begin to organise your essay, small project, or literature review, this tool will help to make the most efficient use of your time while looking for sources.
URL: https://researchrabbitapp.com/home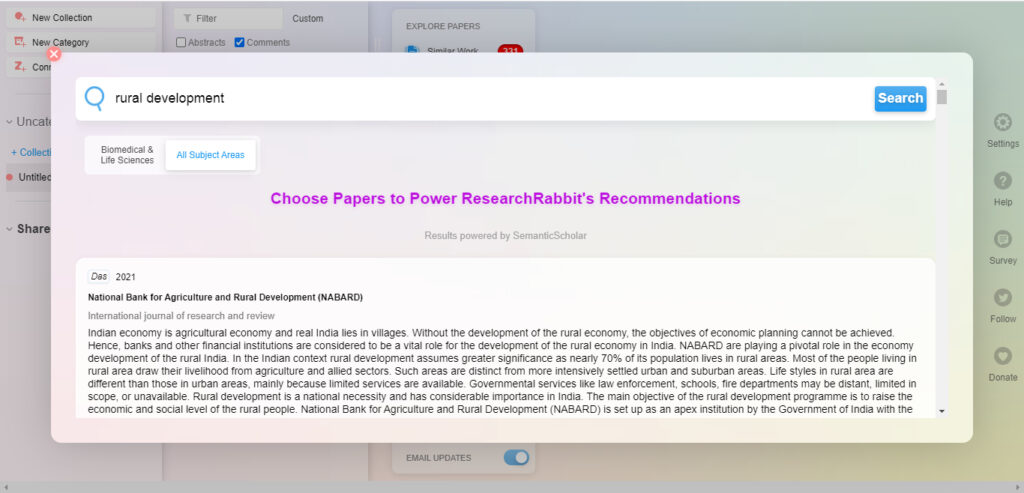 IV. Open Data Visualisation Tools
Open Data Visualisation Tools are software and digital tools that allow users to create visual representations of data. Some commonly used open data visualisation tools include:
D3.js
This is a JavaScript library for creating interactive data visualisations.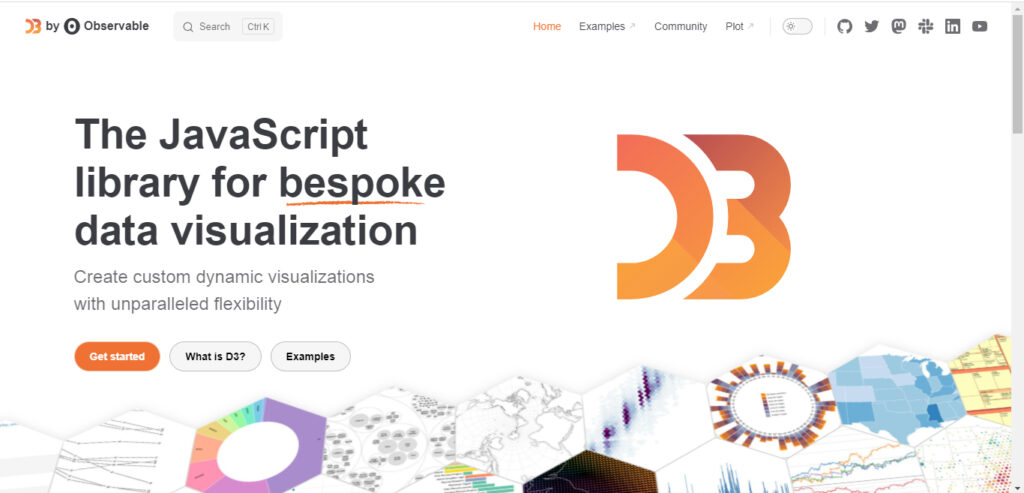 Gephi
This is an open-source network visualisation software that helps users understand and analyse complex data relationships.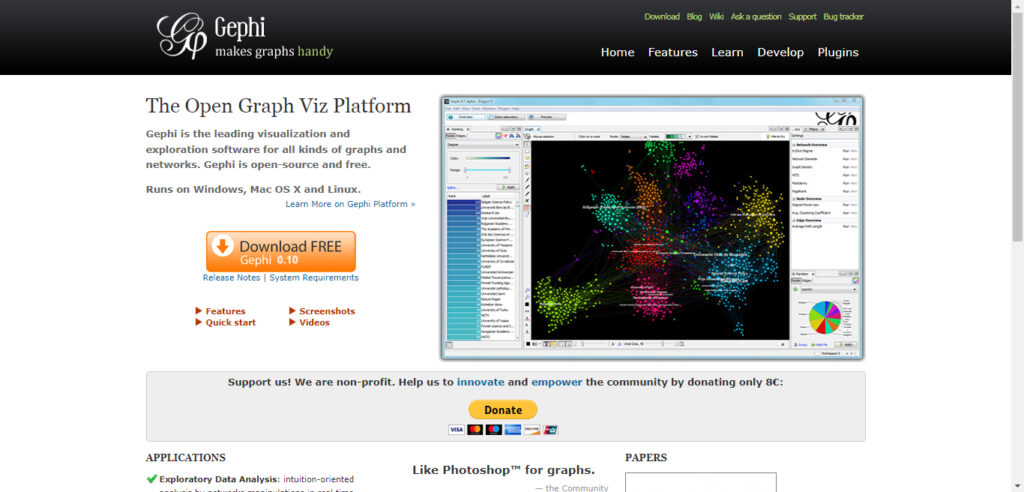 These tools can greatly enhance research productivity and collaboration by facilitating organisation, information management, and efficient communication among researchers. These tools collectively cover the main aspects of research, including literature review, data collection, analysis, visualisation, writing, collaboration, and project management.
---
Induction Training-cum-Exposure Visit for Presidents of Zilla Parishads of Jharkhand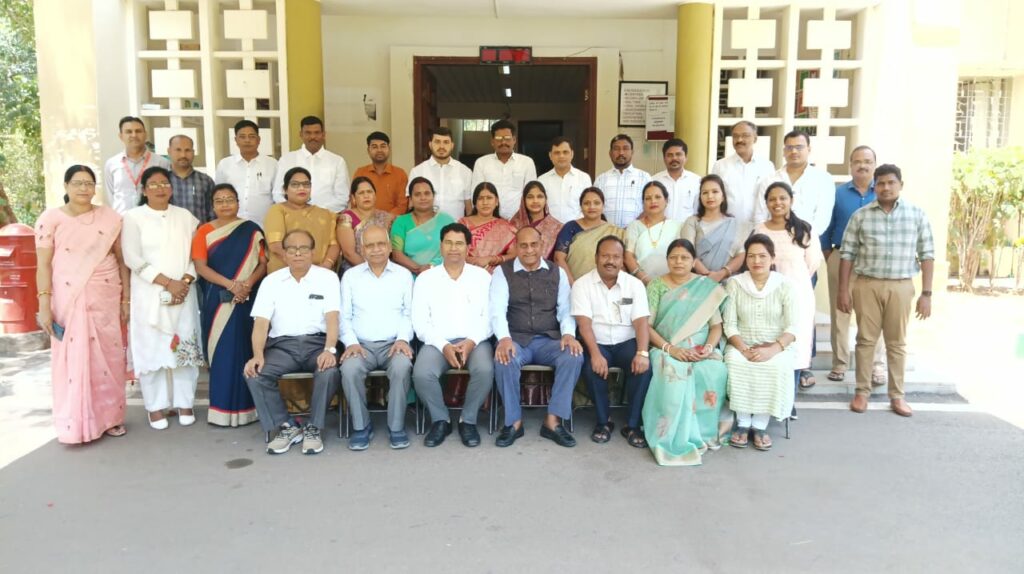 The Centre for Panchayati Raj, Decentralised Planning and Social Service Delivery (CPRDP&SSD), National Institute of Rural Development and Panchayati Raj (NIRDPR), in collaboration with the Department of Panchayati Raj, Government of Jharkhand (GoJ), conducted a five-day Induction Training-cum-Exposure Visit for the Presidents of the Zila Parishads of Jharkhand from 5th to 9th June 2023 at NIRDPR, Hyderabad.
Dr. G. Narendra Kumar, IAS, Director General, NIRDPR, inaugurated the programme. During his address, the Director General highlighted major problems faced by the Panchayati Raj Institutions (PRIs) in discharging their responsibilities, including the delivery of services to the citizens. He emphasised the importance of attaining the Sustainable Development Goals (SDGs) by 2030. The Induction Training-cum-Exposure visit aimed to enhance the leadership and knowledge of the Presidents and Vice-Presidents of the Zilla Parishads, enabling them to strengthen the Panchayati Raj System in Jharkhand. The programme included sessions on various aspects of local governance, rural development, sustainable development, resource mobilisation, gender issues, health improvement, waste management, e-governance, etc. There was a one-day local field visit for the participants to Zilla Praja Parishad, Vikarabad, where they had an opportunity to interact with the Chairperson, Zilla Parishad members and officials, and learn about the various development activities being implemented by the PRIs in the State of Telangana.
Objectives of the Training Programme
To develop an understanding of the Presidents of the Zilla Parishads about the status of the Panchayati Raj system in Jharkhand and expand their vision for improving the quality of life of the rural people.
To enhance their understanding of the localisation of the Sustainable Development Goals and the preparation and implementation of the thematic Gram Panchayat Development Plan (GPDP), Block Panchayat Development Plan (BPDP), and District Panchayat Development Plan (DPDP).
To provide insights into resource mobilisation through Own Source Revenue (OSR) and optimal utilisation of the Fifteenth Finance Commission (FFC) Grant.
To increase awareness about gender issues, health improvement, solid waste management, e-enablement of Panchayats, and improve service delivery through Panchayats.
To expose them to good practices in the strengthened local governance and integrated rural development.
Training Programme Overview
The training program has successfully achieved its objectives, expanding the participants' vision and equipping them with knowledge and skills to lead and strengthen the Panchayati Raj System in Jharkhand. It is expected that the Presidents and Vice-Presidents of the Zilla Parishads will play a pivotal role in facilitating integrated planning and holistic development across Panchayats, ultimately improving the quality of life for the rural population of Jharkhand. The successful completion of the Induction Training-cum-Exposure Visit marks an important step towards empowering and strengthening the Panchayati Raj system in Jharkhand. During the valedictory session, the participants said the training at NIRDPR has been a comprehensive learning experience for them.
Dr. Anjan Kumar Bhanja, Associate Professor and Head, CPRDP&SSD, NIRDPR, coordinated this training programme.
---
CMPRPED, NIRDPR-Delhi Branch Organises ToT Programme on Marketing Skills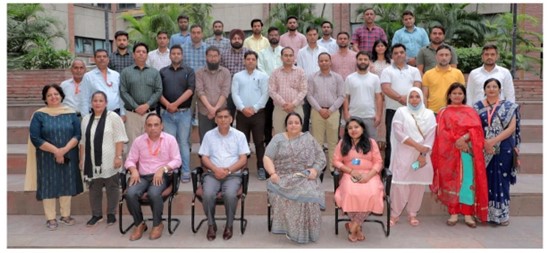 Self-Help Groups (SHGs) play a great role in uplifting rural women directly, and the rural population indirectly, as the empowerment of women leads to the advancement of the entire household. SHGs, producer groups and rural entrepreneurs are engaged in the production and sale of products, but they operate on a small scale. To increase their outreach, it was felt that the marketing skills of SHGs should be developed, and they should be trained to adopt e-Marketing for the sale and promotion of their products, better designing & packaging, value chain management, pricing and discounting strategies for improving their sales. As the SHGs belong to rural areas, improving their communication and behavioural skills, customer care strategies, awareness of taxes/GST norms, etc., becomes pertinent to face the challenges of marketing.
Keeping these objectives in view, the Centre for Marketing & Promotion of Rural Products & Entrepreneurship Development (CMPRPED), NIRDPR-Delhi Branch organised a three-day training of trainers programme on Marketing Skills for State Programme Managers (SPMs)/District Programme Managers/Block Programme Managers/Nodal Persons of SRLMs (Northern Region) at the Institute from 23rd to 25th May 2023. Thirty-one participants from 10 States participated in the three-day residential training programme.
The objectives of the training programme were to discuss various issues and challenges in the marketing of rural products, impart the latest marketing skills to overcome the challenges and orient the participants to adopt best practices through exposure visits. The training courses were designed by the Centre in consultation with experts from the National Institute of Fashion Technology (NIFT), Indian Institute of Mass Communication (IIMC), etc.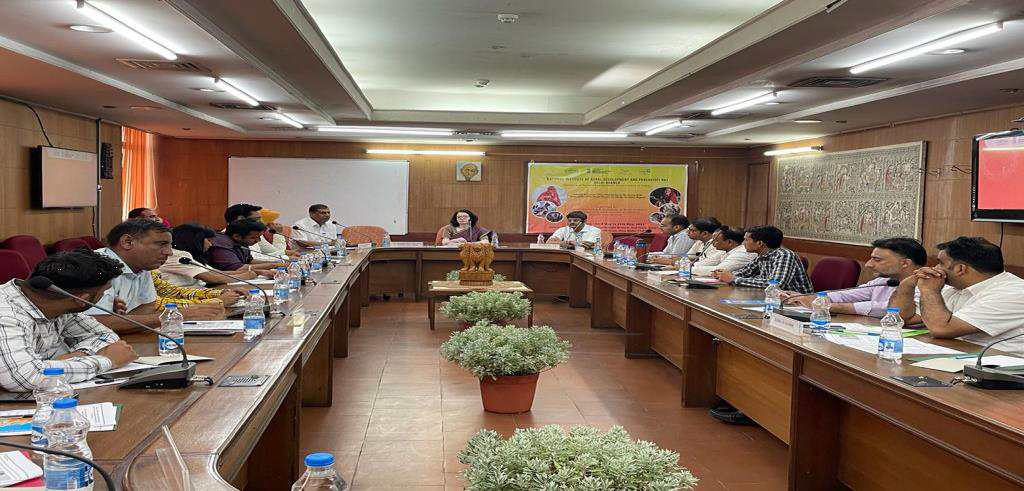 Shri Chiranji Lal, Assistant Director (CMPRPED), NIRDPR, Delhi Branch welcomed the participants, and Ms. Nivedita Prasad, Deputy Secretary (RL), MoRD, Shri Vinod Kumar, Under Secretary (RL), MoRD and Dr. Ruchira Bhattacharya, Assistant Professor & Head Delhi Branch. Following his opening remarks, faculty members of NIRDPR-Delhi Branch and Guest Speakers took various sessions. The sessions included Issues and Challenges in Marketing of Rural Products, Discussion on Issues and Challenges in Marketing of Rural Products (Dr. Ruchira Bhattacharya, Assistant Professor, NIRDPR – Delhi Branch), Branding, Better Designing & Packaging of Rural Products (Shri Shakti Sagar Katre, Assistant Professor, NIFT, New Delhi), Sales Communication and Psychology of Buyers, Behavioural Changes (Dr. Hemant Joshi, Professor (Retd.), IIMC, New Delhi), Promotion of Rural Products through e-Marketing & Social Media (Shri Rajeev Singhal, National Mission Manager (NRLM), MoRD), Devising Media Strategy through Online Communication (Dr. Sangeeta Pranvendra, Professor, IIMC, New Delhi), Value Chain Management (Ms. Sonali Soni Pal, Zonal Head, Resha Mandi), and Taxes/GST Issues (Shri Ratnesh, NRP, UN Global Compact, New Delhi). Apart from these, Odisha Rural Development and Marketing Society (ORMAS) took a special session on Livelihood & Marketing Initiatives, and experience sharing by Shri Sujay Kar, Joint CEO and Shri Biman Mal, Deputy CEO.
The participants were also taken on an exposure visit to SARAS Gallery, Baba Kharak Singh Marg, New Delhi on 25th May 2023 to orient them about operational models, marketing strategies, visual merchandising, branding and packaging and best practices adopted by the sellers. In the pre-test and post-test conducted, most of the participants remarked that the training programme was well organised by covering highly relevant topics.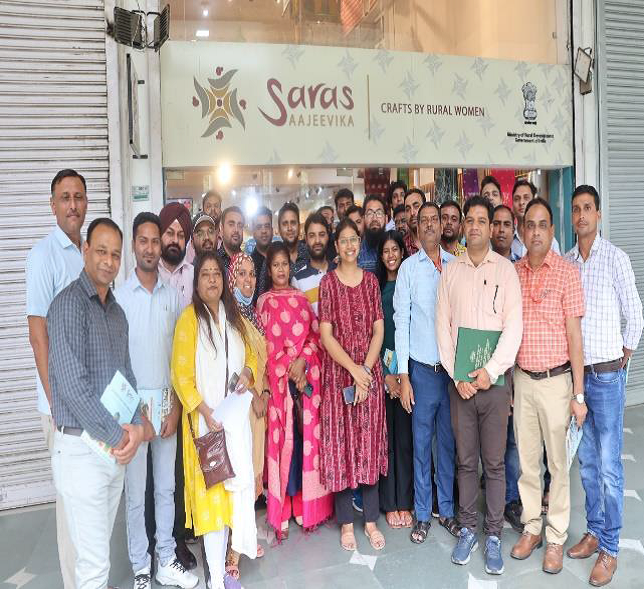 As an outcome of the training, the participants opined that it would help them to provide further training to District/Block level functionaries, SHG Federations and SHGs in their area on the topics discussed. This will help the SHGs to fix the right price for their products, besides enabling successful marketing. The presence of trained SHG members will improve the chances of SRLMs' participation in national and international fairs and showcasing their market-linked products.
The training programme was completed with a feedback session and received positive responses from the participants and speakers. The feedback received through the Training Management Portal showed an overall effectiveness of 85 per cent. After the feedback session, e- certificates were issued to all the participants.
Course Director Shri Chiranji Lal Assistant Director coordinated the ToT with the support of CMPRPED officials Shri Sudhir Kumar Singh, Research Officer, Shri Suresh Prasad and Smt. Naresh Kumari, Assistants.
---
NIRDPR Celebrates World Environment Day 2023
"Mission LiFE can become a mass movement of Environmental Conscious Lifestyle. What is needed today is Mindful and Deliberate Utilisation, instead of Mindless and Destructive Consumption," Hon'ble Prime Minister Shri Narendra Modi had said while introducing Mission LiFE at the 26th UN Climate Change Conference of the Parties (COP26) in Glasgow, in November 2021.
Mission Lifestyle for Environment recognises that Indian culture and living traditions are inherently sustainable. The importance of conserving our precious natural resources and living in harmony with nature is emphasised in our ancient scriptures. The need of the hour is to tap into that ancient wisdom and spread the message to as many people as possible. Mission LiFE seeks to channel the efforts of individuals and communities into a global mass movement of positive behavioural change.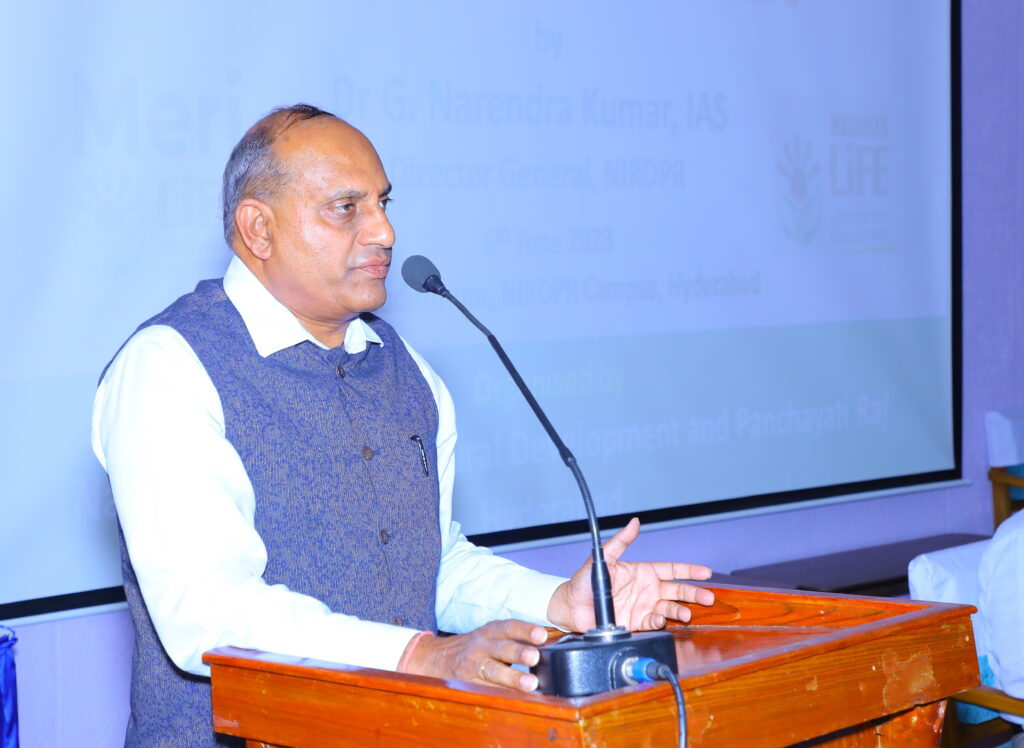 On this note, the National Institute of Rural Development and Panchayati Raj, Hyderabad celebrated the 51st World Environment Day with fervour on 5th June 2023 at Vikas Auditorium on the campus. On this occasion, Prof. Ravindra Gavali, Professor & Head, CNRMCCDM, NIRDPR delivered a special lecture on Mission Life & its linkages to flagship Rural Development schemes.
Dr G. Narendra Kumar, IAS, Director General, NIRDPR, graced the occasion as Chief Guest and launched the documentary on 'SHGs contribution to Mission LiFE' produced by the AV division of CPRDP&SSD, NIRDPR in collaboration with NRLM RC, NIRDPR.
The YouTube link of the documentary is provided below:
Addressing the gathering, the Director General mentioned the importance of living in harmony with the environment and emphasised the necessity to adopt eco-friendly measures. Mr. Ravi Naidu of NRLM RC, NIRDPR briefed the contribution of SHG women spread across the country to Mission life. On the occasion, the Director General also initiated the revival of percolation tank no.12 on the NIRDPR campus.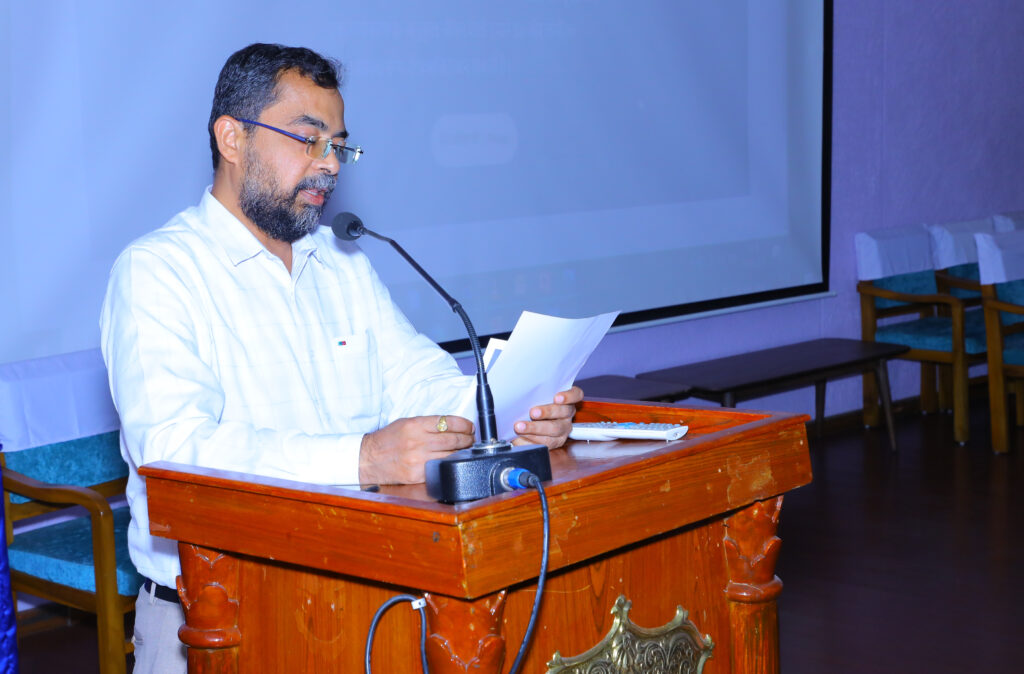 The event was attended by senior officials, faculty and staff of NIRDPR, students and participants of different training programmes. The attendees also took the Mission LiFE Pledge
Dr. Vanishree Joseph, Assistant Professor, CGSD, proposed vote of thanks.
Revival of Percolation Tank
NIRDPR has around 13 water bodies to tap surface runoff and recharge groundwater apart from many small loose boulder and earthen structures. Given the low catchment area for the percolation tank (no.12) in front of H-Type quarters, the water was flowing in other directions.
Keeping World Environment Day in context, Dr. G. Narendra Kumar, IAS, Director General, NIRDPR, directed the Central Maintenance Unit-II to expand the catchment area of the tank and convert it into a water harvesting structure by reducing its percolation so that the water can be used for other purposes round the year. The DG instructed CMU-II to visit ICRISAT and observe their water management strategy and invite the ICRISAT officials to visit the NIRDPR percolation tank and other structures. In this regard, the CMU-II team visited ICRISAT on 23rd May 2023. Shri Suresh C Pillay, Cluster Leader – Farm & Engineering Services Head & Shri Girish Pancharia, Manager – Engineering Services Farm & Engineering Services from ICRISAT accompanied the CMU-II team members to the ponds and water storage reservoirs of ICRISAT. They demonstrated how the water from the ponds is strategically lifted to ground-level open reservoirs and used for irrigation by gravity flow.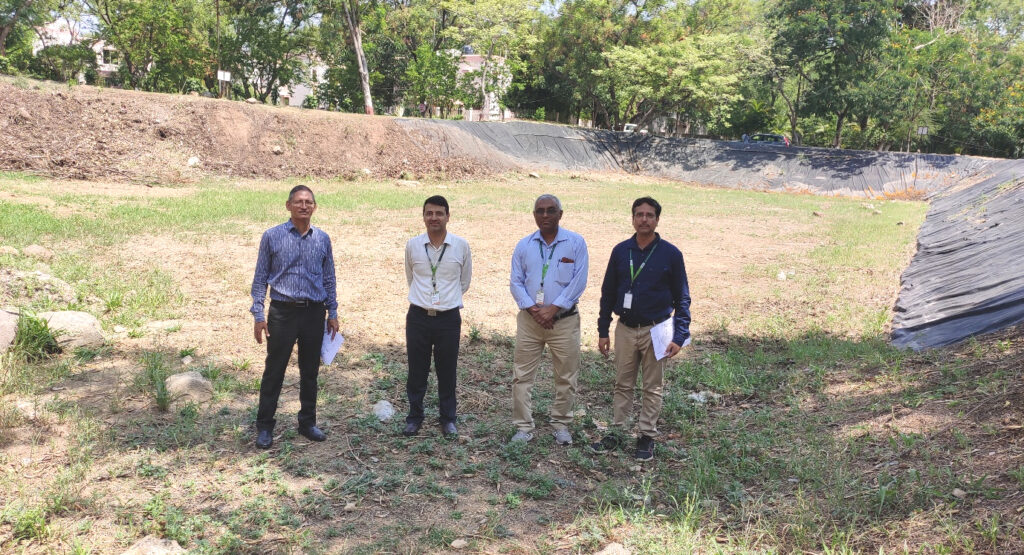 The ICRISAT officials were invited to visit NIRDPR for inspecting the selected tanks of NIRDPR and suggesting the measures onsite. Subsequently, the ICRISAT team comprising Shri Suresh C Pillay, Shri Girish Pancharia, and Shri Kaushal K Garg, Senior Scientist-Natural Resource Management, ICRISAT Development Center, Asia Program visited NIRDPR on 31st May 2023. The DG, NIRDPR held a meeting with ICRISAT officials in the presence of Associate Professors Dr. C. Kathiresan, and Dr. C. Dheeraja. The DG also instructed to have further collaboration with ICRISAT on the refinement of Amrit Sarovar Guidelines.
Post-visit, the following action points were given by the ICRISAT team for the revival of tank no.12 to minimise the water losses/seepage.
Subsequent to the expansion of catchment area of tank no. 12, its storage capacity can be increased by
a) Deepening the pond (excavating soil for a depth of around 4 feet)
b) Increasing height of pond outlet structure (around 2 feet)
Re-compact the bottom and sides of the tank after completing the deepening process.
Add the clay soil on the compacted bed and sides up to a depth of one foot. The clay soil should be spread into two layers, each having a depth of 6 inches, and each layer should be compacted properly at optimum moisture.
In subsequent years, if required, plastic liners can be placed over the bottom and sides of the tank.
The following works were completed in connection with World Environment Day Celebrations and Mission LiFE (Lifestyle for Environment)
Cleaning of the outlet portion of the tank and removal of dumped dry leaves and tree branches from the outlet
Cleaning dumped leaves from the existing passages of water inlets
Widening and slope maintenance of outlet passage
The water coming from Rural Technology Park on the upper side is directly diverted to the tank through natural slopes and trenching.
Re-appropriation of the catchment area of the bund by constructing a diversion drain where water was naturally flowing into other directions and not reaching the tank.
All these measures were taken to stop the diverted water from flowing towards the NIRDPR buildings and damaging its foundation.
---
ToT on Entrepreneurship & Sustainable Livelihood Models for Rural Communities
The Centre for Entrepreneurship Development and Financial Inclusion (CEDFI), NIRDPR, in association with the Centre for Innovations and Appropriate Technology for Skills and Jobs (CIAT&SJ), conducted a five-day Training of Trainers (ToT) programme from 12th -16th June 2023. The objective of the programme was to equip the learners with adequate knowledge about rural livelihood models, their market, finance, technology and skill linkages and sustainability interventions for these models. The programme was also designed to create awareness about entrepreneurship opportunities underlying with the rural communities and the technology solutions available to support those initiatives.
A total of 30 participants from various development sector verticals, including representatives from State Rural Livelihood Missions (SRLMs), State Institutes of Rural Development (SIRDs), PhD scholars from Tata Institute of Social Sciences, Gram Panchayat leaders, CSR leads from Tata Consultancy Services, Mahatma Gandhi National Fellows, Gandhi Fellows, etc., attended this programme. The participants were from 11 States, including Maharashtra, Madhya Pradesh, Tamil Nadu, Telangana, West Bengal, Sikkim, Rajasthan, Haryana, Karnataka, Odisha and Goa.
The training started off with a pre-training quiz to assess the baseline knowledge of trainees. This was followed by a detailed session on various dimensions of rural enterprise development in terms of inclusion and sustainability. The sessions were a mix of knowledge sharing by experts, exposure visits, group activities and discussions.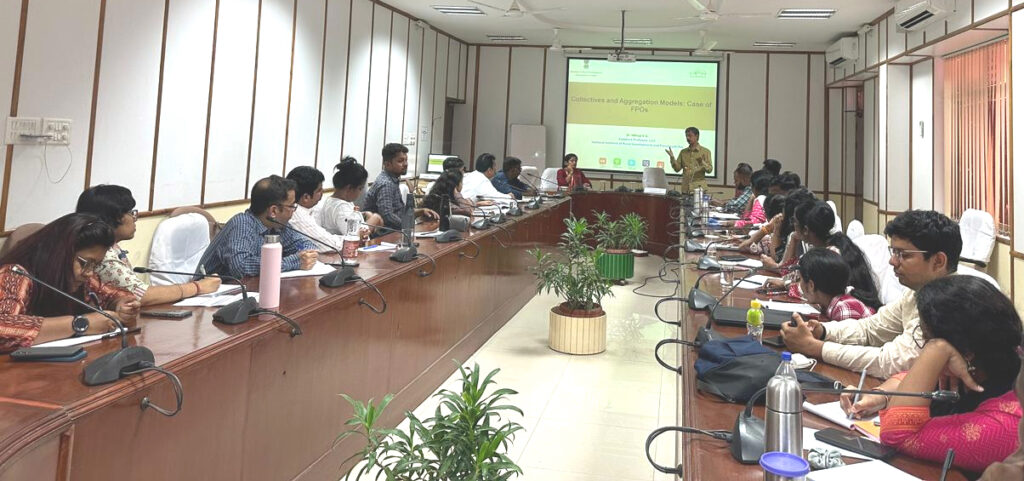 The candidates were taken on a visit to the Rural Technology Park (RTP). The Rural Technology Park is a collective of demonstrations and production units imparting awareness, skill training & support for adoption of affordable technologies by rural enterprises. The RTP facilitates the awareness, knowledge and training of technologies such as sustainable energy, waste management, organic farming, sustainable housing and rural livelihood initiatives. The Park also has skill training facilities and capacity building programmes pertaining to these models.
In a session titled 'Technology, Innovation and Progress', Dr. Ramesh Sakhtivel, Associate Professor & Head, Centre for Corporate Social Responsibility, Public Private Partnership, NIRDPR explained the ideologies behind the formation of RTP and the technology units established at the Park. He also briefed the participants about the structural framework of the RTP and the stakeholder engagement associated with it.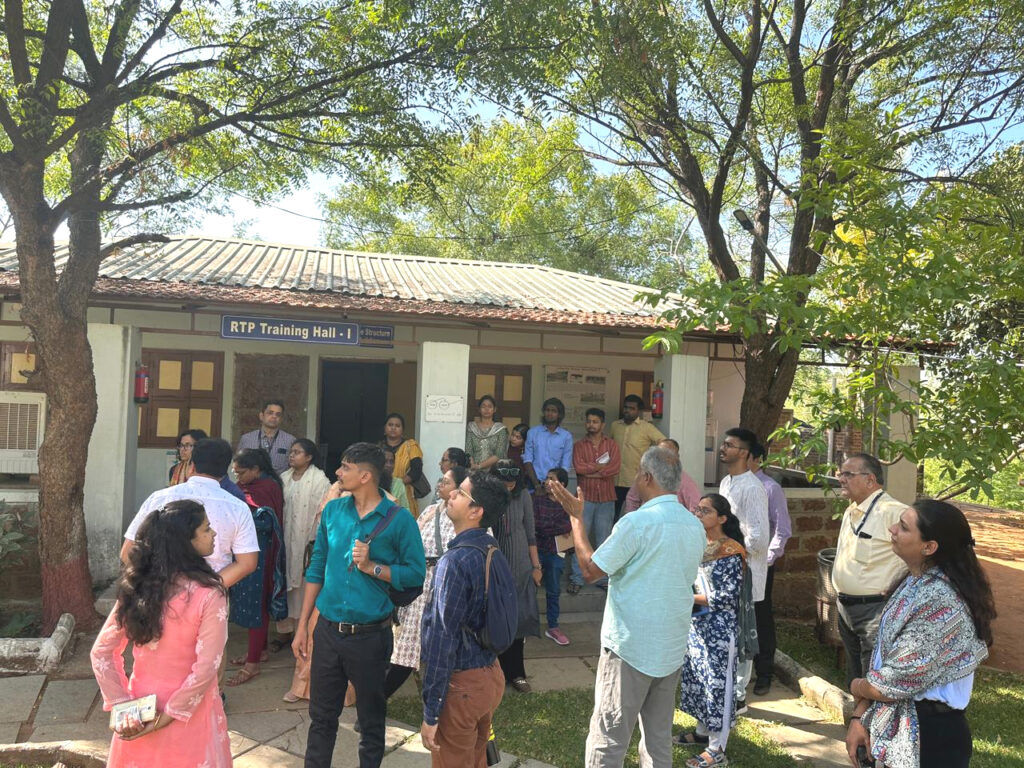 In addition to the dissemination of the various technologies, the RTP provides R&D facility for emerging/existing value chain interventions. One can visit and get to know about beekeeping and honey processing, mushroom cultivation & processing, biogas & neem-based products, vermicompost and allied products, leaf plate and cup making, handmade paper products, natural dying, cloth bag making, clay products & tribal jewellery, herbal cosmetics, home-based products, and essential oils extraction from aromatic plants. The trainees being part of various development institutions would be able to conceptualise similar initiatives while working or carrying out studies at the ground level. This would also help them demystify specific challenges associated with the setting up, functioning and scaling up of these production models.
Gender mainstreaming in rural livelihood scenarios and the case of MGNREGA as the emerging public employment programme were also discussed. The former topic provided insight into gender bias and stereotyping existing in our society, followed by interpretative discussions with the candidates. Notions of gender division of labour, gender exclusiveness in jobs, etc., were discussed as well.
Community-based enterprises run by Self-Help Groups (SHGs), Farmer Producer Organisations (FPOs), etc., are crucial for alleviating poverty levels and generating a sustainable source of income for households. Odisha Rural Development and Marketing Society (ORMAS) is a State level agency which provides technology, training and marketing support in a cluster approach on different activities like Agri/Horti, NTFP, Handicraft, Handloom, etc., based on the potential of the place. ORMAS has been forming & promoting Producer Groups/Producer Companies/FPOs of similar products with the opportunity of collectivisation, aggregation, value addition & marketing of products in all districts of Odisha. The agency is considered to be a successful model for the promotion and support of rural enterprises and for devising convergence initiatives which result in livelihood opportunity creation for local communities.
Along with these, sessions on value chain analysis and skilling strategies towards sustainable rural enterprise development were also organised. These introduced the learners to value chain interventions to improve income levels & standards of living and the role of technology and institutions in facilitating the same. The skilling framework right from a short-term certification to the formalised NSQF-aligned training programmes and vocational educational set-up were discussed.
The candidates were also taken on an exposure visit to the Tata STRIVE Skill Development Centre, Hyderabad. The Centre runs skill training programmes related to the job roles of BFSI- Business Development Executive, BPO- CCE Voice Executive, Automobile Sales Executive, Quick Service Restaurant, Retail Sales Associate, Assistant Electrician, and General Duty Assistant, and facilitates placement of trainees mostly in the Tata Group of Industries, MNCs besides offering them opportunities with local employers. The participants learned about the skill training ecosystem and interacted with the Centre coordinator to comparatively analyse other models of skilling at their workplaces.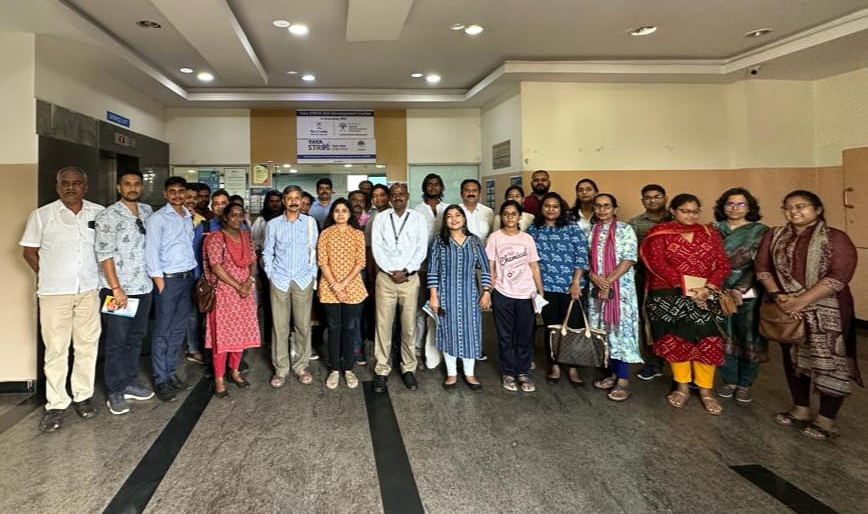 In a session on promoting rural entrepreneurship avenues through Crafts, Rural Tourism & Homestay, detailed discussions were carried out on the emergence of rural tourism and its facets such as Agro/Eco/Religious Tourism, etc., which can pave the way for numerous allied local hospitality activities to leverage sustainable livelihood for local communities. Homestay ecosystems, the training pilots conducted by NIRDPR, craft-based enterprises, and policy & institutional framework support were among the key takeaways for the participants. The ToT ended with guiding sessions on the formation of business plans and management principles for scaling up.
Through the vast spectrum of learning, the programme was a platform to mediate discussions with participants through their diverse perspectives of the rural entrepreneurship ecosystem. And thus, the week-long training programme created a cadre of well-informed participants, who are aware of the various nuances and dynamics of sustainable rural enterprise development. The participants were encouraged to apply these understandings and learnings while working with the agencies and executive arms of policy, governance and social work they have been associated with.
This 5-day ToT was jointly conducted by Dr. Partha Pratim Sahu (CEDFI) and Dr. Ramesh Sakthivel (CITA&SJ).
(Note: This report is prepared by Ms. Anupriya, a participant, with inputs from Dr. Partha Pratim Sahu)
---
National Training Programme on Project Management of Rural Development Programmes
A national training programme on 'Project Management of Rural Development Programmes' was organised by the Centre for Planning Monitoring & Evaluation (CPME), NIRDPR, from 12th – 16th June 2023.
Appropriate planning and implementation of rural development policies and schemes is a continuous demand, given the need to ensure that public resources are well utilised for intended results. This has called for a much stronger systematic approach to ascertain whether expenditures on a programme are delivering the desired outcomes. Therefore enhancing the capacities of rural development practitioners on formulation and appraisal techniques for the implementation of rural development programmes/projects has become a necessity. Against this backdrop, the Centre for Planning Monitoring & Evaluation (CPME), School of Public Policy and Good Governance, NIRDPR organised a national training programme on 'Project Management of Rural Development Programmes.'
The training programme aimed to address the following three important objectives.
Discussing issues and concerns for planning and implementation of RD programmes
Equipping the participants with project management techniques (Planning, RBM, M&E, etc.)
Enabling the participants to prepare a model project plan.
The proposed learning outcomes of the training programme are as follows:
Understand the need for a systematic approach to planning and implementation
Hands-on training on the application of tools and techniques in project mode implementation
Designing a model project plan for any current issue (as per the choice of participant groups)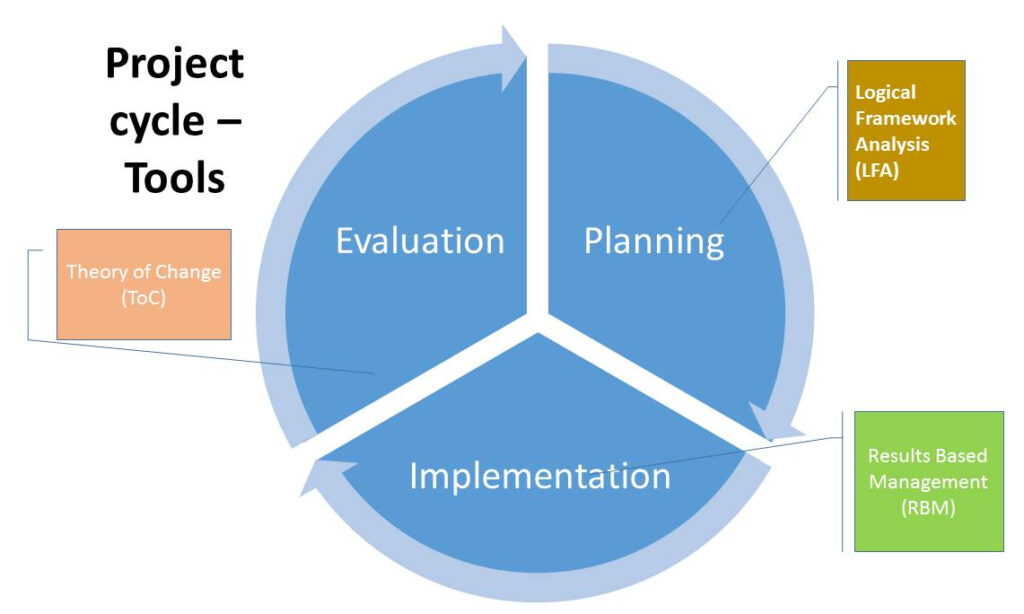 This programme covered different topics related to project management for Rural Development programmes, with a focus on monitoring and evaluation (M&E) techniques. The purposes were to enhance the capacities of researchers and practitioners working in rural development on monitoring and evaluation, and help them adopt the techniques in designing and implementing rural development programmes/schemes appropriately. The topics covered by the subject experts include existing problems and constraints in the planning and implementation processes, issues and concerns for effective management of RD programmes, importance and trends of project management in the development context, introduction of Logical Framework Analysis (LFA) as an appropriate planning and management tool, explaining various components of LFA and their importance in project management, identification of RD issues and formulation with specified objectives, preparation of strategies and application of project matrix for planning, identification of institutions and existing policies and their support (technical and financial), use of appraisal techniques and testing feasibility of project plan, defining the results and managing to achieve them, tracking and documenting the progress of change, how to make the assumptions true and to handle if they happen to be a risk (risk management), accountability, performance, etc.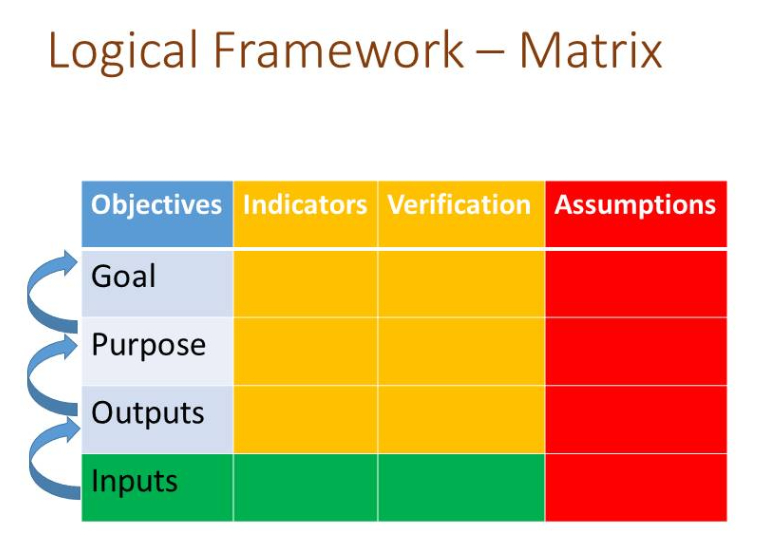 The one-week training programme was designed to explain, discuss, and test each topic and reporting system with quiz, MCQ tests and assignments.
The training programme contents were delivered through a judicious mix of lectures cum discussions, case study presentations, and group exercises. In the group exercises, each participant group were given the task of analysing a rural development programme and preparing an appropriate model plan. Practical exercises after key sessions followed by group discussions were carried out to help the participants improve their knowledge. At the end of each key topic covered, participants made their presentation on their learnings from the training and shared their plan of action.
A total of 16 participants comprising RD professionals, M&E Department officials, faculty members, SIRD faculty, UBA coordinators, SRLM officials, scholars, PRIs, NGOs, and CBOs members participated in the training programme.
Dr. K. Prabhakar, Assistant Professor, & Head (i/c), Centre for Planning Monitoring & Evaluation (CPME), NIRDPR, organised the training programme.
---
ToT on Capacity Building Programme on e-GramSwaraj Portal for PRI Functionaries at UIRD, Uttarakhand
The Centre for Good Governance and Policy Analysis (CGGPA) organised an off-campus ToT on the 'Capacity Building programme on e-GramSwaraj Portal for PRI Functionaries' from 13-16 June 2023 at UIRD, Uttarakhand, sponsored by the MoPR, Govt. of India. A total of 38 PRI functionaries participated in this programme.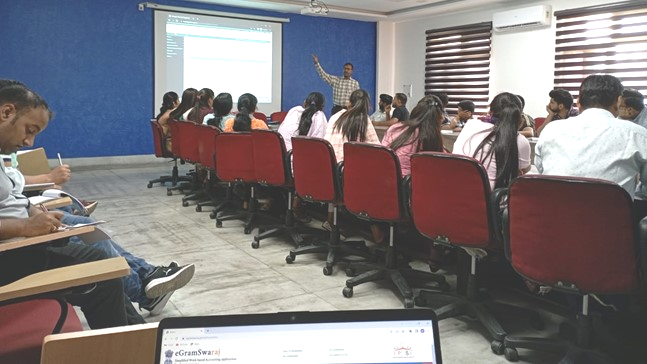 The programme aimed to build the skills and knowledge on the latest developments of e-GramSwaraj Portal, and elaborately focussed on the technical issues and challenges in all modules of the portal. The programme was inaugurated by Dr. M. P. Khali, Assistant Director, UIRD, Uttarakhand. Highlighting the importance of uploading Gram Panchayat plan on the GPDP and eGramSwaraj portals, he underlined the latest developments in planning the GPDP with a special focus on rolling out the SDGs and themes to be included in the planning of activities in Gram Panchayat.
Programme Director Shri K. Rajeshwar, Assistant Professor, Centre for Good Governance and Policy Analysis (CGGPA), NIRDPR, welcomed the participants and briefed the objectives of the training programme.
The ToT covered sessions on Panchayat profile, planning module integration with Sankalp Siddi in the vibrant Gram Sabha, progress and financial reporting by highlighting the significance of PFMS on 15th Finance Commission grants, and Gram Manchitra with a focus on planning.
The training methods of the course were delivered through a participatory learning process. The sessions were dynamic and included introductory presentations, interactive sessions, lectures, documentary presentations, brainstorming, practical exercises, hands-on sessions, etc.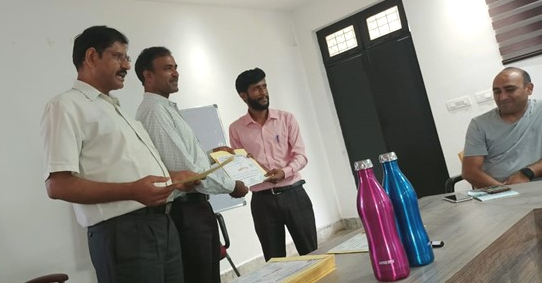 The participants expressed satisfaction with the programme design & deliveries, contents and hospitality arrangements and it received an overall rating of 92 per cent in the Training Management Portal.
The training programme was coordinated by Shri K. Rajeshwar, Assistant Professor, Centre for Good Governance and Policy Analysis (CGGPA), NIRDPR.
---
Training Programme on Strategies for Up-scaling Production System Technologies under WDC-PMKSY 2.0
The Centre for Natural Resource Management, Climate Change and Disaster Mitigation organised a three-day training programme on 'Strategies for Up-scaling Production System Technologies under WDC-PMKSY 2.0' from 27th to 29th June 2023. As many as 16 officials associated with water resources and other line departments like Panchayati Raj, Rural Development, and Soil Conservation departments from various States attended. The programme focused on training participants in effective water management techniques, such as watershed development, water harvesting, and conservation measures.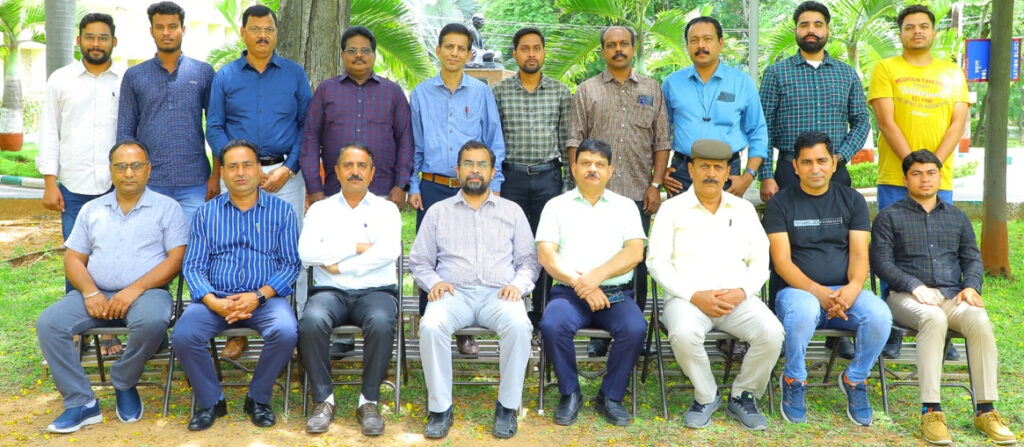 The objectives of the programme were (i) to optimise water resources and ensure their efficient utilisation in agricultural activities, (ii) to orient the trainees on community-based approaches to groundwater recharge and tools for augmenting the conservation practices of water resources through supply and demand side management, and (iii) to disseminate information about production system technologies to officials of line departments by conducting demonstrations, and field visits to showcase successful case studies and encourage adoption of these technologies.
Dr. Ravindra S. Gavali, Professor & Head, CNRM, CC & DM, NIRDPR, Hyderabad, delivered the welcome address. Dr. Gavali highlighted the importance of adopting innovative technologies in watersheds to enhance agricultural production and emphasised the need for capacity building. He provided a comprehensive overview of the programme's objectives and set the stage for participants to explore effective strategies for upscaling production systems under the WDC PMKSY 2.0.
Dr. Gavali addressed the first technical session of the programme, in which he presented the conceptual framework, guidelines and salient features of the WDC-PMKSKY 2.0 and also gave a brief note on its current status.
In the second technical session on 'Crop Water Budgeting and Security Plans in Watersheds,' Dr. Gavali, emphasised the importance of water security plans in maintaining a reliable water supply for agriculture within a watershed. Highlighting the need for strategies to address drought conditions and ensure preparedness, he stressed some of the effective strategies which involve the creation of water storage reserves, effective management of groundwater resources and exploring alternative water sources. Underlining the significance of water security plans in ensuring a sustainable water supply for agriculture, Dr. Gavali opined that farmers can enhance water resource management and mitigate the challenges posed by water scarcity in a watershed by conserving water, adopting efficient practices, and preparing for drought conditions.
Dr. A. Amarender Reddy, Principal Scientist, CRIDA, Hyderabad led the third technical session on 'Crop Diversification with High Value Crops-Watersheds' in which he presented the concept and types of crop diversifications, besides its nature and significance. He further talked about the significance of crop diversification in rainfed areas, and emphasised the importance of crop diversification as a strategy to enhance water management and agricultural sustainability within watersheds. Dr. Amarender observed that growing a variety of crops with different water requirements can help optimise water usage and reduce dependence on a single crop.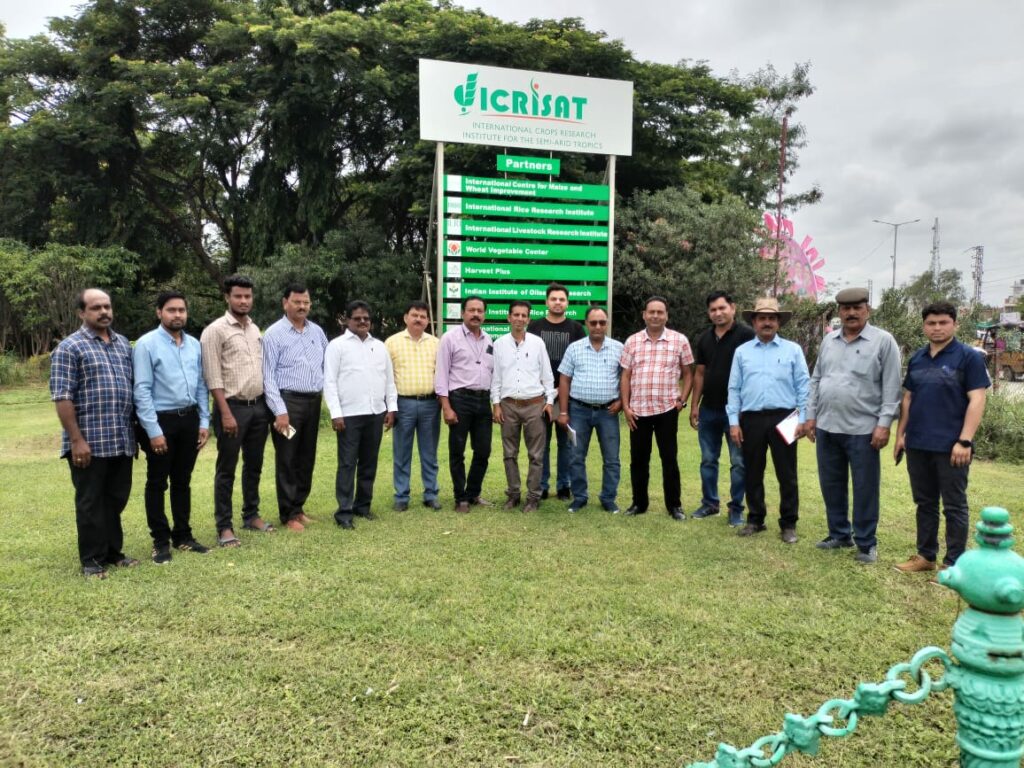 The participants were further taken to the International Crops Research Institute for the Semi-Arid Tropics (ICRISAT), Hyderabad, where Dr. Arun Balamatti explained the various initiatives undertaken by the organisation in the field of watershed management. Highlighting the importance of managing water resources effectively in semi-arid regions to ensure sustainable agricultural practices, Dr. Arun explained different approaches and techniques employed by ICRISAT, such as contour bunding, check dams, and afforestation, to conserve water and prevent soil erosion. He emphasised the significance of community participation and capacity building in successful watershed management projects.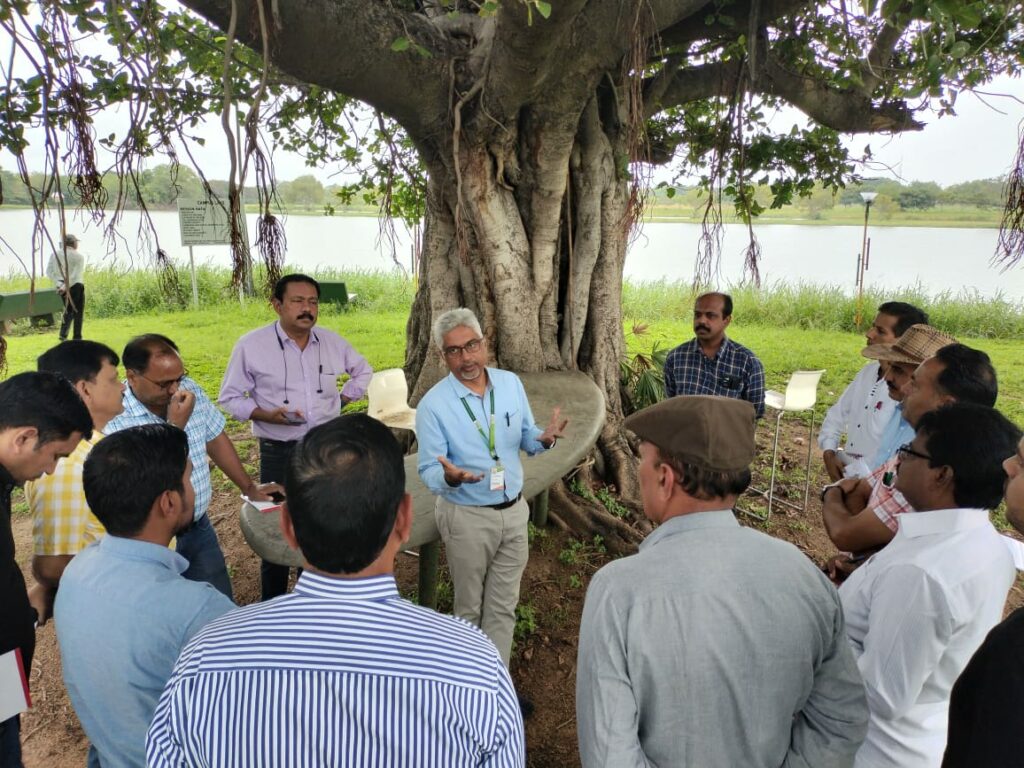 The fourth technical session on 'Up-Scaling Production Systems under Watersheds' was addressed by Dr. K. Krishna Reddy, Director (ICT), ICAR-MANAGE, Hyderabad. He delivered a lecture on the impact study of upscaling production systems under watersheds, focusing on the case of RECL-ICRISAT. He highlighted the significance of adopting sustainable practices and strategies for increasing agricultural productivity within watersheds. Dr. Krishna Reddy discussed the positive effects of implementing these production systems, such as enhanced water availability and improved soil health. He emphasized the need for integrated watershed management approaches, combining irrigation, soil conservation, and crop diversification.
The fifth technical session on 'Seed Production System to Develop Village Seed Banks under Watersheds was delivered by Dr Jagan Mohan Rao, Scientist, SRTC, PJTSAU, Rajendranagar. Dr. Jagan spoke about the seed production system aimed at developing village seed banks under watersheds. He discussed the importance of promoting local seed production to ensure the availability of quality seeds for farmers and place emphasis on the need for community involvement and capacity building to establish and sustain village seed banks.
In the sixth technical session, Dr. A.M.V. Subba Rao, Principal Scientist, CRIDA, Hyderabad, delivered a lecture on improving agricultural production through weather-based agro advisory services. He emphasised the role of accurate and timely weather information in optimising farming practices. Dr. Rao highlighted the benefits of utilising agro-advisory services to make informed decisions regarding crop planning, irrigation, and pest management.
The seventh technical session was addressed by Dr. Pragathi Kumari, Senior Scientist (Agronomy), PJTSAU, Hyderabad. She delivered a lecture on the integrated farming system under watersheds aimed at enhancing income and highlighted the benefits of adopting a holistic approach that combines multiple farming practices, such as crop cultivation, livestock rearing, and aquaculture. Dr. Pragati laid stress on the synergistic effects of integrating different components to maximise productivity, income generation, and resource utilisation.
In the eighth technical session, Dr. N. Nalini Kumari, Professor, PVNRTU, Hyderabad, delivered a lecture on the fodder production system for livestock and strategies for revitalising fodder production technologies. She underscored the crucial role of quality fodder in ensuring optimal livestock health and productivity, and discussed innovative approaches, such as improved fodder varieties, conservation techniques, and efficient utilisation methods.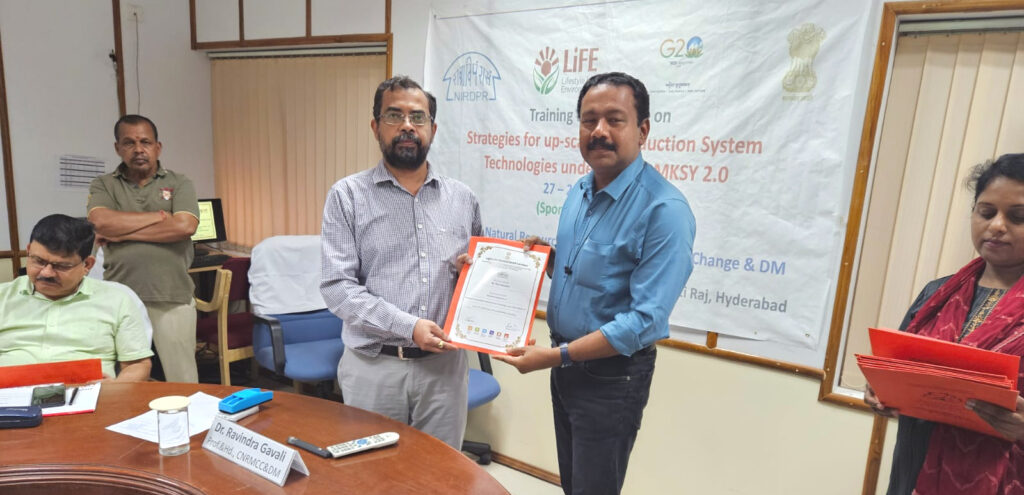 At the valedictory session, Dr. Ravindra S. Gavali, Professor & Head, CNRMCC&DM appreciated the participants for their active engagement and highlighted the key takeaways. Dr. Gavali encouraged the participants to apply the knowledge gained to contribute to the sustainable development of watershed areas.
Feedback from participants was taken via Training Management Portal and the training programme recorded an overall effectiveness of 81 per cent. The training programme was interactive, participatory and useful as ascertained from the feedback of participants.
---
NIRDPR Observes International Day
of Yoga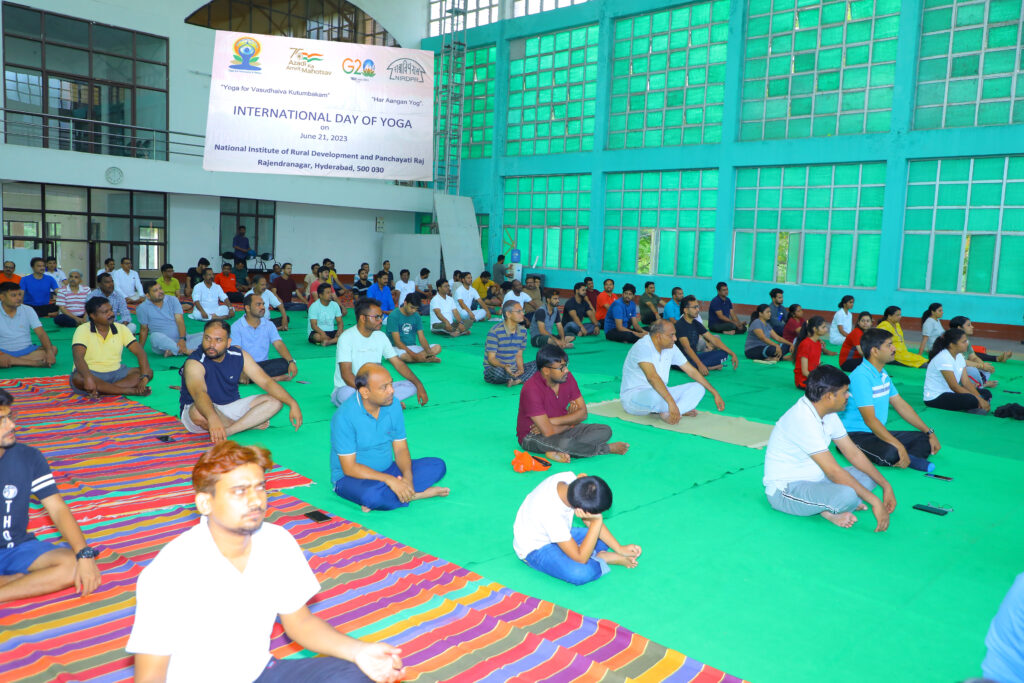 The National Institute of Rural Development and Panchayati Raj observed the International Day of Yoga on 21st June 2023.
Dr. G. Narendra Kumar, IAS, Director General, NIRDPR, was the Chief Guest of the event held at the Sports Complex on the Institute premises.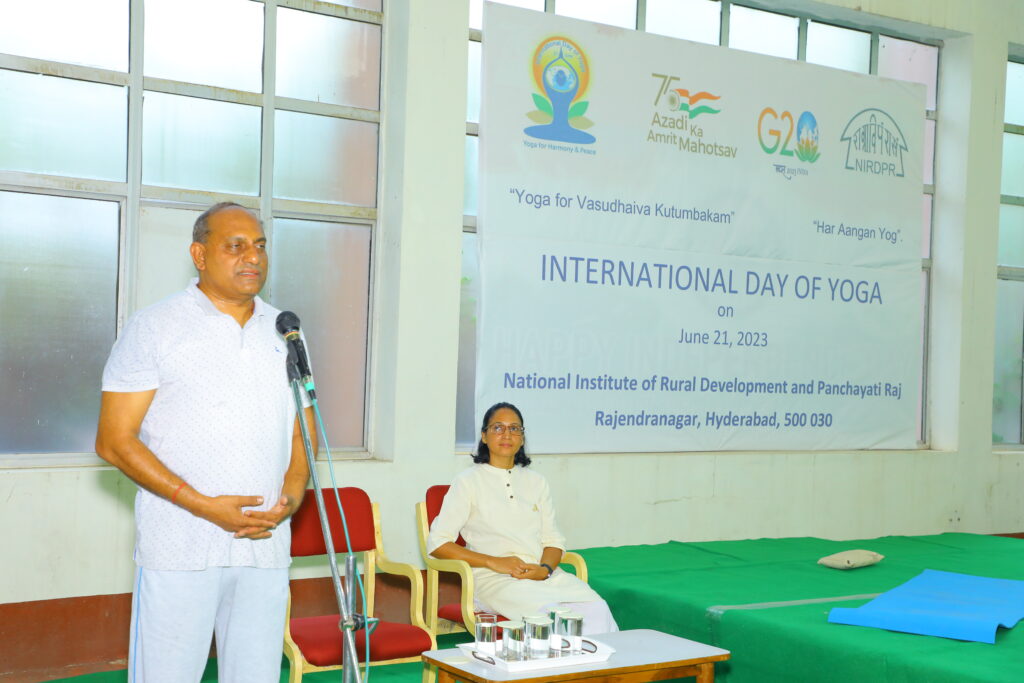 Ms. Deepa, a Yoga teacher from Isha Foundation, led a yoga session. NIRDPR faculty, non-academic staff, participants and students attended the programme.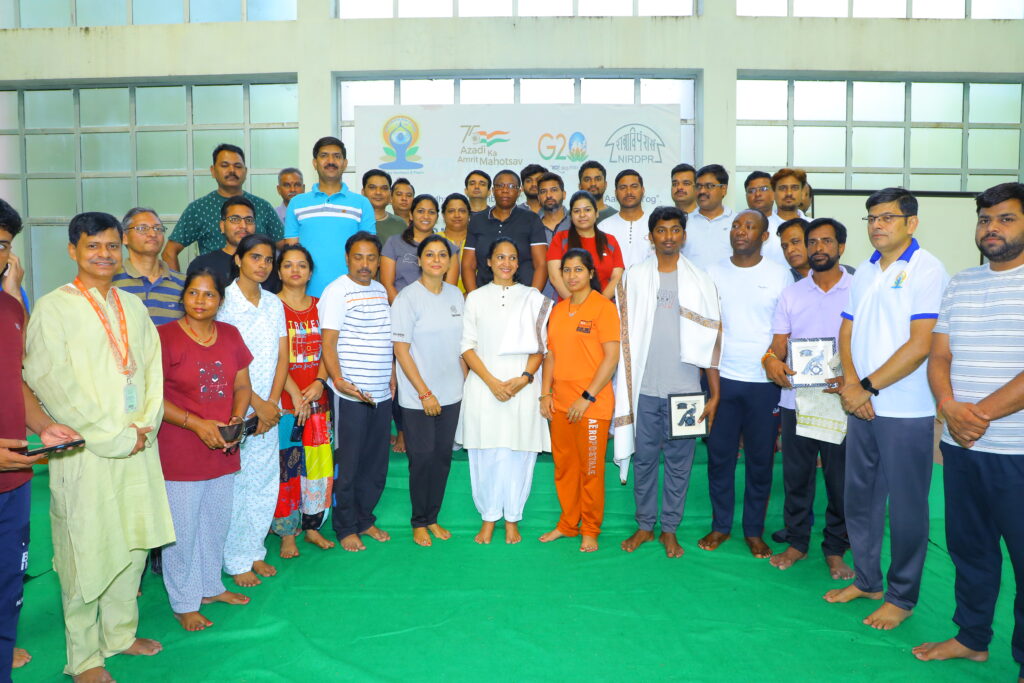 The YouTube link of the event is available below:
---